Beijing Backdown: CCP To Review Tariffs on Australian Goods
China Offers Australia Olive Branch After Three Year Dispute Over Trade Sanctions Beijing appears to be backing down from its aggressive stance on Australian goods after the Chinese regime offered to expedite a review of barley tariffs that are subject to a World Trade Organisation (WTO) action. Since 2020, Beijing has targeted Australia with an economic coercion campaign on beef, lamb, barley, seafood, wine, coal, timber, honey, and wheat following calls from former Foreign Minister Marise Payne for an investigation into the origins of COVID-19. Regarding barley, Beijing placed 80.5 percent worth of duties on Australian exports, hamstringing the goods from entering the market. The trade was worth about $916 million in 2018-19. Australian Foreign Minister Penny Wong announced on April 11 that Australia had offered a pathway toward resolving the dispute. "Following recent constructive dialogue at all levels, we welcome China's agreement to undertake an expedited review of the duties over a three-month period, which may extend to a fourth if required," Wong said. "This dialogue has taken place in parallel to Australia continuing to prosecute our national interests through the World Trade Organization (WTO). Australia has agreed to temporarily suspend the WTO dispute for the agreed review period. "The Australian government has been clear in our view that there is no justification for these duties and that it is in both countries' best interest for all trade impediments to be removed." Wong also noted that if the duties were not lifted at the end of the review period, Australia would resume the WTO dispute. "The Albanese government's approach has been to cooperate with China where we can, disagree where we must, and engage in our national interest. This pathway reflects that approach," she said. Wong also did not indicate that any of the other export under a trade barrier would be relaxed. Beijing's Move May Be About Food Security However, the change in diplomatic relations may have been more about survival for Beijing than normalising relations. In January, Rabobank revealed that China could see a deficit in its corn production, which will require the country to import grain. "Due to lower production and recovering demand, the deficit in China's corn is projected to widen in 2022/23, calling for imports. Large quantities of Brazilian corn are expected," Rabobank said. "If the relationship between China and Australia improves, Australian feed barley will also be an option." In February, Reuters reported that China had become the largest purchaser of Brazilian corn, with Chinese importers buying 983,684 tonnes from Brazil following "Beijing's authorisations for Brazilian sales of the cereal in late November." China's decision to purchase grain comes after the Chinese Communist Party's National Bureau of Statistics alleged that the country had a bumper year with grain production overcoming droughts, floods, and zero-COVID hurdles this year—registering a record-high harvest of 686.53 million tonnes, up 0.5 percent over 2021. Wary Australia Continues to Diversify But despite growing friendliness towards Australia, the federal government has taken a cautious approach, advising that it will continue to pursue a policy of trade diversification, which has seen Australia strike a plethora of new free trade agreements with countries like India, the UK, Japan, and the European Union. Wong noted that the Albanese government will "continue to pursue Australia's national interests and use all opportunities, including the WTO dispute mechanism, to get the best outcomes for Australia's world-class producers and farmers." The foreign minister also shared in her statement that the barley process would be considered a trial of China's sincerity in dropping trade sanctions against other Australian products. "We remain confident in the outcome of Australian wine at the WTO. If today's agreement is successful in providing a pathway for lifting duties on barley, we expect a similar process to be followed to remove trade barriers for Australian wine," she said. Beijing's campaign of coercion against Australia has raised concerns globally, with the U.S. government calling for an "anti-coercion coalition" to combat Beijing. U.S. envoy to Japan Rahm Emanuel said on March 27 that collective action is needed to address instances where a country utilises economic measures to penalise another country over its political stance, the Japan Times reported. "Economic coercion is political warfare by other means," Emanuel said. "It is the use of economic tools, whether that's embargoes, tariffs, and other types of tools, to politically target a country that you disagree with and try to coerce them into changing their political stance and their political independence," he added. Emanuel said that Beijing is a "persistent purveyor" of such tools, and only through a coordinated response by countrie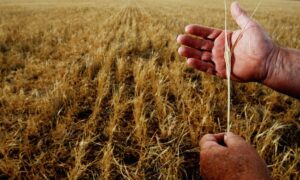 China Offers Australia Olive Branch After Three Year Dispute Over Trade Sanctions
Beijing appears to be backing down from its aggressive stance on Australian goods after the Chinese regime offered to expedite a review of barley tariffs that are subject to a World Trade Organisation (WTO) action.
Since 2020, Beijing has targeted Australia with an economic coercion campaign on beef, lamb, barley, seafood, wine, coal, timber, honey, and wheat following calls from former Foreign Minister Marise Payne for an investigation into the origins of COVID-19.
Regarding barley, Beijing placed 80.5 percent worth of duties on Australian exports, hamstringing the goods from entering the market. The trade was worth about $916 million in 2018-19.
Australian Foreign Minister Penny Wong announced on April 11 that Australia had offered a pathway toward resolving the dispute.
"Following recent constructive dialogue at all levels, we welcome China's agreement to undertake an expedited review of the duties over a three-month period, which may extend to a fourth if required," Wong said.
"This dialogue has taken place in parallel to Australia continuing to prosecute our national interests through the World Trade Organization (WTO). Australia has agreed to temporarily suspend the WTO dispute for the agreed review period.
"The Australian government has been clear in our view that there is no justification for these duties and that it is in both countries' best interest for all trade impediments to be removed."
Wong also noted that if the duties were not lifted at the end of the review period, Australia would resume the WTO dispute.
"The Albanese government's approach has been to cooperate with China where we can, disagree where we must, and engage in our national interest. This pathway reflects that approach," she said.
Wong also did not indicate that any of the other export under a trade barrier would be relaxed.
Beijing's Move May Be About Food Security
However, the change in diplomatic relations may have been more about survival for Beijing than normalising relations.
In January, Rabobank revealed that China could see a deficit in its corn production, which will require the country to import grain.
"Due to lower production and recovering demand, the deficit in China's corn is projected to widen in 2022/23, calling for imports. Large quantities of Brazilian corn are expected," Rabobank said.
"If the relationship between China and Australia improves, Australian feed barley will also be an option."
In February, Reuters reported that China had become the largest purchaser of Brazilian corn, with Chinese importers buying 983,684 tonnes from Brazil following "Beijing's authorisations for Brazilian sales of the cereal in late November."
China's decision to purchase grain comes after the Chinese Communist Party's National Bureau of Statistics alleged that the country had a bumper year with grain production overcoming droughts, floods, and zero-COVID hurdles this year—registering a record-high harvest of 686.53 million tonnes, up 0.5 percent over 2021.
Wary Australia Continues to Diversify
But despite growing friendliness towards Australia, the federal government has taken a cautious approach, advising that it will continue to pursue a policy of trade diversification, which has seen Australia strike a plethora of new free trade agreements with countries like India, the UK, Japan, and the European Union.
Wong noted that the Albanese government will "continue to pursue Australia's national interests and use all opportunities, including the WTO dispute mechanism, to get the best outcomes for Australia's world-class producers and farmers."
The foreign minister also shared in her statement that the barley process would be considered a trial of China's sincerity in dropping trade sanctions against other Australian products.
"We remain confident in the outcome of Australian wine at the WTO. If today's agreement is successful in providing a pathway for lifting duties on barley, we expect a similar process to be followed to remove trade barriers for Australian wine," she said.
Beijing's campaign of coercion against Australia has raised concerns globally, with the U.S. government calling for an "anti-coercion coalition" to combat Beijing.
U.S. envoy to Japan Rahm Emanuel said on March 27 that collective action is needed to address instances where a country utilises economic measures to penalise another country over its political stance, the Japan Times reported.
"Economic coercion is political warfare by other means," Emanuel said.
"It is the use of economic tools, whether that's embargoes, tariffs, and other types of tools, to politically target a country that you disagree with and try to coerce them into changing their political stance and their political independence," he added.
Emanuel said that Beijing is a "persistent purveyor" of such tools, and only through a coordinated response by countries can such actions be checked.
"If the world does not organise against economic coercion, Beijing will continue to prey on other countries and their economies, large or small, developed or developing, near or far," he said.
"The world today must develop a comprehensive collective response to combat economic coercion equal to the collective comprehensive actions that China has taken," the U.S. envoy added.
Aldagra Fredly contributed to this report.