Avocado and Avocado Pit Tea Have Many Health Benefits, Particularly Helpful to 4 Health of Conditions
The period of September and October is a harvest for avocados. They contain good lipids, dietary fibers, vitamins, and other nutrients, particularly suitable for those on diet, with chronic constipation, elders, or pregnant women. Besides the fruit, the pit of the avocado bears as many nutrients as the fruit. Nutritionists recommended making tea with the pit and water. Drinking tea frequently would be effective for weight loss. Taiwan dietician, Lin Yu-wei, said that avocado has a high nutritional value and possesses nutrients that are rarely found in other foods, like potassium, magnesium, vitamin B6, folate, vitamin E, and other antioxidants. These nutrients are closely related to our immunity, reproductive system, nervous system, and blood circulation. Ms. Lin proposed 4 kinds of people to consume avocados regularly. 1. Those losing body weight: satiety with low sugar content Avocados contain a great amount of dietary fiber which helps to attain satiety and prevent eating uncontrollably. Avocados have moderate energy content, containing only 0.9 grams (0.03 ounces) of sugar per 100 grams (3.53 ounces) of avocado. Those losing weight by consuming less sugar would mix avocados with other foods. This can help to maintain body shape and reduce abdominal fat. 2. Those with chronic constipation: nourish the good microbes One hundred grams of avocado contain 5.7 grams (0.2 ounces) of dietary fiber. Dietary fibers promote the diversity of gut microbes by producing short-chained fatty acids (SCFA) such as butanoic acid (a kind of organic acid). SCFA provides energy for the microbes in the colon and prevents colon cancer, rectum cancer, and intestinal inflammation. 3. Elders: protect hearts and blood vessels The portion of calories of fat in an avocado is 70-80 percent. 100 grams (3.53 ounces) of avocado contain 7.6 grams (0.27 ounces) of fat. The fat content of one avocado bears similar calories to that of a palm-sized steak. However, the fat of steak is saturated fatty acids while the fat of avocado belongs to mon-unsaturated fatty acids, which promote the health of the heart and blood vessels. Regular intake of avocado can modulate blood cholesterol levels. 4. Pregnant Women: prevent fetus deformation United States Department of Agriculture reported that 81-89 micrograms of folate (the natural form of folic acid) are found in 100 grams (3.53 ounces) of avocado. During the period of pregnancy and lactation, one should consume more nutrients. Normal daily consumption of folate during pregnancy is increased to 600 micrograms from 400 micrograms before pregnancy. The folate demand for postnatal lactation is 500 micrograms. Intake of sufficient folate would prevent complications or fetus deformation during pregnancy, promote postnatal milk secretion and prevent hair loss. Additionally, the dietary fiber of avocado can prevent constipation commonly happened at the last stage of pregnancy. High Fiber Three Colored Milk Shake Ms. Lin recommended a high-fiber milkshake with avocado as the main ingredient. The drink has a strong taste, and sticky texture, which attains satiety. It is suitable for those who frequently dine out or overweight people with constipation due to its high fiber and low sugar content. Dietician, Lin Yu-wei, recommended three colored milkshakes with high fiber and low sugar. (Lin Yu-wei facebook page) Ingredients:With 400- 500ml ( 0.85-1.06 pint ) per glass; 100 grams (3.53 ounces) of avocado (about 1/4 piece), half of a medium-sized banana (2.12 ounces), 50 grams (1.76 ounces) of papaya, 200 ml (0.42 pint) unsweetened soy milk, 2 tablespoons of unsweetened plain yoghurt, and 2 teaspoons of honey. Method:Avocado, honey, and 70 ml (0.15 pint) of soy milk are put into a blender and mixed, then put into a glass.Banana, yoghurt, and 130 ml (0.27 pint) of soy milk are mixed in a blender, then put into the same glass.Papaya is mixed with ice water in a blender and put into the glass as the top layer. Tips: Honey is used as a flavor and added optionally depending on your need. Nutritional information:268.3 kcal Energy content11 grams (0.39 ounces) of protein12.3 grams (0.43 ounces) of fat4.8 grams (0.17 ounces) of mono-unsaturated fat36.6 grams (1.29 ounces) of carbohydrates9.9 grams (0.35 ounces) of dietary fibers Its pit comprises 70 percent of antioxidants, which can be made into a tea drink.Besides the delicate and soft avocado fruit, the pit, which is deemed inedible, also has a high nutritional value as a fruit. Another Taiwan Dietician, Hsia Tze-wen, said the avocado pit contains as much as 70 percent of antioxidants. Ms. Hsia also stated that avocado pits contain soluble dietary fibers which hinder body absorption of saccharides (sugar), attain satiety, and facilitate expelling feces. The pits contain both vitamin E and catechin, which have anti-oxidizing and anti-aging effects. They also contain chlorogenic acid to promote metabolism which facilitates the burning of fat and t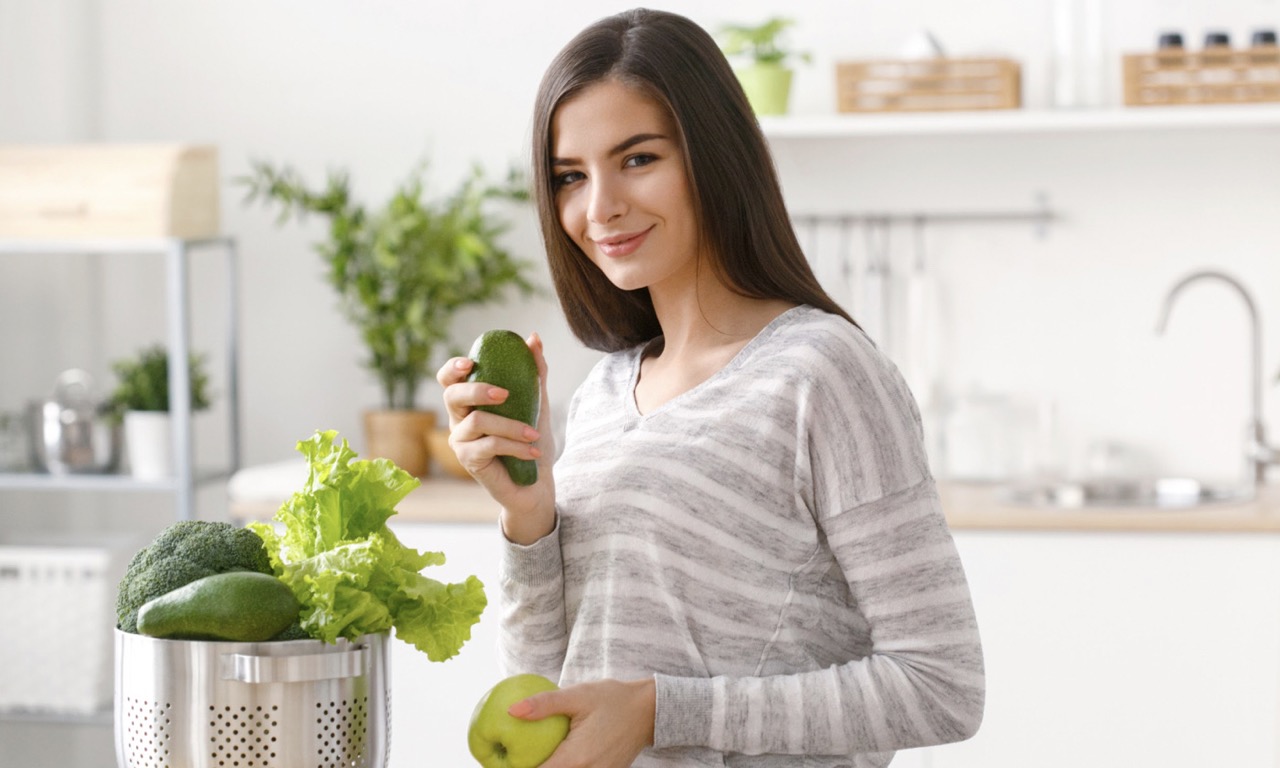 The period of September and October is a harvest for avocados. They contain good lipids, dietary fibers, vitamins, and other nutrients, particularly suitable for those on diet, with chronic constipation, elders, or pregnant women. Besides the fruit, the pit of the avocado bears as many nutrients as the fruit. Nutritionists recommended making tea with the pit and water. Drinking tea frequently would be effective for weight loss.
Taiwan dietician, Lin Yu-wei, said that avocado has a high nutritional value and possesses nutrients that are rarely found in other foods, like potassium, magnesium, vitamin B6, folate, vitamin E, and other antioxidants. These nutrients are closely related to our immunity, reproductive system, nervous system, and blood circulation.
Ms. Lin proposed 4 kinds of people to consume avocados regularly.
1. Those losing body weight: satiety with low sugar content
Avocados contain a great amount of dietary fiber which helps to attain satiety and prevent eating uncontrollably. Avocados have moderate energy content, containing only 0.9 grams (0.03 ounces) of sugar per 100 grams (3.53 ounces) of avocado. Those losing weight by consuming less sugar would mix avocados with other foods. This can help to maintain body shape and reduce abdominal fat.
2. Those with chronic constipation: nourish the good microbes
One hundred grams of avocado contain 5.7 grams (0.2 ounces) of dietary fiber. Dietary fibers promote the diversity of gut microbes by producing short-chained fatty acids (SCFA) such as butanoic acid (a kind of organic acid). SCFA provides energy for the microbes in the colon and prevents colon cancer, rectum cancer, and intestinal inflammation.
3. Elders: protect hearts and blood vessels
The portion of calories of fat in an avocado is 70-80 percent. 100 grams (3.53 ounces) of avocado contain 7.6 grams (0.27 ounces) of fat. The fat content of one avocado bears similar calories to that of a palm-sized steak. However, the fat of steak is saturated fatty acids while the fat of avocado belongs to mon-unsaturated fatty acids, which promote the health of the heart and blood vessels. Regular intake of avocado can modulate blood cholesterol levels.
4. Pregnant Women: prevent fetus deformation
United States Department of Agriculture reported that 81-89 micrograms of folate (the natural form of folic acid) are found in 100 grams (3.53 ounces) of avocado. During the period of pregnancy and lactation, one should consume more nutrients. Normal daily consumption of folate during pregnancy is increased to 600 micrograms from 400 micrograms before pregnancy. The folate demand for postnatal lactation is 500 micrograms. Intake of sufficient folate would prevent complications or fetus deformation during pregnancy, promote postnatal milk secretion and prevent hair loss.
Additionally, the dietary fiber of avocado can prevent constipation commonly happened at the last stage of pregnancy.
High Fiber Three Colored Milk Shake
Ms. Lin recommended a high-fiber milkshake with avocado as the main ingredient. The drink has a strong taste, and sticky texture, which attains satiety. It is suitable for those who frequently dine out or overweight people with constipation due to its high fiber and low sugar content.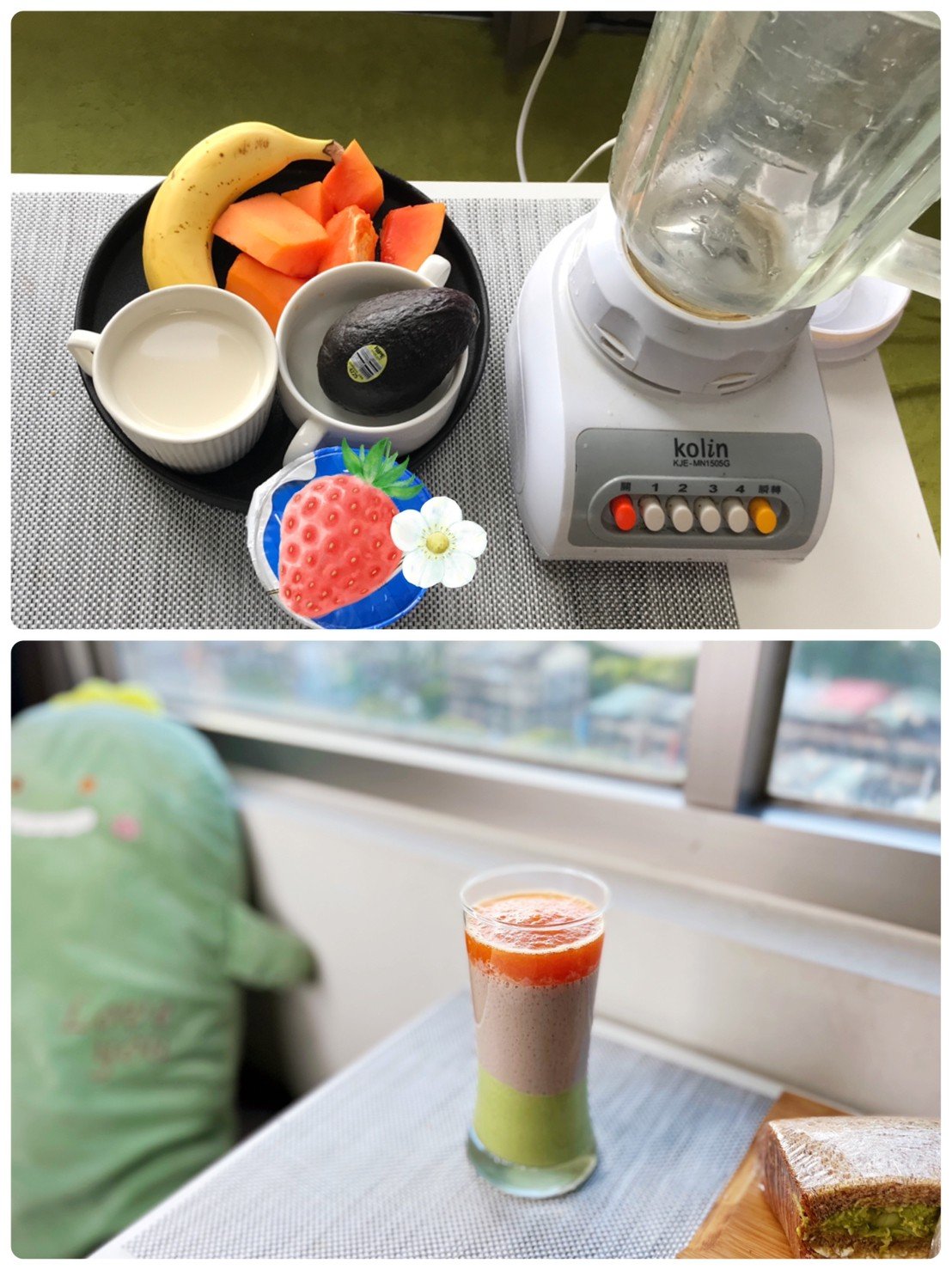 Ingredients:
With 400- 500ml ( 0.85-1.06 pint ) per glass; 100 grams (3.53 ounces) of avocado (about 1/4 piece), half of a medium-sized banana (2.12 ounces), 50 grams (1.76 ounces) of papaya, 200 ml (0.42 pint) unsweetened soy milk, 2 tablespoons of unsweetened plain yoghurt, and 2 teaspoons of honey.
Method:
Avocado, honey, and 70 ml (0.15 pint) of soy milk are put into a blender and mixed, then put into a glass.
Banana, yoghurt, and 130 ml (0.27 pint) of soy milk are mixed in a blender, then put into the same glass.
Papaya is mixed with ice water in a blender and put into the glass as the top layer.
Tips: Honey is used as a flavor and added optionally depending on your need.
Nutritional information:
268.3 kcal Energy content
11 grams (0.39 ounces) of protein
12.3 grams (0.43 ounces) of fat
4.8 grams (0.17 ounces) of mono-unsaturated fat
36.6 grams (1.29 ounces) of carbohydrates
9.9 grams (0.35 ounces) of dietary fibers
Its pit comprises 70 percent of antioxidants, which can be made into a tea drink.
Besides the delicate and soft avocado fruit, the pit, which is deemed inedible, also has a high nutritional value as a fruit. Another Taiwan Dietician, Hsia Tze-wen, said the avocado pit contains as much as 70 percent of antioxidants.
Ms. Hsia also stated that avocado pits contain soluble dietary fibers which hinder body absorption of saccharides (sugar), attain satiety, and facilitate expelling feces. The pits contain both vitamin E and catechin, which have anti-oxidizing and anti-aging effects. They also contain chlorogenic acid to promote metabolism which facilitates the burning of fat and thus reduces the fat reserve in the body.
Although the pits are inedible, they can be used to brew tea.
Method:
An avocado pit is washed thoroughly and dried.
The pit is cut into halves and then small pieces.
One liter (2.11 pints) of water and pit pieces are put into a pot and heated strongly for a while, then turn to the mild heat and boiled for 30 minutes.
Tips:
The drink is smooth in texture but with a bitter taste. Lemon juice or fresh fruits can be added to enhance flavor.
Do not drink more than one liter of tea daily and normal water consumption cannot be totally replaced by tea.
Those with weak gastrointestinal functions should drink less in the initial stage.
Finish the freshly made tea on the same day.