Australia's Ukrainian Visa Conundrum
CommentaryAustralia was one of the countries that welcomed Ukrainian refugees following the Russian invasion of their country on Feb. 24. According to the website of the Australian Department of Home Affairs, around 8,600 temporary protection visas were granted to Ukrainian nationals. As of June 30, over 3,800 of these visa holders have arrived in Australia. However, after the temporary protection visa scheme expired on July 14, it was extended only to the end of the month. The expiry and non-extension of the scheme is a disappointing development because the war in Ukraine is ongoing, and there is still a constant stream of people wanting to leave the country, mostly women and children because men are prevented from leaving the country to defend it. Although the temporary protection visa scheme has expired, Ukrainian refugees can avail themselves of Australia's normal visa pathways. And those who are unable to access the normal visa pathways or cannot return to Ukraine may apply for a bridging visa or a permanent protection visa. The visa scheme expired just four weeks after the prime minister of Australia, Anthony Albanese, visited Kyiv on July 3 and met with President Volodymyr Zelenskyy. The prime minister visited the towns of Bucha and Irpin, near Kyiv, where approximately 1,300 people, including children, were slaughtered and buried in mass graves. He also pledged ongoing financial and logistical assistance for Ukraine, including offers to send more weapons to the invaded country. Specifically, he offered "$99.5 million (US$70.5 million) in military assistance, including 14 armoured personnel carriers, 20 Bushmaster protected mobility vehicles and other military equipment supplied by Australia's defence industry, and a contribution to NATO's Ukraine Comprehensive Assistance Package Trust Fund." This brings Australia's total aid contribution to $388 million. European Union Visas for Ukrainian Refugees Australia's financial largesse, however, hides the realisation that the expiry and non-extension of its temporary visa scheme contrast unfavourably with the assistance offered by the European Union to Ukrainian refugees. On March 4, the Council of the European Union adopted an Implementing Decision which establishes the existence of a mass influx of displaced persons from Ukraine. It provides for the allocation of temporary protection visas for Ukrainian refugees and condemns Russia's "unprovoked and unjustified military aggression" and gross violation against of international law. Ukrainian President Volodymyr Zelenskyy (R) and Australia's Prime Minister Anthony Albanese (L) give a press conference at Mariiynsky Palace in Kyiv, Ukraine, on July 3, 2022. (Miguel Medina/AFP via Getty Images) These temporary protection visas are also extended to third-country nationals who legally resided in Ukraine before the invasion. The Decision stipulates that the "duration of temporary protection should be for an initial period of one year" that could, however, be extended for two further periods of six months. With regard to stateless people and nationals of third countries other than Ukraine, member states may offer "adequate protection" under their own national law. There is uncertainty about what "adequate protection" actually means, and it may differ from country to country. However, it could be expected that the Court of Justice of the European Union would embrace a liberal interpretation of this phrase. Ukrainian War 'News Avoidance' Keen observers of the war in Ukraine have noted that there are increasing levels of "news avoidance" with regard to the Ukrainian war. There is also anecdotal evidence that media reporting on the war has waned during the last couple of weeks. This is unsettling, considering that the intensity and viciousness of the war have not abated, especially in the East and South of Ukraine. But Putin's "special military operation" is increasingly treated as old news or unnewsworthy. Subject to the validity of this observation, media lethargy is a reminder that eventually, even the evillest episodes of human history will be trivialised and described as unfortunate consequences of human foibles and follies. To describe this phenomenon, political theorist Hannah Arendt has argued that, over time, even the most atrocious events tend to become banal historical occurrences. Arendt coined the phrase "the banality of evil" when attending the trial of former Nazi SS Officer Adolf Eichmann. The phrase captures the idea that evil acts are not necessarily perpetrated by innately evil people but by fervent bureaucrats who, in slavishly following orders, are responsible for monstrous crimes. The "banality of evil" phrase is pertinent to the Ukrainian conflict. As television viewers and observers have been exposed to the gory, gruesome, and dehumanising treatment of people over several months, they may now have become apathetic to the plight of Ukrainian refugees. A Ukrainian evacuee hugs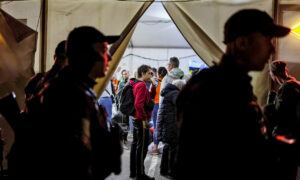 Commentary
Australia was one of the countries that welcomed Ukrainian refugees following the Russian invasion of their country on Feb. 24. According to the website of the Australian Department of Home Affairs, around 8,600 temporary protection visas were granted to Ukrainian nationals. As of June 30, over 3,800 of these visa holders have arrived in Australia.
However, after the temporary protection visa scheme expired on July 14, it was extended only to the end of the month. The expiry and non-extension of the scheme is a disappointing development because the war in Ukraine is ongoing, and there is still a constant stream of people wanting to leave the country, mostly women and children because men are prevented from leaving the country to defend it.
Although the temporary protection visa scheme has expired, Ukrainian refugees can avail themselves of Australia's normal visa pathways. And those who are unable to access the normal visa pathways or cannot return to Ukraine may apply for a bridging visa or a permanent protection visa.
The visa scheme expired just four weeks after the prime minister of Australia, Anthony Albanese, visited Kyiv on July 3 and met with President Volodymyr Zelenskyy. The prime minister visited the towns of Bucha and Irpin, near Kyiv, where approximately 1,300 people, including children, were slaughtered and buried in mass graves. He also pledged ongoing financial and logistical assistance for Ukraine, including offers to send more weapons to the invaded country.
Specifically, he offered "$99.5 million (US$70.5 million) in military assistance, including 14 armoured personnel carriers, 20 Bushmaster protected mobility vehicles and other military equipment supplied by Australia's defence industry, and a contribution to NATO's Ukraine Comprehensive Assistance Package Trust Fund."
This brings Australia's total aid contribution to $388 million.
European Union Visas for Ukrainian Refugees
Australia's financial largesse, however, hides the realisation that the expiry and non-extension of its temporary visa scheme contrast unfavourably with the assistance offered by the European Union to Ukrainian refugees.
On March 4, the Council of the European Union adopted an Implementing Decision which establishes the existence of a mass influx of displaced persons from Ukraine. It provides for the allocation of temporary protection visas for Ukrainian refugees and condemns Russia's "unprovoked and unjustified military aggression" and gross violation against of international law.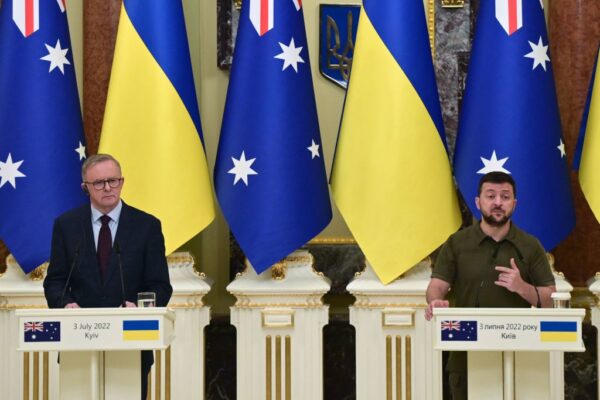 These temporary protection visas are also extended to third-country nationals who legally resided in Ukraine before the invasion. The Decision stipulates that the "duration of temporary protection should be for an initial period of one year" that could, however, be extended for two further periods of six months.
With regard to stateless people and nationals of third countries other than Ukraine, member states may offer "adequate protection" under their own national law. There is uncertainty about what "adequate protection" actually means, and it may differ from country to country. However, it could be expected that the Court of Justice of the European Union would embrace a liberal interpretation of this phrase.
Ukrainian War 'News Avoidance'
Keen observers of the war in Ukraine have noted that there are increasing levels of "news avoidance" with regard to the Ukrainian war. There is also anecdotal evidence that media reporting on the war has waned during the last couple of weeks. This is unsettling, considering that the intensity and viciousness of the war have not abated, especially in the East and South of Ukraine. But Putin's "special military operation" is increasingly treated as old news or unnewsworthy.
Subject to the validity of this observation, media lethargy is a reminder that eventually, even the evillest episodes of human history will be trivialised and described as unfortunate consequences of human foibles and follies.
To describe this phenomenon, political theorist Hannah Arendt has argued that, over time, even the most atrocious events tend to become banal historical occurrences.
Arendt coined the phrase "the banality of evil" when attending the trial of former Nazi SS Officer Adolf Eichmann. The phrase captures the idea that evil acts are not necessarily perpetrated by innately evil people but by fervent bureaucrats who, in slavishly following orders, are responsible for monstrous crimes.
The "banality of evil" phrase is pertinent to the Ukrainian conflict. As television viewers and observers have been exposed to the gory, gruesome, and dehumanising treatment of people over several months, they may now have become apathetic to the plight of Ukrainian refugees.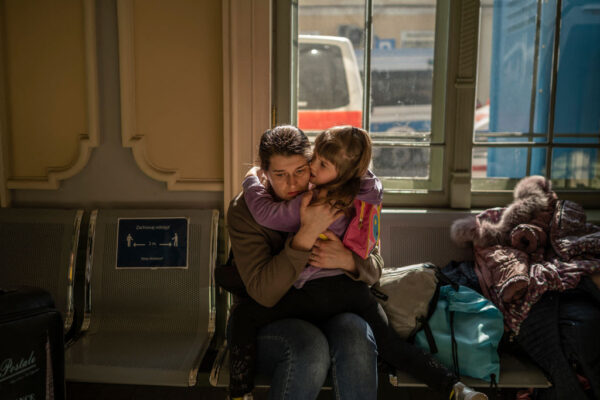 We Need Long-Term Programs
The suspension of the temporary protection visa scheme in Australia and the limitation of a similar scheme in the EU to one year are indicative of an attitude that treat the Ukrainian conflict as a most unfortunate but temporary aberration happening on the eastern borders of the EU.
This stands in sharp contrast with the millions of Islamic people of the Balkans who were allowed by Chancellor Angela Merkel to permanently settle in Germany, even though there were instances of severe cultural clashes and societal conflicts.
Olga Oleinikova, Jaya Dantas, and Tetiana Bogachenko recently pleaded that it was "crucial that support for Ukraine from Australia and other countries doesn't get phased out as the war drags on."
They report that, since the invasion, about one-third of Ukrainians have been forced to flee their homes— equating to more than nine million people. In addition, around 1.2 million refugees have temporarily settled in Poland, while others have found refuge in Germany, the Czech Republic, Italy, the United States, and Canada—all of these are non-authoritarian countries.
They indicated that those who came to Australia made the choice because they have relatives here, or they wanted to be far away from the theatre of war, or because Australia offers a three-year humanitarian program, compared to one year in the EU, and access to education and employment opportunities.
It is pointless to restrict the settlement options of Ukrainian refugees by curtailing Australia's humanitarian visa program. In Australia, the number of Ukrainian refugees is still small, and considering the inefficient use of governments' resources in various other endeavours, the money spent on the refugees will be remembered in history as a compassionate and proportionate response to the Ukrainian conflict.
Views expressed in this article are the opinions of the author and do not necessarily reflect the views of The Epoch Times.