Australian Trade Minister Confident China Will Back Down on Trade Bans Amidst Thawing Relations
In a rare move, the Chinese Communist Party appears to be backing away from its hard-line attitude towards Australia with a bilateral video conference between trade ministers scheduled for next Wednesday. This will be the first meeting between the two countries' trade officials in three years, with the Australian Labor government confident that China is moving toward removing its trade sanctions on a range of Australian goods. "We want these trade impediments removed, and next week I have organised to speak with my Chinese counterpart [Wang Wenbin] virtually to start the ball rolling," Trade Minister Don Farrell told Australian Broadcasting Corporation (ABC). "We want to stabilise that relationship," he said. "And in doing that, we want to ensure that we continue to protect our national interests and our national security." Farrell has previously signalled that the coercive trade bans would be the first item he would discuss if the ministerial meeting went ahead. "The first item on the agenda will be seeking the removal of those $20 billion worth of trade bans on some of our important products, like wine, like barley, like meat, like crayfish," Farrell told Sky News on Jan. 30. " We're trying to lock in a date at the moment, and all of the indications from the Chinese Government have been very, very positive." The meeting comes after Foreign Minister Penny Wong's visit to China in December 2022 and Prime Minister Anthony Albanese's meeting with Chinese Communist Party (CCP) leader Xi Jinping at the G20 summit in November 2022. Australian Foreign Minister Penny Wong prepares to speak to media during a press conference following a meeting with Chinese Foreign Minister Wang Yi at Diaoyutai State Guesthouse in Beijing, China, on Dec. 21, 2022. Penny Wong is meeting Chinese counterpart Wang Yi in Beijing for the first talks between ministers in China in four years. (AAP Image/Lukas Coch) However, the minister said it would take time for Beijing to lift its bans on about $20 billion worth of trade with Australia, including wine, lobster, meat, barley, and coal, which was imposed in 2020 after then Prime Minister Scott Morrison called for an independent investigation into the origins of COVID-19, the disease caused by the CCP virus. "It is my objective, as quickly as possible, to stabilise this relationship and get our products back in front of the Chinese consumers," Farrell said. "These problems are not going to be solved overnight, and all of the problems are not going to be solved straight away … But we need to start the process." Agriculture Minister Murray Watt also responded to the recent reports that the CCP has lifted its trade ban on Australian coal. "There are lots of rumours flying around, but nothing really confirmed about changes as far as they apply to agricultural products," Watt told ABC radio about the sanctions. "Obviously, it's an encouraging thing that our trade ministers can be having those discussions." Then opposition Leader Anthony Albanese (L) with then Shadow Minister for Sports Don Farrell held a news conference at Parliament House on Feb. 05, 2020 in Canberra, Australia. (Tracey Nearmy/Getty Images) Asked how Australia would put pressure on Beijing to lift trade sanctions, Watt said: "By communicating that directly to them whenever we have that opportunity." Australia Successfully Diversifies Export Markets Since the CCP launched a series of economic reprisals against the country after tension escalated due to political and public health matters, Australia's response has been to diversify its export markets. In April 2022, Australia signed a historic Economic Cooperation and Trade Agreement with India, which came into effect on Jan.31, further reducing its dependence on the Chinese market. Australia's trade relationship with Britain is also set for a boost, with London preparing to ratify a bilateral free trade agreement. The agreement will go back through the House of Lords for its third reading. Watt said Canberra continued to work hard to see the agreement come into effect as quickly as possible after the Australian parliament ticked off their side of the deal in late 2022. Agriculture Minister Murray Watt speaks during a press conference in Brisbane, Australia on July 22, 2022. (Dan Peled/Getty Images) "There was some talk while we were in London that there would be a range of amendments to that legislation, which would have slowed things down," he said. "But whether it was because of the meetings we had or other factors, pleasingly, all of those amendments were withdrawn." Australia is also pushing to seal a free trade agreement with the European Union, with some points of contention holding up a final deal. The 14th round of negotiations will continue next week in Canberra at an official level. Speaking in Brussels, Energy Minister Chris Bowen said an agreement would be mutually beneficial by providing new opportunities for businesses. "Australia is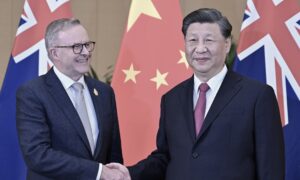 In a rare move, the Chinese Communist Party appears to be backing away from its hard-line attitude towards Australia with a bilateral video conference between trade ministers scheduled for next Wednesday.
This will be the first meeting between the two countries' trade officials in three years, with the Australian Labor government confident that China is moving toward removing its trade sanctions on a range of Australian goods.
"We want these trade impediments removed, and next week I have organised to speak with my Chinese counterpart [Wang Wenbin] virtually to start the ball rolling," Trade Minister Don Farrell told Australian Broadcasting Corporation (ABC).
"We want to stabilise that relationship," he said. "And in doing that, we want to ensure that we continue to protect our national interests and our national security."
Farrell has previously signalled that the coercive trade bans would be the first item he would discuss if the ministerial meeting went ahead.
"The first item on the agenda will be seeking the removal of those $20 billion worth of trade bans on some of our important products, like wine, like barley, like meat, like crayfish," Farrell told Sky News on Jan. 30. " We're trying to lock in a date at the moment, and all of the indications from the Chinese Government have been very, very positive."
The meeting comes after Foreign Minister Penny Wong's visit to China in December 2022 and Prime Minister Anthony Albanese's meeting with Chinese Communist Party (CCP) leader Xi Jinping at the G20 summit in November 2022.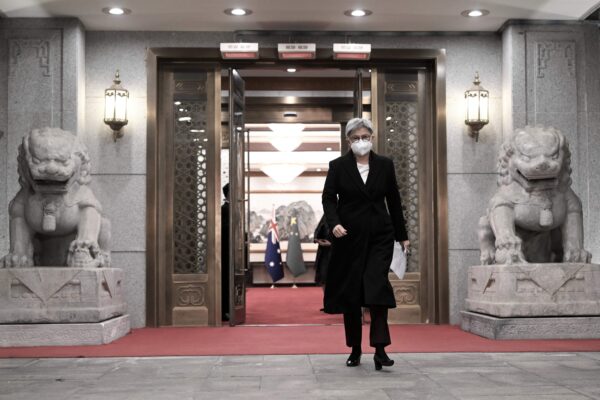 However, the minister said it would take time for Beijing to lift its bans on about $20 billion worth of trade with Australia, including wine, lobster, meat, barley, and coal, which was imposed in 2020 after then Prime Minister Scott Morrison called for an independent investigation into the origins of COVID-19, the disease caused by the CCP virus.
"It is my objective, as quickly as possible, to stabilise this relationship and get our products back in front of the Chinese consumers," Farrell said.
"These problems are not going to be solved overnight, and all of the problems are not going to be solved straight away … But we need to start the process."
Agriculture Minister Murray Watt also responded to the recent reports that the CCP has lifted its trade ban on Australian coal.
"There are lots of rumours flying around, but nothing really confirmed about changes as far as they apply to agricultural products," Watt told ABC radio about the sanctions.
"Obviously, it's an encouraging thing that our trade ministers can be having those discussions."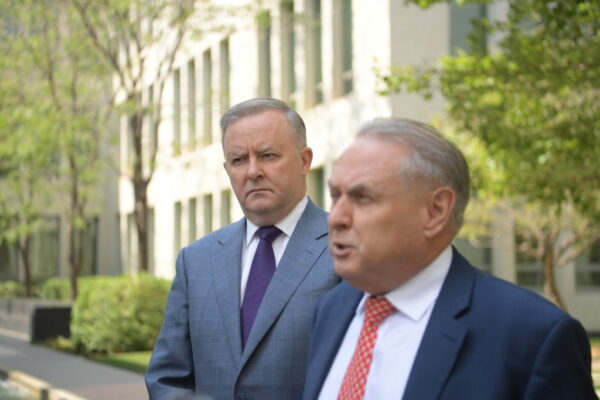 Asked how Australia would put pressure on Beijing to lift trade sanctions, Watt said: "By communicating that directly to them whenever we have that opportunity."
Australia Successfully Diversifies Export Markets
Since the CCP launched a series of economic reprisals against the country after tension escalated due to political and public health matters, Australia's response has been to diversify its export markets.
In April 2022, Australia signed a historic Economic Cooperation and Trade Agreement with India, which came into effect on Jan.31, further reducing its dependence on the Chinese market.
Australia's trade relationship with Britain is also set for a boost, with London preparing to ratify a bilateral free trade agreement.
The agreement will go back through the House of Lords for its third reading.
Watt said Canberra continued to work hard to see the agreement come into effect as quickly as possible after the Australian parliament ticked off their side of the deal in late 2022.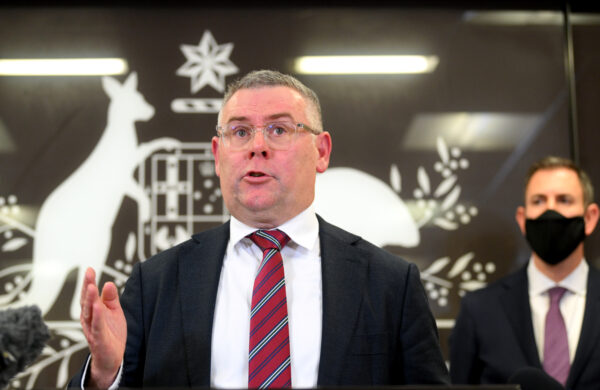 "There was some talk while we were in London that there would be a range of amendments to that legislation, which would have slowed things down," he said.
"But whether it was because of the meetings we had or other factors, pleasingly, all of those amendments were withdrawn."
Australia is also pushing to seal a free trade agreement with the European Union, with some points of contention holding up a final deal.
The 14th round of negotiations will continue next week in Canberra at an official level.
Speaking in Brussels, Energy Minister Chris Bowen said an agreement would be mutually beneficial by providing new opportunities for businesses.
"Australia is renewable energy-rich, but we require significant investment to develop our green energy endowments," he said.
"European investment in Australian renewables is very welcome."
AAP contributed to this report.