Australian Pilots Told Be Alert for Signal Interference From Chinese Military
Australian national airline carrier Qantas has warned its pilots to be wary of radio and Global Positioning System (GPS) interference signals from the Chinese military. In a directive issued on March 16, the airline said it had detected interference signals in the Western Pacific and South China Sea. Qantas said some aircraft were experiencing interference from very-high frequency (VHF) channels "purporting to represent the Chinese military" and GPS interference from vessels on the "off the north-west shelf of Australia," according to the file obtained by News Corp Australia. However, the directive added that there had been "no safety events reported that relate to this activity" and required pilots to report any unusual incidents to air traffic control. This follows a statement from the International Federation of Airline Pilots' Associations (IFALPA) confirming the interference and warning pilots not to respond to any communications from the warships. "IFALPA has been made aware of some airlines and military aircraft being called over 121.50 or 123.45 by military warships in the Pacific region, notably South China Sea, Philippine Sea, East of Indian Ocean," the statement read. A People's Liberation Army Navy J-11 fighter pilot performs an unsafe maneuver during an intercept of a U.S. Air Force RC-135 aircraft, which was lawfully conducting routine operations over the South China Sea in international airspace, on Dec. 21, 2022, in a still from video. (U.S. Indo-Pacific Command/Screenshot via The Epoch Times) "In some cases, the flights were provided vectors to avoid the airspace over the warship. We have reason to believe there may be interferences to GNSS and RADALT as well. "IFALPA is engaging with IATA and Air Navigation Service Providers (ANSPs) to ensure that all parties are aligned with our procedures and to prevent this from occurring in the future." Expert: 'No Doubt' it's from the Chinese military Neil Hansford, an aviation expert, said there is no doubt that the interference came from the Chinese military. "It's more annoyance than practicality, though, because this is not the only communication source that civil aviation use," he told the Guardian. Hansford said that while the use of VHF system by Chinese warships to contact flights was worrying, what was more concerning was that they were interfering with GPS systems. "VHF in itself is pretty much open source if you want to listen into what's happening in the skies, and they may be throwing some flak around using the international security and emergency channels," he said. "GPS, on the other hand, is a navigational tool used widely in aviation and everyday technology, and its jamming is bloody serious. It's a message, and you've got to take it seriously because GPS is more of a threat than VHF." Under the AUKUS Background The incident comes as Beijing keeps attacking the historical AUKUS partnership, a trilateral security pact with the United States and the United Kingdom. Australian Prime Minister Anthony Albanese (L), US President Joe Biden (C) and British Prime Minister Rishi Sunak (R) hold a press conference after a trilateral meeting during the AUKUS summit in San Diego, California, on March 13, 2023. (Leon Neal/Getty Images) Prime Minister Anthony Albanese announced on March 13 that Australia would replace its six Collins-class diesel-electric submarines with eight nuclear-powered submarines over the course of the next 30 years under AUKUS. The deal is estimated to cost between $268 billion and $368 billion (US$178–$245 billion). In a joint statement, the leaders of the three countries launched a proverbial flare across China's bow, touting the submarines as a needed check on the Chinese communist regime's ambitions and assertiveness in the South China Sea. In reaction, China's foreign ministry said the three countries "disregarded" concerns of the international community and accused Australia of going "further down a dangerous road."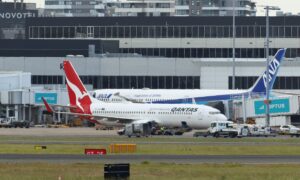 Australian national airline carrier Qantas has warned its pilots to be wary of radio and Global Positioning System (GPS) interference signals from the Chinese military.
In a directive issued on March 16, the airline said it had detected interference signals in the Western Pacific and South China Sea.
Qantas said some aircraft were experiencing interference from very-high frequency (VHF) channels "purporting to represent the Chinese military" and GPS interference from vessels on the "off the north-west shelf of Australia," according to the file obtained by News Corp Australia.
However, the directive added that there had been "no safety events reported that relate to this activity" and required pilots to report any unusual incidents to air traffic control.
This follows a statement from the International Federation of Airline Pilots' Associations (IFALPA) confirming the interference and warning pilots not to respond to any communications from the warships.
"IFALPA has been made aware of some airlines and military aircraft being called over 121.50 or 123.45 by military warships in the Pacific region, notably South China Sea, Philippine Sea, East of Indian Ocean," the statement read.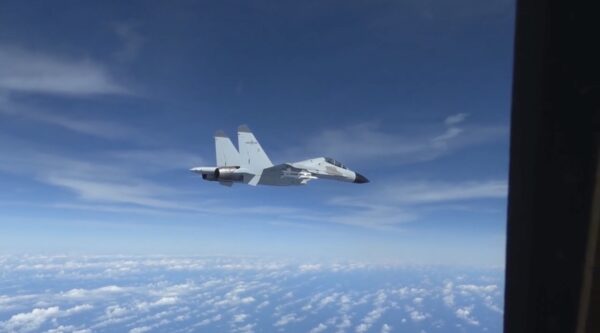 "In some cases, the flights were provided vectors to avoid the airspace over the warship. We have reason to believe there may be interferences to GNSS and RADALT as well.
"IFALPA is engaging with IATA and Air Navigation Service Providers (ANSPs) to ensure that all parties are aligned with our procedures and to prevent this from occurring in the future."
Expert: 'No Doubt' it's from the Chinese military
Neil Hansford, an aviation expert, said there is no doubt that the interference came from the Chinese military.
"It's more annoyance than practicality, though, because this is not the only communication source that civil aviation use," he told the Guardian.
Hansford said that while the use of VHF system by Chinese warships to contact flights was worrying, what was more concerning was that they were interfering with GPS systems.
"VHF in itself is pretty much open source if you want to listen into what's happening in the skies, and they may be throwing some flak around using the international security and emergency channels," he said.
"GPS, on the other hand, is a navigational tool used widely in aviation and everyday technology, and its jamming is bloody serious. It's a message, and you've got to take it seriously because GPS is more of a threat than VHF."
Under the AUKUS Background

The incident comes as Beijing keeps attacking the historical AUKUS partnership, a trilateral security pact with the United States and the United Kingdom.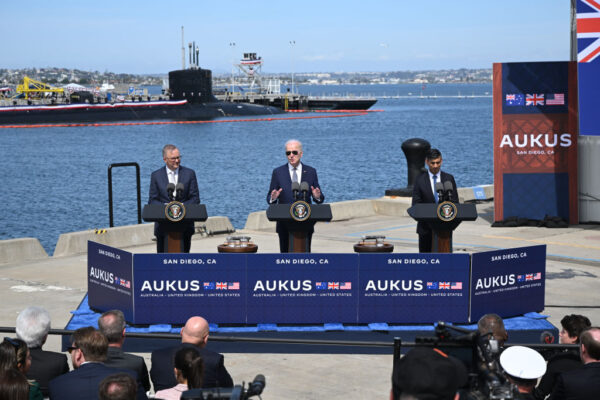 Prime Minister Anthony Albanese announced on March 13 that Australia would replace its six Collins-class diesel-electric submarines with eight nuclear-powered submarines over the course of the next 30 years under AUKUS.
The deal is estimated to cost between $268 billion and $368 billion (US$178–$245 billion).
In a joint statement, the leaders of the three countries launched a proverbial flare across China's bow, touting the submarines as a needed check on the Chinese communist regime's ambitions and assertiveness in the South China Sea.
In reaction, China's foreign ministry said the three countries "disregarded" concerns of the international community and accused Australia of going "further down a dangerous road."