Australian Foreign Minister Raises 'Principled View' on Human Rights With Beijing, More Trade Talks to Come
Foreign Minister Penny Wong has set out Australia's position on human rights, trade blockages, and global security during high-level talks with Chinese Foreign Minister Wang Yi in Beijing on Dec. 21.As the first official visit to Beijing from an Australian minister in three years with Wong's trip signalling a potential thaw in Australia-China diplomatic relationships. The senator brought up concerns about the arbitrary detainment of two Australian citizens, journalist Cheng Lei and writer Yang Hengjun. "We advocate for a range of things in those discussions," she told reporters. "They include for those Australians to be reunited with their families as soon as possible, but we also advocate for the observance of our consular agreements and for those Australians to have consular access." Wong also said she expressed to Beijing her government's "principled view" on respect for human rights. "Australia believes human rights are universal," she said. "And that applies in terms of our views about Xinjiang or Tibet or Hong Kong." "Those are principles that Australia will continue to advocate." Australian Foreign Minister Penny Wong speaks to media during a press conference following a meeting with Chinese Foreign Minister Wang Yi at Diaoyutai State Guesthouse in Beijing, China, on Dec. 21, 2022. (AAP Image/Lukas Coch) Beijing's Foreign Minister Wang did not directly address human rights issues in those regions, but he warned that Australia and China should not "interfere" in the other's "internal affairs," according to Chinese state-owned media Xinhua. He added that both countries had complementary economies and should promote development and cooperation in various fields. However, Beijing continues to enforce its $20 billion (US$13.5 billion) worth of trade sanctions on Australian exports, which were placed in retaliation to the former Morrison government's call for an independent investigation into the origins of COVID-19. Senator Wong indicated she had particularly good discussions around trade, with both ministers agreeing to further dialogue to work through and remove the trade blockages. "There was a discussion about opportunities for further dialogue to work through how we might do what I think is a message to both countries and consumers in both countries, and certainly in terms of Australian exporters and Chinese consumers. And that is for the trade blockages to be removed," she said. "We will look to continue to have dialogue, including structured dialogue on issues which are difficult." However, also declined to comment on whether Australia would support Beijing in its bid to join the Comprehensive and Progressive Agreement for Trans-Pacific Partnership (CPTPP). Prospect of Tensions Subsiding Murky Meanwhile, Wang remarked that both countries did not have "historical grievances," despite Beijing representatives leaking an unofficial document during the height of the diplomatic freeze between both countries that outlined "14 grievances." The grievance list was a list of demands the Australian government was supposed to address for relations to resume. It included negative commentary from Australian media and MPs about the Chinese Communist Party (CCP); calls for an inquiry into the origins of COVID-19; the government's cooperation-building efforts with Indo-Pacific partners; banning Huawei from the nation's 5G network in 2018; and Australia's foreign interference laws. But Wong believed it was in Australia's interest for the relationship with Beijing to be "stabilised." "We'll be continuing to express the view that the comprehensive strategic partnership between Australia and China is architecture for dialogue and for engagement which will benefit both countries," she said. "We've continued to put the view that we are able to grow our bilateral relationship and uphold our respective national interests if we navigate our differences wisely." Prime Minister Anthony Albanese has consistently said while his government was willing to cooperate with Beijing, that did not mean he was willing to compromise on Australian values and national interests. In May, he told reporters that Beijing needed to withdraw its list of 14 demands. "I, whenever asked—must have been hundreds of times now—have said that the demands, which were placed by China, are entirely inappropriate. We reject all of them. We will determine our own values. We will determine Australia's future direction," Albanese said. Australia's Prime Minister Anthony Albanese attends a bilateral meeting with Japanese Prime Minister Fumio Kishida (not in picture), at the Akasaka Palace state guest house in Tokyo, Japan, on May 24, 2022. (Pool/Getty Images) Diplomatic Relations Thawing but Change Not in Sight Following Albanese's meeting with Chinese leader Xi Jinping on the sidelines of the G20 summit in Bali in November, he cautioned Australians against any expectation of the immediate removal of trade sanctions. "We have big dif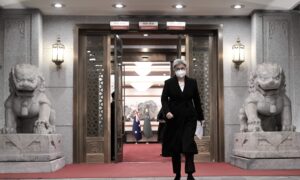 Foreign Minister Penny Wong has set out Australia's position on human rights, trade blockages, and global security during high-level talks with Chinese Foreign Minister Wang Yi in Beijing on Dec. 21.
As the first official visit to Beijing from an Australian minister in three years with Wong's trip signalling a potential thaw in Australia-China diplomatic relationships.
The senator brought up concerns about the arbitrary detainment of two Australian citizens, journalist Cheng Lei and writer Yang Hengjun.
"We advocate for a range of things in those discussions," she told reporters. "They include for those Australians to be reunited with their families as soon as possible, but we also advocate for the observance of our consular agreements and for those Australians to have consular access."
Wong also said she expressed to Beijing her government's "principled view" on respect for human rights.
"Australia believes human rights are universal," she said. "And that applies in terms of our views about Xinjiang or Tibet or Hong Kong."
"Those are principles that Australia will continue to advocate."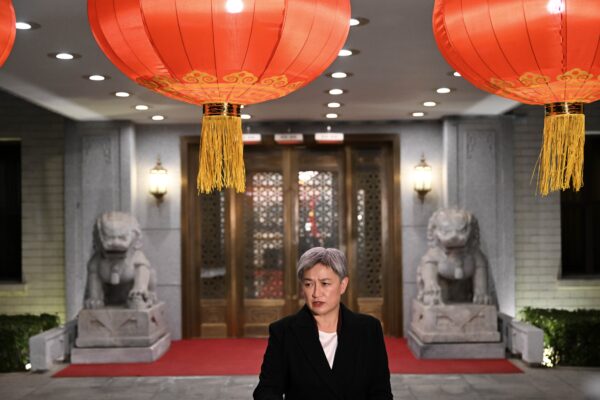 Beijing's Foreign Minister Wang did not directly address human rights issues in those regions, but he warned that Australia and China should not "interfere" in the other's "internal affairs," according to Chinese state-owned media Xinhua.
He added that both countries had complementary economies and should promote development and cooperation in various fields.
However, Beijing continues to enforce its $20 billion (US$13.5 billion) worth of trade sanctions on Australian exports, which were placed in retaliation to the former Morrison government's call for an independent investigation into the origins of COVID-19.
Senator Wong indicated she had particularly good discussions around trade, with both ministers agreeing to further dialogue to work through and remove the trade blockages.
"There was a discussion about opportunities for further dialogue to work through how we might do what I think is a message to both countries and consumers in both countries, and certainly in terms of Australian exporters and Chinese consumers. And that is for the trade blockages to be removed," she said.
"We will look to continue to have dialogue, including structured dialogue on issues which are difficult."
However, also declined to comment on whether Australia would support Beijing in its bid to join the Comprehensive and Progressive Agreement for Trans-Pacific Partnership (CPTPP).
Prospect of Tensions Subsiding Murky
Meanwhile, Wang remarked that both countries did not have "historical grievances," despite Beijing representatives leaking an unofficial document during the height of the diplomatic freeze between both countries that outlined "14 grievances."
The grievance list was a list of demands the Australian government was supposed to address for relations to resume.
It included negative commentary from Australian media and MPs about the Chinese Communist Party (CCP); calls for an inquiry into the origins of COVID-19; the government's cooperation-building efforts with Indo-Pacific partners; banning Huawei from the nation's 5G network in 2018; and Australia's foreign interference laws.
But Wong believed it was in Australia's interest for the relationship with Beijing to be "stabilised."
"We'll be continuing to express the view that the comprehensive strategic partnership between Australia and China is architecture for dialogue and for engagement which will benefit both countries," she said.
"We've continued to put the view that we are able to grow our bilateral relationship and uphold our respective national interests if we navigate our differences wisely."
Prime Minister Anthony Albanese has consistently said while his government was willing to cooperate with Beijing, that did not mean he was willing to compromise on Australian values and national interests.
In May, he told reporters that Beijing needed to withdraw its list of 14 demands.
"I, whenever asked—must have been hundreds of times now—have said that the demands, which were placed by China, are entirely inappropriate. We reject all of them. We will determine our own values. We will determine Australia's future direction," Albanese said.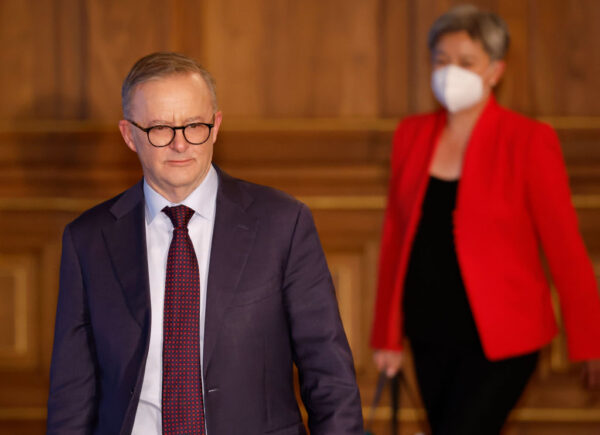 Diplomatic Relations Thawing but Change Not in Sight
Following Albanese's meeting with Chinese leader Xi Jinping on the sidelines of the G20 summit in Bali in November, he cautioned Australians against any expectation of the immediate removal of trade sanctions.
"We have big differences to manage," he said. "But we're always going to be better off when we have dialogue and are able to talk constructively and respectfully, but also honestly, about what those differences are."
Albanese also noted that the Chinese leader made no indication he would consider lifting the current trade sanction on Australian products despite saying both countries had "highly complementary economies."
"The system doesn't work that way," Albanese said. "Australia's position is very clear. I put the position, clearly, firmly, but politely. And that is what I intended to do. And that's what I did."
But foreign policy expert John Lee, who was the former senior advisor to Australian Foreign Minister Julie Bishop, said despite the meetings between Albanese, Xi, and President Joe Biden, any major change to bilateral ties was unlikely.
"Any verbal agreement with Xi should not be relied on or taken seriously given the Chinese leader's long record of saying one thing and doing something else," he previously told The Epoch Times.
"Rather than seek a verbal understanding with Xi which means very little, President Biden's focus should be to discuss ways to work more closely with Asian allies and partners to constrain China's strategic options and deter Beijing from considering the use of force to realise its objectives."