Australia Declares Beijing's Air Defences 'Not Impenetrable' Will Continue South China Sea Patrols
Australia's new Air Force Chief has announced that Australia will continue surveillance missions in the South China Sea despite Beijing's recent dangerous interception of a Royal Australian Air Force (RAAF) aircraft.This is the first time Air Marshal Robert Chipman, the head of the RAAF, spoke to the media since taking up his post last month. "Recent encounters with the Chinese have been robust, to say the least," he said. "Certainly, we have seen a recent spate of unsafe incidences, but it's not a trend line that we can see sustained." Australia's Defence Department revealed in June that a J-16 Chinese military jet conducted a "dangerous" interception of an Australian aircraft in international airspace over the South China Sea, sparking a diplomatic protest. On May 26, an Australian P-8 aircraft was conducting routine reconnaissance in the airspace when a Chinese J-16 fighter jet released a "bundle of chaff" containing small aluminium pieces, some of which were drawn into the engine of the aircraft. Read MoreDefence Minister Flags 'Dangerous' Attack by Chinese Jet on Australian AircraftRead MoreBeijing Says Dangerous Air Maneuvers Against Australian Aircraft Acceptable The Australian crew flew back to base. None of the crew were injured in the incident. Australian Prime Minister Anthony Albanese condemned the move as dangerous and aggressive at the time. China's 'Formidable Aerospace Capability' not Impenetrable Chipman warned that China had built up "formidable aerospace capability" in the South China Sea, but noted that Australia could still operate in the region. "China has a formidable aerospace capability, and they have concentrated that aerospace capability in the South China Sea region to deter others from going into that airspace," he said. "That doesn't make it impenetrable. That doesn't mean you can't deliver military effects to achieve your interest when you're up against China." The comments from the Air Marshal come amidst the Secretary of the U.S. Air Force Frank Kendall's visit to Canberra on Aug.22 for talks on Air Force and space cooperation. Kendall deemed Beijing's increasing militarization in the South China Sea an attempt to develop capabilities to keep other countries away from its shores. "It has big implications for peace and stability in the region," Kendall said. "We're in what I consider to be a race for military technological superiority with the Chinese." The secretary said the United States would consider extending its expertise to help Australia, which could include cooperation in developing the long-range B-21 stealth bomber. "If I saw you had a requirement for long-range strike [capability], then we'd be willing to have a conversation with [Australia] about that," he said. "I don't think that there's any fundamental limitation on the areas in which we can cooperate." Follow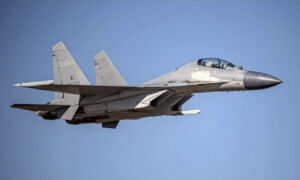 Australia's new Air Force Chief has announced that Australia will continue surveillance missions in the South China Sea despite Beijing's recent dangerous interception of a Royal Australian Air Force (RAAF) aircraft.
This is the first time Air Marshal Robert Chipman, the head of the RAAF, spoke to the media since taking up his post last month.
"Recent encounters with the Chinese have been robust, to say the least," he said.
"Certainly, we have seen a recent spate of unsafe incidences, but it's not a trend line that we can see sustained."
Australia's Defence Department revealed in June that a J-16 Chinese military jet conducted a "dangerous" interception of an Australian aircraft in international airspace over the South China Sea, sparking a diplomatic protest.
On May 26, an Australian P-8 aircraft was conducting routine reconnaissance in the airspace when a Chinese J-16 fighter jet released a "bundle of chaff" containing small aluminium pieces, some of which were drawn into the engine of the aircraft.
Read More
Defence Minister Flags 'Dangerous' Attack by Chinese Jet on Australian Aircraft
Read More
Beijing Says Dangerous Air Maneuvers Against Australian Aircraft Acceptable
The Australian crew flew back to base. None of the crew were injured in the incident.
Australian Prime Minister Anthony Albanese condemned the move as dangerous and aggressive at the time.
China's 'Formidable Aerospace Capability' not Impenetrable
Chipman warned that China had built up "formidable aerospace capability" in the South China Sea, but noted that Australia could still operate in the region.
"China has a formidable aerospace capability, and they have concentrated that aerospace capability in the South China Sea region to deter others from going into that airspace," he said.
"That doesn't make it impenetrable. That doesn't mean you can't deliver military effects to achieve your interest when you're up against China."
The comments from the Air Marshal come amidst the Secretary of the U.S. Air Force Frank Kendall's visit to Canberra on Aug.22 for talks on Air Force and space cooperation.
Kendall deemed Beijing's increasing militarization in the South China Sea an attempt to develop capabilities to keep other countries away from its shores.
"It has big implications for peace and stability in the region," Kendall said. "We're in what I consider to be a race for military technological superiority with the Chinese."
The secretary said the United States would consider extending its expertise to help Australia, which could include cooperation in developing the long-range B-21 stealth bomber.
"If I saw you had a requirement for long-range strike [capability], then we'd be willing to have a conversation with [Australia] about that," he said. "I don't think that there's any fundamental limitation on the areas in which we can cooperate."