Australia Can Help Stop Heinous Crimes Committed by Beijing: Human Rights Lawyer
It won't take a lot for Australia to help stop one of the worst crimes on the planet, said David Matas, an international human rights lawyer based in Winnipeg, Canada, who was attending a rally held by Falun Gong practitioners in front of Australia's Parliament House in Canberra on Nov. 22.Matas, along with late human rights activist David Kilgour, were jointly nominated for the 2010 Noble Peace Prize for their investigation of the Chinese regime's persecution and forced organ harvesting of practitioners of Falun Gong. Falun Gong, also known as Falun Dafa, is a spiritual practice that includes meditation exercises and teachings based on the principles of truthfulness, compassion, and forbearance. The traditional practice spread rapidly across China in the 1990s, with an official estimate of 70-100 million practitioners by 1999. Fearful of Falun Gong's popularity as an independent ideology outside the atheistic communist regime's control, Jiang Zemin, the former leader of the Chinese Communist Party (CCP), launched a violent persecution in July 1999 aimed at eradicating the practice and its adherents, which continues today. Falun Gong practitioners from around Australia held a series of petitions in Canberra, Australia. The photo shows some of the speakers in front of the Parliament House on Nov. 22, 2022. (Xu Shengkun/The Epoch Times) Advancing Legislation to Ban Transplant Tourism Matas said that while there had been a number of statements made by parliamentarians supporting Falun Gong and opposing the persecution of this group, there had been little to no action from the federal government to stop Australians from going to China for transplant tourism. "Right now, if you kill someone in Australia for your organs, you can be prosecuted, but if you go to China for an organ, and somebody is killed in China for their organs, then you come back, neither you nor the referring doctor, or the broker, or the advertising or anybody involved in this is prosecuted," he said. The Joint Standing Committee on Foreign Affairs, Defence, and Trade recommended legislation on the issue in 2018. While the previous Morrison government agreed with the recommendation in 2021. However, no legislation has passed so far. The local Falun Gong community is currently following up with the new Labor government on the recommendation. Adherents of Falun Gong reenact the forced organ harvesting of prisoners of conscience by the Chinese regime at a protest in Vienna, Austria on Oct. 1, 2018. (Joe Klamar/AFP via Getty Images) Matas said that while getting the Chinese regime to change is very difficult, what other countries can do is avoid complicity. "With what's going on in China, [for] Australia, all these other countries that are outside of China, there's no reason we don't do anything with our transplants," Matas said. Nearly ten countries have already legislated to ban their citizens from transplant tourism, including the U.K., Spain, Italy, and Israel, according to International Coalition to End Transplant Abuse in China. Australia-China Relations Won't be Affected Matas' visit comes at a time when Australian Prime Minister Albanese met with Chinese leader Xi Jinping at G20 and raised issues with Beijing, including the human rights issues in Xinjiang, the detention of Chinese-Australian nationals, and the possible removal of trade sanctions that have stopped $20 billion (US$13.5 billion) worth of goods entering the China market, which was imposed in response to calls for an inquiry into the origins of COVID-19. Foreign policy experts have urged the Labor government to focus on compelling the Chinese Communist Party (CCP) to uphold human rights and international rules around trade. Australia's Prime Minister Anthony Albanese meets China's President Xi Jinping in a bilateral meeting during the 2022 G20 summit in Nusa Dua, Bali, Indonesia, Australia, on Nov. 15, 2022. (AAP Image/Mick Tsikas) "I trust the prime minister and government will continue to hold the line on fundamental human rights and will not water down and try to justify, or turn a blind eye, to the gross violations perpetrated by the Beijing dictatorship," former Liberal Sen. Eric Abetz, who served as chair of the Senate's Foreign Affairs Committee, told The Epoch Times. Asked if the Australian government can pass the legislation while maintaining trade with Beijing, Matas said the answer is yes. "Because the legislation itself would not say China," Matas replied. "We just say it's a genuine crime… As long as legislation doesn't mention China, I don't think the Chinese would even care." Things Are Not Getting Better The situation of forced organ harvesting is not getting better in recent years in China, according to Matas. "There's a whole industrial complex," he said. "It's kind of like an addiction … It's a multi-billion-dollar industry, and the health system can't afford to lose the money." In addition, Uyghurs, detained in mass numbers since 2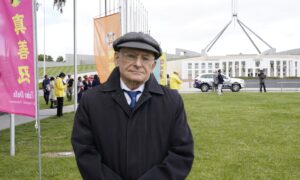 It won't take a lot for Australia to help stop one of the worst crimes on the planet, said David Matas, an international human rights lawyer based in Winnipeg, Canada, who was attending a rally held by Falun Gong practitioners in front of Australia's Parliament House in Canberra on Nov. 22.
Matas, along with late human rights activist David Kilgour, were jointly nominated for the 2010 Noble Peace Prize for their investigation of the Chinese regime's persecution and forced organ harvesting of practitioners of Falun Gong.
Falun Gong, also known as Falun Dafa, is a spiritual practice that includes meditation exercises and teachings based on the principles of truthfulness, compassion, and forbearance. The traditional practice spread rapidly across China in the 1990s, with an official estimate of 70-100 million practitioners by 1999.
Fearful of Falun Gong's popularity as an independent ideology outside the atheistic communist regime's control, Jiang Zemin, the former leader of the Chinese Communist Party (CCP), launched a violent persecution in July 1999 aimed at eradicating the practice and its adherents, which continues today.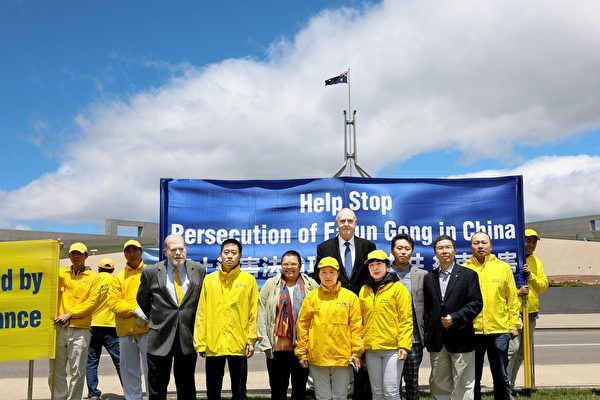 Advancing Legislation to Ban Transplant Tourism
Matas said that while there had been a number of statements made by parliamentarians supporting Falun Gong and opposing the persecution of this group, there had been little to no action from the federal government to stop Australians from going to China for transplant tourism.
"Right now, if you kill someone in Australia for your organs, you can be prosecuted, but if you go to China for an organ, and somebody is killed in China for their organs, then you come back, neither you nor the referring doctor, or the broker, or the advertising or anybody involved in this is prosecuted," he said.
The Joint Standing Committee on Foreign Affairs, Defence, and Trade recommended legislation on the issue in 2018. While the previous Morrison government agreed with the recommendation in 2021. However, no legislation has passed so far.
The local Falun Gong community is currently following up with the new Labor government on the recommendation.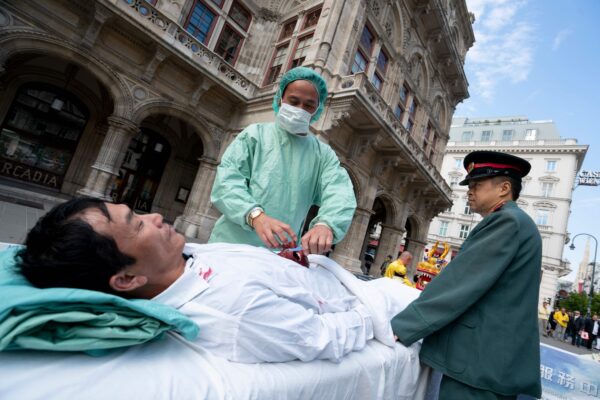 Matas said that while getting the Chinese regime to change is very difficult, what other countries can do is avoid complicity.
"With what's going on in China, [for] Australia, all these other countries that are outside of China, there's no reason we don't do anything with our transplants," Matas said.
Nearly ten countries have already legislated to ban their citizens from transplant tourism, including the U.K., Spain, Italy, and Israel, according to International Coalition to End Transplant Abuse in China.
Australia-China Relations Won't be Affected
Matas' visit comes at a time when Australian Prime Minister Albanese met with Chinese leader Xi Jinping at G20 and raised issues with Beijing, including the human rights issues in Xinjiang, the detention of Chinese-Australian nationals, and the possible removal of trade sanctions that have stopped $20 billion (US$13.5 billion) worth of goods entering the China market, which was imposed in response to calls for an inquiry into the origins of COVID-19.
Foreign policy experts have urged the Labor government to focus on compelling the Chinese Communist Party (CCP) to uphold human rights and international rules around trade.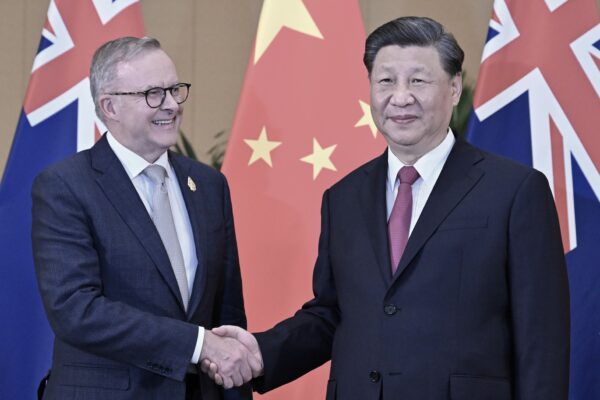 "I trust the prime minister and government will continue to hold the line on fundamental human rights and will not water down and try to justify, or turn a blind eye, to the gross violations perpetrated by the Beijing dictatorship," former Liberal Sen. Eric Abetz, who served as chair of the Senate's Foreign Affairs Committee, told The Epoch Times.
Asked if the Australian government can pass the legislation while maintaining trade with Beijing, Matas said the answer is yes.
"Because the legislation itself would not say China," Matas replied. "We just say it's a genuine crime… As long as legislation doesn't mention China, I don't think the Chinese would even care."
Things Are Not Getting Better
The situation of forced organ harvesting is not getting better in recent years in China, according to Matas.
"There's a whole industrial complex," he said. "It's kind of like an addiction … It's a multi-billion-dollar industry, and the health system can't afford to lose the money."
In addition, Uyghurs, detained in mass numbers since 2017, are also now being targeted for the hideous crime.
"There's a lot of shipments of organs out of Xinjiang to the rest of China."
Australian: How Much is our Character Worth?
Andrew Richard, a disability rights advocate who watched the rally on Nov. 21, said the CCP's crime of forced organ harvesting is an unacceptable modern-day holocaust.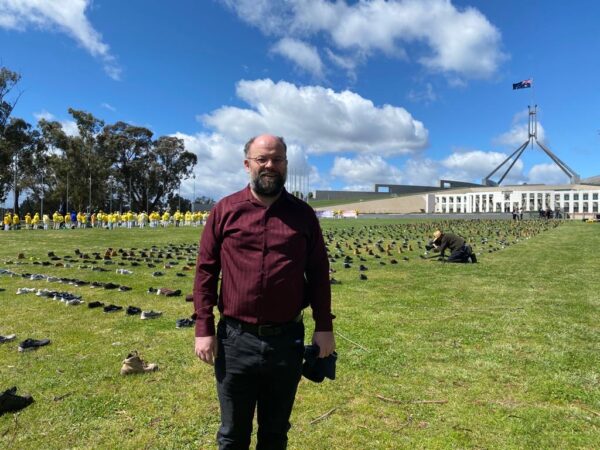 "We aren't doing enough. The reality is that human rights violations happen. That's the yardstick of what we tolerate," he said.
The campaigner called on the Australian government to diversify its exports and not to sacrifice integrity for interests.
"If we're going to tolerate live human organ harvesting as the price for our exports, where do we draw the line?" Richard asked.
"How much is our character worth? What is the price that our character can be bought off for?"
Wen Qingyang contributed to this report.