As US and China Spar, Western CEOs 'Love the CCP'
Commentary At an annual security conference in Singapore on June 4, China's defense minister accused the United States of being a hegemonic power. Given all the trouble Washington is experiencing over Taiwan and Ukraine, clearly, we are not. U.S. Secretary of Defense Lloyd Austin was also at the conference. He sat at the same dinner table as the Chinese defense minister, Li Shangfu. However, they were seated too far apart to speak with one another, which was probably at the request of Beijing. Li has refused to speak with Austin for years, despite Austin's repeated attempts and the obvious need for clear lines of communication between major nuclear powers. At the conference, Austin circumnavigated the table and got a handshake, but that's it. He was the more magnanimous man. Yet the Chinese Communist Party (CCP) is bursting at the seams. It claims America is attempting to contain its rise, which is partly true, but only to the extent that the CCP attempts to disrupt the peace between nations. The CCP ignores international law wherever it pleases, while pointing the finger at the United States for the same. Like all effective propaganda, this, too, is partly true. However, the United States usually only violates international law to contain out-of-control aggressive ideologies—like communism or terrorism—that lead to international violence and the rollback of human rights and democratic freedoms more broadly. Yes, the United States and our allies sometimes fight fire with fire. The bigger picture is needed to understand how and why this unfortunate tactic may be necessary. So why do most countries prefer Washington to Beijing? What big picture is necessary for an understanding that cuts through the CCP's propaganda? China's Defense Minister Gen. Li Shangfu (third from left) is among senior Chinese Communist Party officials sworn into their new offices during a National People's Congress in Beijing on March 12, 2023. (Noel Celis/AFP via Getty Images) The answer is that Washington is a status quo power. It does not try to grab more and more power or territory from neighbors. It is not engaged in an ongoing genocide. It does not support aggressive dictatorships in Russia, Iran, Burma (also known as Myanmar), and North Korea. The United States shares international power with other countries through the United Nations, which was conceived in 1941 and established in 1945 through the leadership of then-President Franklin D. Roosevelt and then-British Prime Minister Winston Churchill. It is no coincidence that Beijing and Moscow see their worst enemies in Washington and London. The United States and the United Kingdom are the two countries most responsible, from an institutional and material perspective, for containing the world's worst bullies. This is partly the basis of our "special relationship," albeit a term mostly used in the UK. On June 4, Austin explained to the annual security conference, called the Shangri-la Dialogue, that China's defense minister refused to dialogue with him and instead orchestrated unsafe maneuvers in the South China Sea. These Chinese military maneuvers, along with those in the Taiwan Strait, are against international law. The CCP not only refuses to meet Austin but also refuses to meet U.S. Secretary of State Antony Blinken. Beijing is apparently playing mind games with Washington to try and intimidate us by refusing to talk while regularly threatening our military forces and risking a military incident that could escalate. This is classic brinkmanship of the type found in the Cold War against the Soviets. We are now arguably in a cold war against the CCP, though most still deny it, including the CCP itself. Meanwhile, the CCP attempts to make China appear "open for business" so it can keep milking the United States and Europe of technology and trade. This is where China gets the economic power necessary to fuel its military rise. A truck passes by China Shipping containers at the Port of Los Angeles in Long Beach, Calif., on Sept. 1, 2019. (Mark Ralston/AFP via Getty Images) Total two-way trade between China on one side, and the combination of the United States and European Union on the other, was an astonishing $1.6 trillion in 2022. This sum is highly relevant because it represents the total trade the United States and the EU could leverage against the CCP if Washington and Brussels acted in unison. It also explains why Washington and Brussels are so soft on Beijing. Western businesses profit from all this trade and use their political influence to try and keep that gravy train going by attempting to stabilize U.S.-China relations. That would be fine if China were also a status quo power. But the CCP is not. Beijing instead uses U.S.-China stability as a platform to expand its power globally, to the point of being an existential threat to the United States, the EU, and all other sovereign countries. The CCP is capable of this maneuver because it can more easil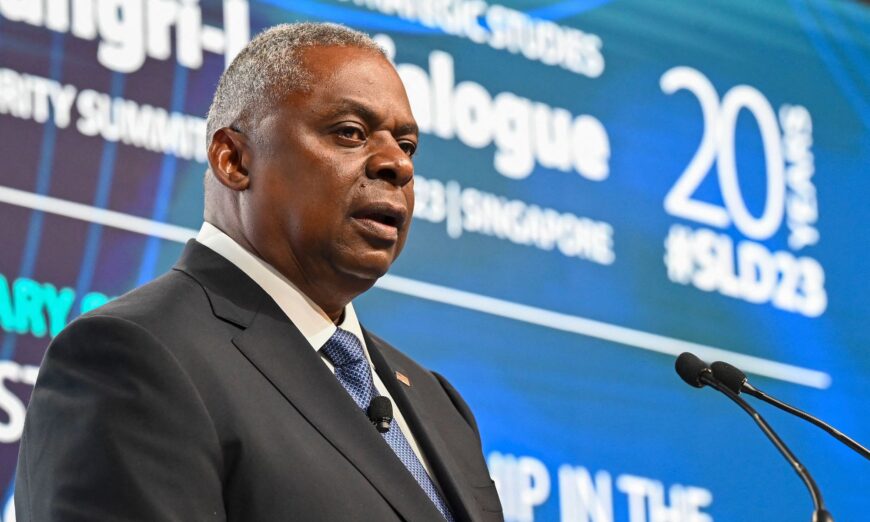 Commentary
At an annual security conference in Singapore on June 4, China's defense minister accused the United States of being a hegemonic power. Given all the trouble Washington is experiencing over Taiwan and Ukraine, clearly, we are not.
U.S. Secretary of Defense Lloyd Austin was also at the conference. He sat at the same dinner table as the Chinese defense minister, Li Shangfu. However, they were seated too far apart to speak with one another, which was probably at the request of Beijing.
Li has refused to speak with Austin for years, despite Austin's repeated attempts and the obvious need for clear lines of communication between major nuclear powers.
At the conference, Austin circumnavigated the table and got a handshake, but that's it. He was the more magnanimous man.
Yet the Chinese Communist Party (CCP) is bursting at the seams. It claims America is attempting to contain its rise, which is partly true, but only to the extent that the CCP attempts to disrupt the peace between nations.
The CCP ignores international law wherever it pleases, while pointing the finger at the United States for the same. Like all effective propaganda, this, too, is partly true.
However, the United States usually only violates international law to contain out-of-control aggressive ideologies—like communism or terrorism—that lead to international violence and the rollback of human rights and democratic freedoms more broadly. Yes, the United States and our allies sometimes fight fire with fire. The bigger picture is needed to understand how and why this unfortunate tactic may be necessary.
So why do most countries prefer Washington to Beijing? What big picture is necessary for an understanding that cuts through the CCP's propaganda?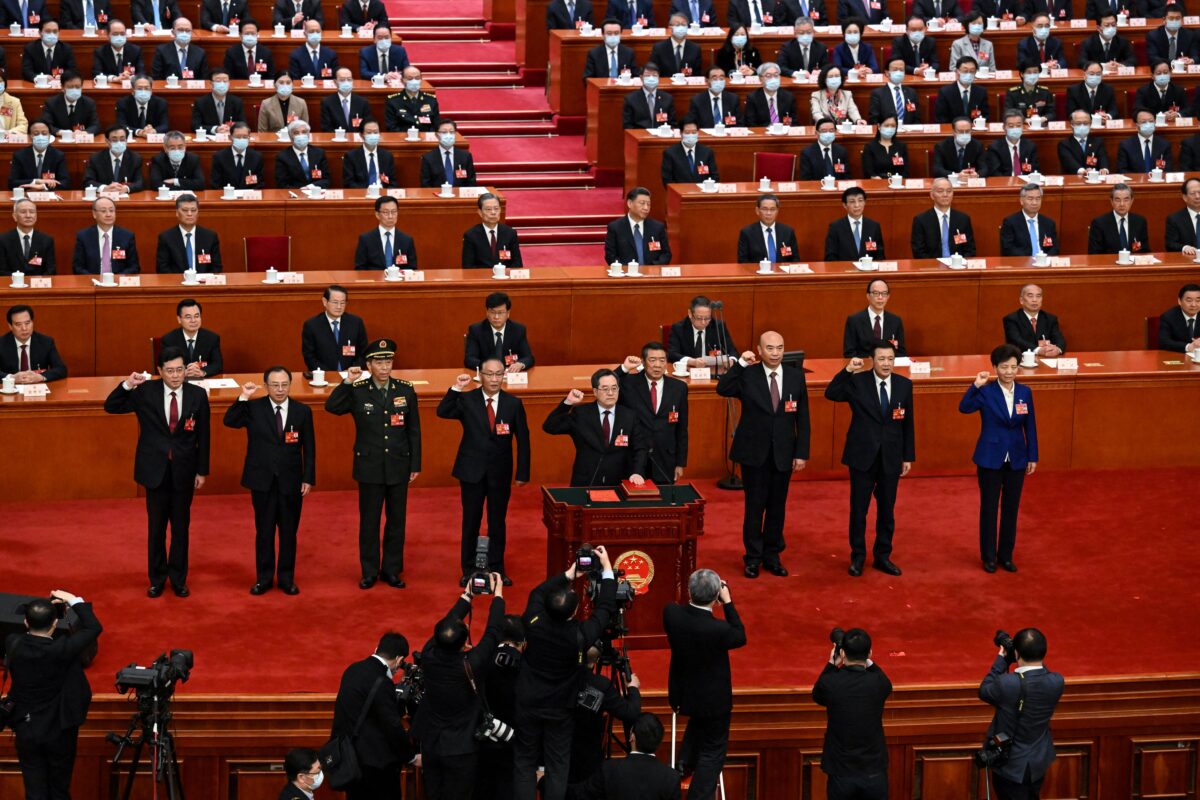 The answer is that Washington is a status quo power. It does not try to grab more and more power or territory from neighbors. It is not engaged in an ongoing genocide. It does not support aggressive dictatorships in Russia, Iran, Burma (also known as Myanmar), and North Korea.
The United States shares international power with other countries through the United Nations, which was conceived in 1941 and established in 1945 through the leadership of then-President Franklin D. Roosevelt and then-British Prime Minister Winston Churchill. It is no coincidence that Beijing and Moscow see their worst enemies in Washington and London.
The United States and the United Kingdom are the two countries most responsible, from an institutional and material perspective, for containing the world's worst bullies. This is partly the basis of our "special relationship," albeit a term mostly used in the UK.
On June 4, Austin explained to the annual security conference, called the Shangri-la Dialogue, that China's defense minister refused to dialogue with him and instead orchestrated unsafe maneuvers in the South China Sea. These Chinese military maneuvers, along with those in the Taiwan Strait, are against international law.
The CCP not only refuses to meet Austin but also refuses to meet U.S. Secretary of State Antony Blinken. Beijing is apparently playing mind games with Washington to try and intimidate us by refusing to talk while regularly threatening our military forces and risking a military incident that could escalate. This is classic brinkmanship of the type found in the Cold War against the Soviets. We are now arguably in a cold war against the CCP, though most still deny it, including the CCP itself.
Meanwhile, the CCP attempts to make China appear "open for business" so it can keep milking the United States and Europe of technology and trade. This is where China gets the economic power necessary to fuel its military rise.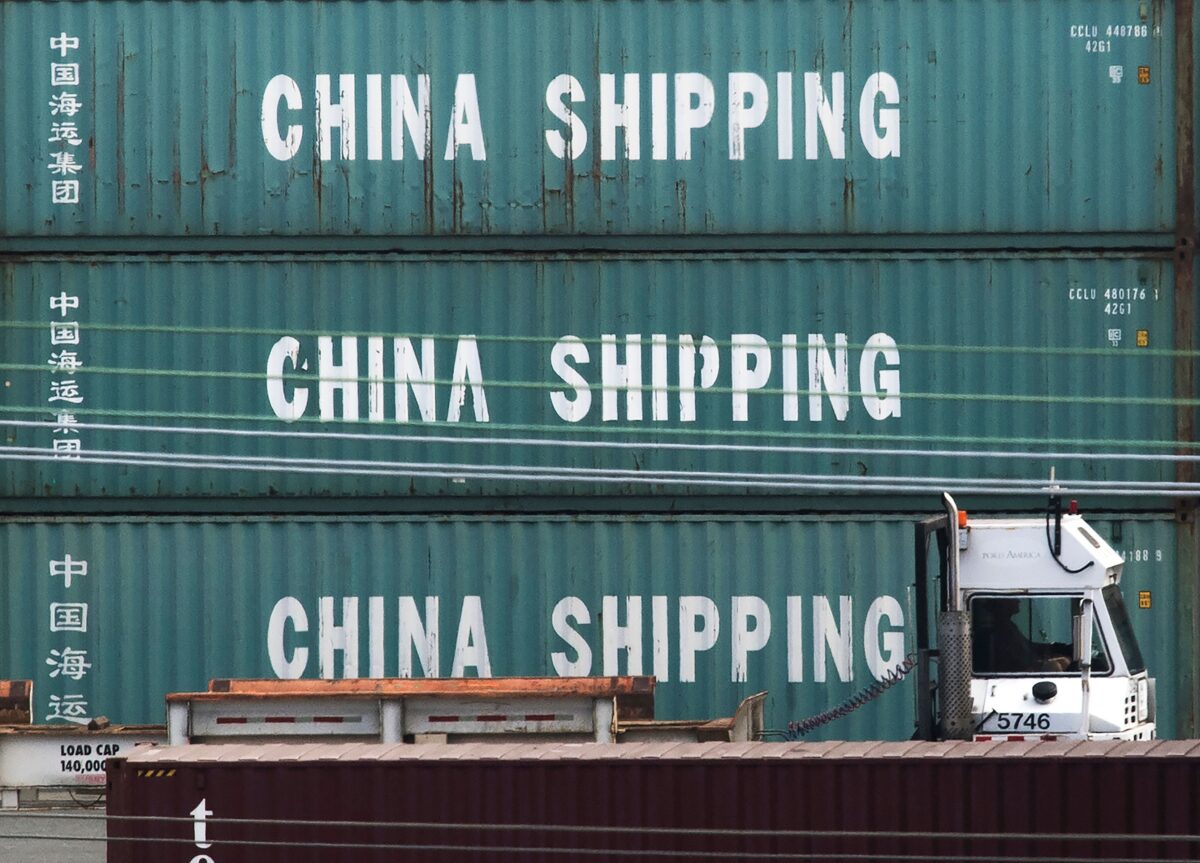 Total two-way trade between China on one side, and the combination of the United States and European Union on the other, was an astonishing $1.6 trillion in 2022. This sum is highly relevant because it represents the total trade the United States and the EU could leverage against the CCP if Washington and Brussels acted in unison.
It also explains why Washington and Brussels are so soft on Beijing. Western businesses profit from all this trade and use their political influence to try and keep that gravy train going by attempting to stabilize U.S.-China relations. That would be fine if China were also a status quo power. But the CCP is not. Beijing instead uses U.S.-China stability as a platform to expand its power globally, to the point of being an existential threat to the United States, the EU, and all other sovereign countries.
The CCP is capable of this maneuver because it can more easily leverage our uncoordinated businesses (our free market makes them uncoordinated by design) for Beijing's hegemonic purposes than we can influence China's coordinated businesses (a communist command economy always coordinates its domestic economy) for our purposes of instilling democracy and human rights into the ethos of Beijing. This was the great strategic error of engagement. The CCP can influence our politics easier than the other way around. Therefore, business engagement serves Beijing's political purposes, on balance, not our own.
It is no coincidence, then, that Beijing prioritizes commercial engagement with the United States instead of engagement with U.S. military and diplomatic leadership. While refusing to meet Austin and Blinken, Beijing is now happy to meet Commerce Secretary Gina Raimondo. Due to her position, she is more influenced by U.S. business interests in China and, therefore, easier for the CCP to manipulate.
In part to that end, the CCP is simultaneously wooing Western business leaders, including most recently from Apple, Starbucks, Tesla, J.P. Morgan Chase, and AstraZeneca. These leaders are quick to take opportunities for such engagement because, to put it simply, they want to make more money in China. They know the risks, including from rising Chinese companies that steal their technology and clients. Still, they want the profits in China as long as they possibly can, even in some instances when that business is against long-term shareholder value.
What could be worse for a free market company than to promote communism? Yet that is exactly what some Western CEOs, in effect, do. One of the most obvious examples is AstraZeneca's China boss. According to Reuters, he said last month that AstraZeneca would seek to be a patriotic company in China that "loves the Communist Party."
While AstraZeneca is headquartered in the UK, it is apparently marching to another drummer in China. The same is true of many U.S. companies.
Views expressed in this article are the opinions of the author and do not necessarily reflect the views of The Epoch Times.