As TikTok Faces Scrutiny, American Chinese Ask If WeChat Should Be Next
The U.S. Congress recently banned the use of TikTok on government devices, and at least 19 states have also issued a ban on the Chinese-owned video app over security concerns. The moves have made some wonder about the more problematic messaging, social media, and mobile payment app, WeChat. A social media group recently conducted a survey to find out public opinion among Chinese Americans. The telegram group "MoshangUS," which focuses on American news and politics, launched a survey on Feb. 25, asking more than 6,400 people in the group which direction they would like to take in relation to the problems WeChat causes for the Chinese community in the United States. The questionnaire gave several options: (1) willing to be a plaintiff in a lawsuit against WeChat and Tencent, the Chinese tech company that owns WeChat; (2) willing to donate money to support the lawsuit; (3) willing to be a volunteer to promote rights protection; (4) ask the U.S. government to ban WeChat, and demand financial compensation for users who were banned; (5) push for local bans of WeChat in schools, government, etc., and mark WeChat as an app affiliated with CCP; (6) Tencent should rectify the situation in accordance with the U.S. law and compensate the victimized users in the United States. So far, among the 244 respondents who have turned in the questionnaire, 46 percent chose option six, 33 percent chose option five, and 28 percent chose option four which called on the U.S. government to ban WeChat. Forty-nine respondents chose option 1, the action that requires the most courage—willing to file a lawsuit against Tercent as a plaintiff. Defending Freedom of Speech Lydia Liu is the manager of MoshangUS Telegram group, and in a Feb. 27 interview with The Epoch Times, Liu said she intends to sue WeChat for infringement overseas to defend freedom of speech. She is doing this because of WeChat's practice of deleting posts and blocking accounts for political reasons. Liu came to the United States from China as an international student and holds a Ph.D. from the University of North Carolina. In 2018, she opened the WeChat public account "MoshangUS" to comment on current affairs and politics in the United States and gradually became an opinion leader and a popular self-media writer. She has more than 250,000 followers and millions of views per month. However, any of her WeChat posts that contradicted the stance of the Chinese Communist Party (CCP) on the U.S.-China trade war or the COVID-19 pandemic were repeatedly taken down by the site, and she was often harassed and verbally attacked. After being blocked, she had to switch to platforms outside China, such as YouTube, Telegram, and Twitter, but the traffic on these platforms is not comparable inside China to that of WeChat. In this photo illustration, a mobile phone can be seen displaying the logos for Chinese apps WeChat and TikTok in front of a monitor showing the flags of the United States and China on an internet page, on Sept.22, 2020, in Beijing, China. (Kevin Frayer/Getty Images) WeChat is like an "all-in-one app" for Chinese people which they can use for many aspects of their work and life, with many relying on it as their source of information. For Lui, the loss of her public account was a heavy blow. "WeChat is a Chinese-speaking American exclusion App. It should be fined and regulated in the US. WeChat needs to pay Chinese Americans reparations for vicious community #invasion and mentally enslaving us for interests of China, which holds strong adverse views on the US," Liu said in a Twitter post in October 2022. In Liu's recent interview with The Epoch Times, she said:  "The Chinese have to act to stop the long arm of the Chinese Communist Party." She described what she posted in the group. "I didn't even touch upon China's affairs, I'm only concerned about things unfolding in the United States, and I was very careful to avoid WeChat censorship and not to touch the red line of the CCP. The CCP has stretched its hands too long," she said. It is well known that WeChat is censoring chat messages and posts by American users according to the interests of the Chinese regime. "The CCP has oppressed the Chinese American community so much that all Chinese WeChat circles can only discuss in the direction that favors the CCP," she said. "If you are neutral or take a different stance, you will be banned by WeChat. It is tantamount to turning the whole Chinese community into a spy community. Isn't this going to destroy all of us? We certainly cannot allow that to continue." WeChat app on a smartphone in a photo illustration taken on July 13, 2021. (Dado Ruvic/Reuters) The problem with WeChat is not just content censorship but also surveillance, which violates U.S. law. "When the CCP tramples on any of our rights granted by the U.S. Constitution, it has already crossed the line," Liu said. "Moreover, when its intention is to turn the entire Chinese American society int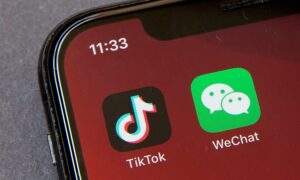 The U.S. Congress recently banned the use of TikTok on government devices, and at least 19 states have also issued a ban on the Chinese-owned video app over security concerns. The moves have made some wonder about the more problematic messaging, social media, and mobile payment app, WeChat. A social media group recently conducted a survey to find out public opinion among Chinese Americans.
The telegram group "MoshangUS," which focuses on American news and politics, launched a survey on Feb. 25, asking more than 6,400 people in the group which direction they would like to take in relation to the problems WeChat causes for the Chinese community in the United States.
The questionnaire gave several options: (1) willing to be a plaintiff in a lawsuit against WeChat and Tencent, the Chinese tech company that owns WeChat; (2) willing to donate money to support the lawsuit; (3) willing to be a volunteer to promote rights protection; (4) ask the U.S. government to ban WeChat, and demand financial compensation for users who were banned; (5) push for local bans of WeChat in schools, government, etc., and mark WeChat as an app affiliated with CCP; (6) Tencent should rectify the situation in accordance with the U.S. law and compensate the victimized users in the United States.
So far, among the 244 respondents who have turned in the questionnaire, 46 percent chose option six, 33 percent chose option five, and 28 percent chose option four which called on the U.S. government to ban WeChat.
Forty-nine respondents chose option 1, the action that requires the most courage—willing to file a lawsuit against Tercent as a plaintiff.
Defending Freedom of Speech
Lydia Liu is the manager of MoshangUS Telegram group, and in a Feb. 27 interview with The Epoch Times, Liu said she intends to sue WeChat for infringement overseas to defend freedom of speech. She is doing this because of WeChat's practice of deleting posts and blocking accounts for political reasons.
Liu came to the United States from China as an international student and holds a Ph.D. from the University of North Carolina. In 2018, she opened the WeChat public account "MoshangUS" to comment on current affairs and politics in the United States and gradually became an opinion leader and a popular self-media writer. She has more than 250,000 followers and millions of views per month.
However, any of her WeChat posts that contradicted the stance of the Chinese Communist Party (CCP) on the U.S.-China trade war or the COVID-19 pandemic were repeatedly taken down by the site, and she was often harassed and verbally attacked.
After being blocked, she had to switch to platforms outside China, such as YouTube, Telegram, and Twitter, but the traffic on these platforms is not comparable inside China to that of WeChat.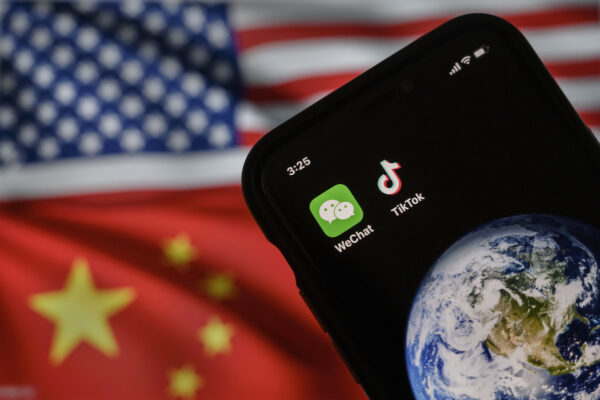 WeChat is like an "all-in-one app" for Chinese people which they can use for many aspects of their work and life, with many relying on it as their source of information. For Lui, the loss of her public account was a heavy blow.
"WeChat is a Chinese-speaking American exclusion App. It should be fined and regulated in the US. WeChat needs to pay Chinese Americans reparations for vicious community #invasion and mentally enslaving us for interests of China, which holds strong adverse views on the US," Liu said in a Twitter post in October 2022.
In Liu's recent interview with The Epoch Times, she said: "The Chinese have to act to stop the long arm of the Chinese Communist Party."
She described what she posted in the group.
"I didn't even touch upon China's affairs, I'm only concerned about things unfolding in the United States, and I was very careful to avoid WeChat censorship and not to touch the red line of the CCP. The CCP has stretched its hands too long," she said.
It is well known that WeChat is censoring chat messages and posts by American users according to the interests of the Chinese regime.
"The CCP has oppressed the Chinese American community so much that all Chinese WeChat circles can only discuss in the direction that favors the CCP," she said.
"If you are neutral or take a different stance, you will be banned by WeChat. It is tantamount to turning the whole Chinese community into a spy community. Isn't this going to destroy all of us? We certainly cannot allow that to continue."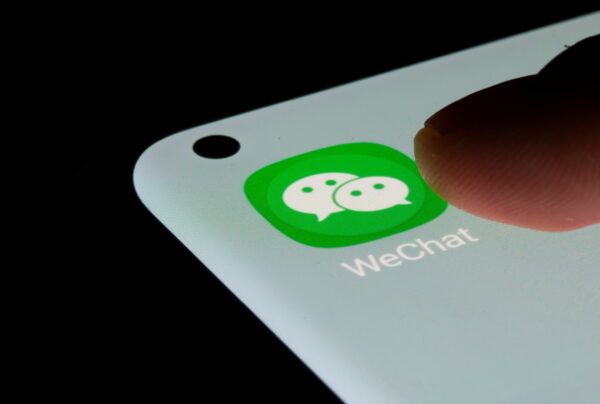 The problem with WeChat is not just content censorship but also surveillance, which violates U.S. law.
"When the CCP tramples on any of our rights granted by the U.S. Constitution, it has already crossed the line," Liu said. "Moreover, when its intention is to turn the entire Chinese American society into a Trojan horse for the CCP inside the United States, if you don't resist it at this point, then when?"
Professor Seth D. Kaplan of Johns Hopkins University shared Liu's experience in an op-ed he wrote for Wall Street Journal published on Jan. 24. Kaplan's article, "TikTok Is Bad, but WeChat Is Worse," exposed the dangers of WeChat to American society.
"Beijing uses the popular app to steal data, censor, propagandize and spread disinformation in the U.S.," Kaplan wrote.
Banned Over Chinese Spy Balloons
Ling Fei, another social media group manager in New York, said he was permanently banned from WeChat in early February for posting an article saying that the U.S. Army F-22 fired only one missile to shoot down the balloon, not three missiles as some in mainland China believed.
"I just explained to my readers some basic aviation knowledge. It was as simple as that," Ling told The Epoch Times.
Ling said he is concerned about two ongoing U.S. Supreme Court lawsuits on Google and Twitter's liabilities under the anti-terrorist law.
"Both cases involve Section 230, which provides protection for social media platforms. When the final judgment comes out, it should play a big role in suing WeChat," Ling said.
The Section 230 controversy includes the blocking of former President Donald Trump's account by Twitter and Facebook in 2020 for "misleading tweets" and "false claims."
The issue at hand is over whether the two tech giants will be viewed as violating freedom of speech or will be exempted from Section 230.
The judgment involves how to define freedom of speech, which will affect the operating rules of the entire Internet.
The Supreme Court should rule on both cases by June 30.
If Section 230 is amended to narrow its protections, then it would be illegal for WeChat to delete MoshangUS' account at will.
"So, at this point, we'd better wait for the trial results before taking legal action," Ling said.
Convenience vs Harm
There have been two WeChat-related lawsuits filed by U.S.-based civil organizations.
One is a class action lawsuit filed by a U.S. non-government organization, "Citizen Power," and six plaintiffs against WeChat's parent company Tencent in California in 2021, accusing it of violating the constitutional rights to privacy and free speech. In 2021, the judge rejected Tencent's request to transfer the case to private arbitration, ruling that the class action must be conducted in court. It is reported that WeChat has requested arbitration in Hong Kong, but the plaintiff has refused.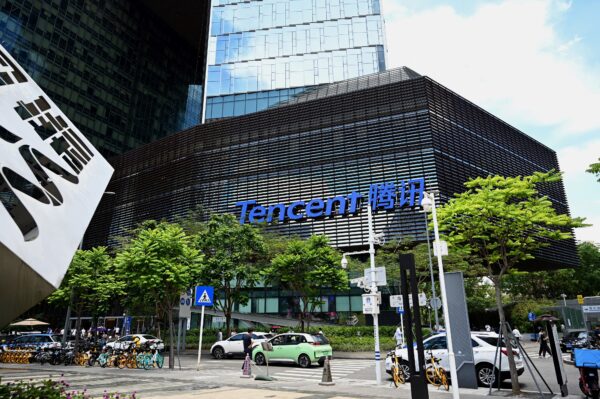 The other lawsuit, U.S. WeChat Users Alliance v. Trump, was filed by a group of WeChat users in 2020 against Trump's WeChat ban on grounds of national security. The users claimed that the ban could undermine the freedom of speech guaranteed by the First Amendment of the Constitution and bring difficulties to the Chinese community using WeChat.
Ironically, the six individual plaintiffs who sued Tencent WeChat all had to remain anonymous to protect themselves from retaliation by the CCP, but several of the individual plaintiffs in the U.S. WeChat Users Alliance v. Trump case used their real names, as they did not have to fear that the U.S. government will persecute them. And they won the lawsuit.
At a recent meeting of the House Select Committee on the CCP in Chinatown, New York, President of Humanitarian China Zhou Fengsuo told The Epoch Times that in China, no entity can exist free from the control of the CCP.
"So all entities from China are likely to be controlled directly or indirectly by the CCP, which is a problem and a reality," he said.
Zhou pointed out that WeChat is like a Trojan horse and that U.S. judges are treating WeChat like a normal U.S. company, leading to wrong judgments.
"We absolutely cannot allow another country's agent to have such power in the United States," he said.