Apple Kisses Up to China Again
CommentaryApple is doing the splits. The maker of iPhones, MacBooks, and AirPods is moving much of its production outside of China to the United States, India, and Vietnam. Simultaneously, the company is shifting production within China from Taiwanese to Chinese companies. Moves to the West and friendly countries will please Western consumers and governments. Within China, whose consumers spend a whopping 17 percent of Apple's total revenues, the company is moving production from Taiwan's Foxconn to Chinese companies like Luxshare Precision, Goertech, and Wingtech. That makes the Chinese Communist Party (CCP) happy, or at least, less unhappy. The production split is driven by politics. Apple wants to maintain production in China and the West during an incipient global decoupling between Washington- and Beijing-led trading blocs. Chinese production will continue to supply China, Russia, and Iran, while non-Chinese production can reliably supply the rest of the world. Taiwan is a definite loser in the split, as its Foxconn company specializes in Chinese production for Western markets. That specialty is no longer in demand. Vietnam and India are the biggest winners. Apple's first major order for premium iPhones from Luxshare was reported on Jan. 4 by the Financial Times. It comes shortly after worker riots at Foxconn, allegedly over pay and COVID-19 lockdowns at the plant. The protests hurt the Apple brand, production, and revenues. They also pressured Apple and served as a convenient excuse for it to move Foxconn production to Luxshare, despite the Foxconn plant having regained speed. Luxshare previously assembled only non-premium iPhones. With the new contract, the company broke Foxconn's monopoly on the premium phones. The day the news broke, Luxshare shares rose over 3 percent. Apple's valuation, conversely, fell over the past year from $3 trillion to under $2 trillion. Cutthroat business practices are a strong possibility. Luxshare was founded by Grace Wang, a former Foxconn worker. The latest Taiwanese-to-Chinese production shift follows the same course as many in the past, where a Chinese company cannibalizes a competitor and then develops similar products to outcompete its rival. Beijing assists the replacement of its competitors by subsidizing Chinese companies and providing them with lax regulations, while increasing regulations, taxes, and propaganda against non-Chinese competitors, or fomenting labor strife on their work floors. If competitors complain, the CCP's only-somewhat-passive aggression increases. "Apple struggled with iPhone 14 Pro shipments during the holiday season because of Covid restrictions on its primary [Foxconn] factory in China," according to CNBC. Those restrictions increased labor strife and the debilitating drop in production. Unrest erupted at Foxconn's plant in Zhengzhou, China, on Nov. 23, 2022. (Screenshot of Stephen McDonell's Twitter account via The Epoch Times) The production shifts have occurred for years and through Apple's enabling hand. Luxshare's annual revenues increased from $2 billion to $24 billion between 2016 and 2021. In the latest shift, Luxshare could only bring its technical standards up to the required level for premium iPhone production with a "significant investment from Apple," according to sources cited by the Financial Times. Already in November, Luxshare was reportedly producing some iPhone 14 Pro Max units in its plant northwest of Shanghai. "The transferred order represents a coup for Luxshare, which has been winning an increasing share of Apple's business," according to the Financial Times. "Apple's ties to China have become closer in recent years as Chinese contract manufacturers have won orders at the expense of Taiwanese partners." But placating the CCP with production and technology transfers only buys Apple time. On Wednesday, Chinese state media criticized the American company. The Global Times claimed that "weakening demand for Apple products … has dragged down the performance of Chinese suppliers." The Global Times claimed that Apple's problems stem partly from a "competitive market in China as domestic smartphone brands such as Huawei, Xiaomi, Oppo, and Vivo have gained increasing popularity." The CCP clearly aims for the replacement of not only Foxconn by Luxshare, but of Apple by China's tech champions. Moving premium iPhone production to a Chinese manufacturer improved Apple's short-term chances of avoiding worker riots and arbitrary rules imposed by the regime. But in the long run, Apple's days in authoritarian China are numbered. Apple and other international corporations, along with shareholders who have different incentive structures than their CEOs, should watch their backs. CEOs who pursue the Chinese market with production and technology transfers are investing in their companies' long-term demise. Views expressed in this article are the opinions of the author and do not necessarily reflect the vi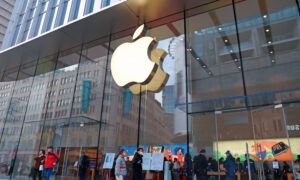 Commentary
Apple is doing the splits. The maker of iPhones, MacBooks, and AirPods is moving much of its production outside of China to the United States, India, and Vietnam.
Simultaneously, the company is shifting production within China from Taiwanese to Chinese companies.
Moves to the West and friendly countries will please Western consumers and governments.
Within China, whose consumers spend a whopping 17 percent of Apple's total revenues, the company is moving production from Taiwan's Foxconn to Chinese companies like Luxshare Precision, Goertech, and Wingtech.
That makes the Chinese Communist Party (CCP) happy, or at least, less unhappy.
The production split is driven by politics. Apple wants to maintain production in China and the West during an incipient global decoupling between Washington- and Beijing-led trading blocs.
Chinese production will continue to supply China, Russia, and Iran, while non-Chinese production can reliably supply the rest of the world.
Taiwan is a definite loser in the split, as its Foxconn company specializes in Chinese production for Western markets. That specialty is no longer in demand. Vietnam and India are the biggest winners.
Apple's first major order for premium iPhones from Luxshare was reported on Jan. 4 by the Financial Times. It comes shortly after worker riots at Foxconn, allegedly over pay and COVID-19 lockdowns at the plant. The protests hurt the Apple brand, production, and revenues.
They also pressured Apple and served as a convenient excuse for it to move Foxconn production to Luxshare, despite the Foxconn plant having regained speed.
Luxshare previously assembled only non-premium iPhones. With the new contract, the company broke Foxconn's monopoly on the premium phones.
The day the news broke, Luxshare shares rose over 3 percent. Apple's valuation, conversely, fell over the past year from $3 trillion to under $2 trillion.
Cutthroat business practices are a strong possibility. Luxshare was founded by Grace Wang, a former Foxconn worker.
The latest Taiwanese-to-Chinese production shift follows the same course as many in the past, where a Chinese company cannibalizes a competitor and then develops similar products to outcompete its rival.
Beijing assists the replacement of its competitors by subsidizing Chinese companies and providing them with lax regulations, while increasing regulations, taxes, and propaganda against non-Chinese competitors, or fomenting labor strife on their work floors. If competitors complain, the CCP's only-somewhat-passive aggression increases.
"Apple struggled with iPhone 14 Pro shipments during the holiday season because of Covid restrictions on its primary [Foxconn] factory in China," according to CNBC. Those restrictions increased labor strife and the debilitating drop in production.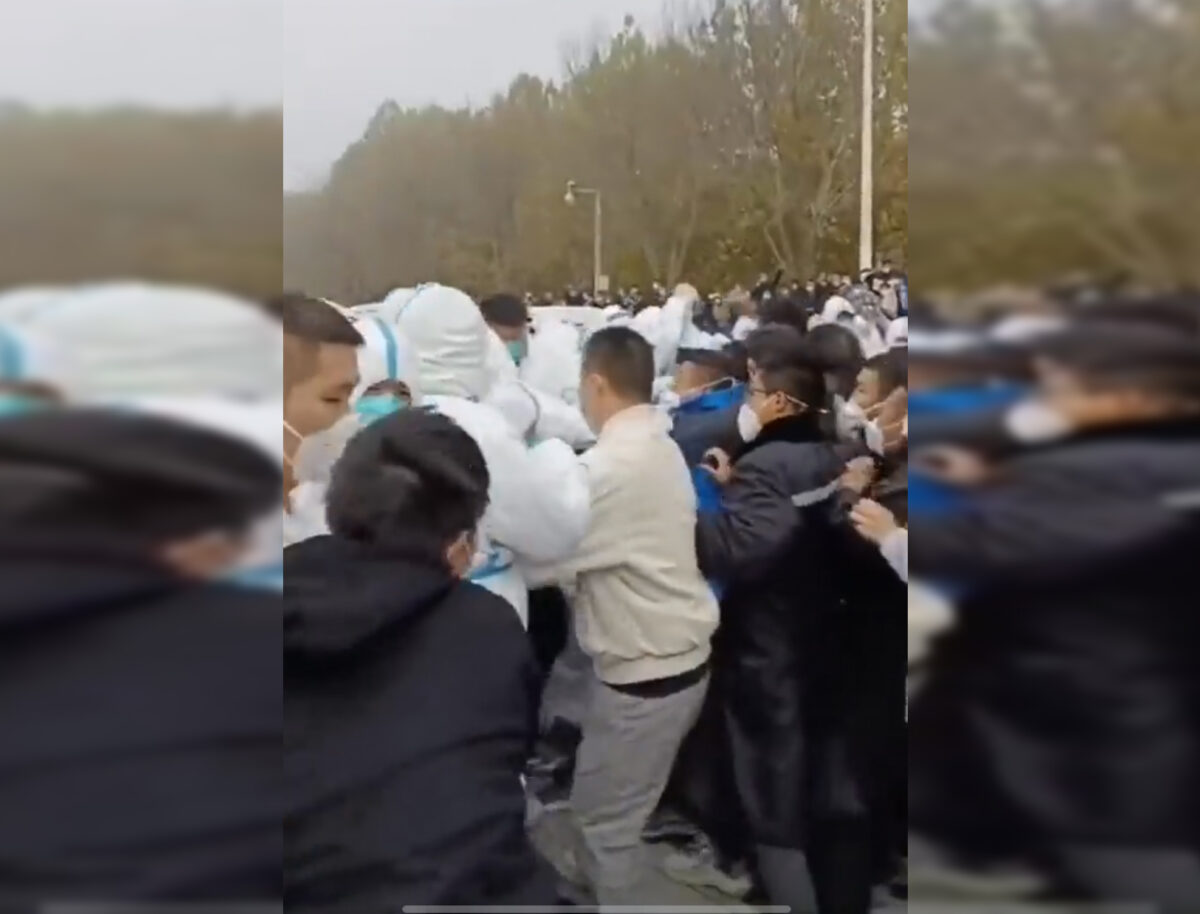 The production shifts have occurred for years and through Apple's enabling hand. Luxshare's annual revenues increased from $2 billion to $24 billion between 2016 and 2021.
In the latest shift, Luxshare could only bring its technical standards up to the required level for premium iPhone production with a "significant investment from Apple," according to sources cited by the Financial Times.
Already in November, Luxshare was reportedly producing some iPhone 14 Pro Max units in its plant northwest of Shanghai.
"The transferred order represents a coup for Luxshare, which has been winning an increasing share of Apple's business," according to the Financial Times. "Apple's ties to China have become closer in recent years as Chinese contract manufacturers have won orders at the expense of Taiwanese partners."
But placating the CCP with production and technology transfers only buys Apple time.
On Wednesday, Chinese state media criticized the American company. The Global Times claimed that "weakening demand for Apple products … has dragged down the performance of Chinese suppliers."
The Global Times claimed that Apple's problems stem partly from a "competitive market in China as domestic smartphone brands such as Huawei, Xiaomi, Oppo, and Vivo have gained increasing popularity."
The CCP clearly aims for the replacement of not only Foxconn by Luxshare, but of Apple by China's tech champions.
Moving premium iPhone production to a Chinese manufacturer improved Apple's short-term chances of avoiding worker riots and arbitrary rules imposed by the regime. But in the long run, Apple's days in authoritarian China are numbered.
Apple and other international corporations, along with shareholders who have different incentive structures than their CEOs, should watch their backs.
CEOs who pursue the Chinese market with production and technology transfers are investing in their companies' long-term demise.
Views expressed in this article are the opinions of the author and do not necessarily reflect the views of The Epoch Times.