Anthony Furey: The Madness of Electric Vehicle Mandates
CommentaryFive years ago I took the plunge and became a minivan owner and I'll never forget what the shopping experience told me about electric vehicles (EVs). We bought the minivan because it was what our growing family needed at the time. I was originally hoping to get an SUV—cooler than a van!—but the storage and seat arrangements just didn't fit our requirements. Our shopping experience was probably the same as many Canadian families: We visited a number of dealerships and test drove a variety of makes and models, until eventually settling on our choice. The thing I remember most about the experience though wasn't anything particular that happened, but one big thing that didn't happen: Nobody mentioned hybrids or EVs. Not once. The option simply never came up. It didn't cross my mind during the weeks-long purchasing process and nobody at any of the dealerships brought it up. This only dawned on me when I was appearing on a talk radio show to discuss yet another government initiative aimed at reducing emissions and increasing EV usage. I found it pretty telling that here I was actually in the thick of purchasing a new vehicle and was on radio talking about these things and had never connected the two experiences. It was like the government initiative was little more than idealism, a bureaucratic thought experiment, while my family's purchase was realism. There was little overlap between the two worlds. Now, to be fair, one big reason why the option never came up is back then there really were no EV options available for larger vehicles (there are still very few). So there was nothing for the salespeople to pitch. But I think my story is illustrative of the recent descent into policy madness undertaken by the Liberal government of Prime Minister Justin Trudeau when it comes to Canada's EV sales mandates. The other week, the Liberals confirmed their longstanding plans to mandate that every major passenger vehicle sold in Canada must be electric by 2035. The first requirement is that 20 percent of sales must be EVs as of the 2026 model year, and then it escalates. The idea of the government dictating to manufacturers what their sales figures must be is enough to make central-planning communists blush. The economy just doesn't work that way. Producers only wish they were in charge of how and when consumers spend their money. But they're not. Nor is the government. In the 2022 budget, the Liberals amusingly pitched this plan as "making it easier to buy a ZEV [zero-emission vehicle] through a new, mandatory sales target so that when people go to purchase a ZEV, there are options for sale on the lot." The internal logic of this sentence implodes on itself. You don't make things easier for consumers by restricting consumer choice. Looking back on my minivan experience, what would have made me more inclined to purchase one was if the market had been producing hybrid or EV vans at a price comparable to traditional vehicles. Make no mistake about it, this transition is happening. The economics are increasingly making sense for people. Yet the government, instead of simply allowing or assisting this transition, thinks it can yell and scream at industry and consumers to make it happen according to their own random timelines. What's curious about the Liberals' madness mandate is that it's happening at around the same time people are asking more critical questions about the feasibility of such a transition. First, there are the basic concerns about how EVs can be used in non-urban parts of Canada, where charging stations will be less widely available. But more complex questions are also coming to the fore. One is the incredible environmental impacts of mining the materials required to produce these vehicles. Like how reports indicate reusable bags are in some respects worse for the environment than single-use plastic bags, EVs aren't always as clean and green as we've been led to believe. Then there are the concerns about how the current electrical grid can't actually handle bringing so many EVs into operation within the time frames advocated by Trudeau. For example, the California government recently told EV owners to not charge their vehicles between 5 and 10 p.m. to help avoid brownouts. Industry is aware of these hurdles and they're already hard at work on solutions. Innovation is a remarkable thing. But what Trudeau and other politicians are doing, with their rigid timelines and ideological agendas, isn't innovation. The progress that'll be made in the years ahead on the EV file will be made regardless of government edict, not due to it. I'm sure I'll buy an electric vehicle for my family one day, assuming all the numbers make sense. But it wasn't my last vehicle purchase and it probably won't be my next one. Views expressed in this article are the opinions of the author and do not necessarily reflect the views of The Epoch Times. Anthony Furey is vice president of edit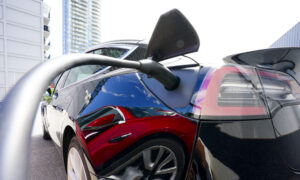 Commentary
Five years ago I took the plunge and became a minivan owner and I'll never forget what the shopping experience told me about electric vehicles (EVs).
We bought the minivan because it was what our growing family needed at the time. I was originally hoping to get an SUV—cooler than a van!—but the storage and seat arrangements just didn't fit our requirements.
Our shopping experience was probably the same as many Canadian families: We visited a number of dealerships and test drove a variety of makes and models, until eventually settling on our choice.
The thing I remember most about the experience though wasn't anything particular that happened, but one big thing that didn't happen: Nobody mentioned hybrids or EVs. Not once.
The option simply never came up. It didn't cross my mind during the weeks-long purchasing process and nobody at any of the dealerships brought it up.
This only dawned on me when I was appearing on a talk radio show to discuss yet another government initiative aimed at reducing emissions and increasing EV usage. I found it pretty telling that here I was actually in the thick of purchasing a new vehicle and was on radio talking about these things and had never connected the two experiences.
It was like the government initiative was little more than idealism, a bureaucratic thought experiment, while my family's purchase was realism. There was little overlap between the two worlds.
Now, to be fair, one big reason why the option never came up is back then there really were no EV options available for larger vehicles (there are still very few). So there was nothing for the salespeople to pitch.
But I think my story is illustrative of the recent descent into policy madness undertaken by the Liberal government of Prime Minister Justin Trudeau when it comes to Canada's EV sales mandates.
The other week, the Liberals confirmed their longstanding plans to mandate that every major passenger vehicle sold in Canada must be electric by 2035. The first requirement is that 20 percent of sales must be EVs as of the 2026 model year, and then it escalates.
The idea of the government dictating to manufacturers what their sales figures must be is enough to make central-planning communists blush. The economy just doesn't work that way. Producers only wish they were in charge of how and when consumers spend their money. But they're not. Nor is the government.
In the 2022 budget, the Liberals amusingly pitched this plan as "making it easier to buy a ZEV [zero-emission vehicle] through a new, mandatory sales target so that when people go to purchase a ZEV, there are options for sale on the lot."
The internal logic of this sentence implodes on itself. You don't make things easier for consumers by restricting consumer choice.
Looking back on my minivan experience, what would have made me more inclined to purchase one was if the market had been producing hybrid or EV vans at a price comparable to traditional vehicles.
Make no mistake about it, this transition is happening. The economics are increasingly making sense for people. Yet the government, instead of simply allowing or assisting this transition, thinks it can yell and scream at industry and consumers to make it happen according to their own random timelines.
What's curious about the Liberals' madness mandate is that it's happening at around the same time people are asking more critical questions about the feasibility of such a transition.
First, there are the basic concerns about how EVs can be used in non-urban parts of Canada, where charging stations will be less widely available. But more complex questions are also coming to the fore. One is the incredible environmental impacts of mining the materials required to produce these vehicles. Like how reports indicate reusable bags are in some respects worse for the environment than single-use plastic bags, EVs aren't always as clean and green as we've been led to believe.
Then there are the concerns about how the current electrical grid can't actually handle bringing so many EVs into operation within the time frames advocated by Trudeau. For example, the California government recently told EV owners to not charge their vehicles between 5 and 10 p.m. to help avoid brownouts.
Industry is aware of these hurdles and they're already hard at work on solutions. Innovation is a remarkable thing. But what Trudeau and other politicians are doing, with their rigid timelines and ideological agendas, isn't innovation. The progress that'll be made in the years ahead on the EV file will be made regardless of government edict, not due to it.
I'm sure I'll buy an electric vehicle for my family one day, assuming all the numbers make sense. But it wasn't my last vehicle purchase and it probably won't be my next one.
Views expressed in this article are the opinions of the author and do not necessarily reflect the views of The Epoch Times.