Another 28 Reports in October From China of People Imprisoned for Their Spiritual Belief: Report
The Chinese communist regime has been persecuting a group of spiritual believers across China since 1999, and the massive suppression is still going on.As of Oct. 31, 28 Falun Gong practitioners in nine provinces in China were reported to have been sentenced to imprisonment from 1.5 to 10 years, adding up to 554 people imprisoned in total in ten months this year. Due to the difficulty in getting information out of China, these reports include sentences that happened in the past but were unknown. One report was of an individual imprisoned in 2014, another one occurred in 2021, and the remaining happened in 2022, as reported by Minghui.org, a U.S.-based organization that reports on the ongoing persecution of Falun Gong. The numbers of victims are "incomplete," according to Minghui, due to the strict censorship of the Chinese communist regime. China's northeastern Liaoning Province imprisoned eight Falun Gong adherents, the highest number among the nine provinces, the report said. Zhou Shuzhen, an 86-year-old retired textile factory worker in China's southwestern Sichuan Province, was sentenced to three years of imprisonment with a five-year probation. She was sentenced for studying "Zhuan Falun," the main book of teachings for the spiritual practice of Falun Gong. Falun Gong, also known as Falun Dafa, is a spiritual practice consisting of five gentle exercises and moral teachings promoting the values of truthfulness, compassion, and forbearance. Its popularity surged in the 1990s after due to significant physical and spiritual benefits, spreading nationwide. The number of Falun Gong adherents in China was estimated to be from 70 million to 100 million by the end of the decade, which outnumbered the 63 million members of the Chinese Communist Party (CCP) as of 1999. The CCP has been persecuting Falun Gong for its popularity in various ways, including defaming Falun Gong on Chinese media platforms and foreign media, depriving Falun Gong adherents of job opportunities, depriving them of their wages or retirement pensions, stalking and threatening them, arresting and torturing them, and most evil of all, live organ harvesting of Falun Gong believers. Torture illustration: Shocked with multiple electrical batons. (Courtesy of Minghui.org) 65-Year-Old Woman Imprisoned Four Times in Two Decades, Tortured Liu Suzhi, a 65-year-old resident of Anshan City, China's northeastern Liaoning Province, was arrested on Jan. 4, 2022, when she and another Falun Gong practitioner Zhang Yunkun were talking with people about Falun Gong at a local farmer's market. Both women's homes were ransacked after they were arrested. Liu and Zhang stood trial at the Lishan District Court on August 10. Liu's family learned on Sept. 29 that she was sentenced to 3.5 years imprisonment. Minghui says in its report that it's not clear whether Zhang has been sentenced. This is the fourth time Liu has been imprisoned for her faith. She has appealed to the higher court, according to Minghui. Liu began to practice Falun Gong in 1999, and she credits the practice for curing many of her illnesses. On Oct. 1, 2001, Liu was sentenced to five years in Liaoning Province Women's Prison for going to Beijing to appeal for the right to practice Falun Gong. Located in the northwestern suburb of Shenyang City, Liaoning Province Women's Prison is "one of the most notorious" in China for abusing incarcerated Falun Gong practitioners, even resulting in the deaths of some practitioners, according to Minghui. The prison police tortured Liu brutally. According to Minghui, the prison police ordered the inmates to beat her and deprived her of sleep for two weeks. When she was too sleepy to keep her eyes open, they stabbed her with needles and an awl and hit her head with a broom. The police shocked her with electric batons to force her to renounce Falun Gong. They forced her to sit on a small stool of 1.9 inches by 5.2 inches from 7 a.m. to 9 p.m. In 2007, only one year after she was released, she was again arrested. This time she was sentenced to six years imprisonment at the Liaoning Province Women's Prison. Before she was imprisoned, she had been detained for 15 months at the Anshan Detention Center. In 2018, Liu was imprisoned for the third time, this time for two years. Liu has been sentenced to 16.5 years imprisonment in total since 2001. Minghui Book on Persecution Minghui has taken great efforts to contact Falun Gong adherents and speaks out for those practitioners silenced in China. Victims like Liu have been recorded in Minghui's book, "Minghui Report: The 20-Year Persecution of Falun Gong in China." Published in 2021, the 437-page book is "the most exhaustive documentation of the persecution of Falun Gong practitioners in China" and "should be in every library and parliamentary office in Australia," comments Peter Westmore, former president of the National Civic Council in Australia. The book was the 2021 silver winner of The Bill Fisher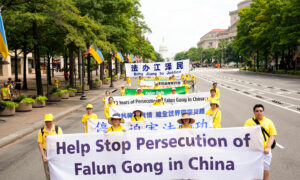 The Chinese communist regime has been persecuting a group of spiritual believers across China since 1999, and the massive suppression is still going on.
As of Oct. 31, 28 Falun Gong practitioners in nine provinces in China were reported to have been sentenced to imprisonment from 1.5 to 10 years, adding up to 554 people imprisoned in total in ten months this year.
Due to the difficulty in getting information out of China, these reports include sentences that happened in the past but were unknown. One report was of an individual imprisoned in 2014, another one occurred in 2021, and the remaining happened in 2022, as reported by Minghui.org, a U.S.-based organization that reports on the ongoing persecution of Falun Gong.
The numbers of victims are "incomplete," according to Minghui, due to the strict censorship of the Chinese communist regime.
China's northeastern Liaoning Province imprisoned eight Falun Gong adherents, the highest number among the nine provinces, the report said.
Zhou Shuzhen, an 86-year-old retired textile factory worker in China's southwestern Sichuan Province, was sentenced to three years of imprisonment with a five-year probation. She was sentenced for studying "Zhuan Falun," the main book of teachings for the spiritual practice of Falun Gong.
Falun Gong, also known as Falun Dafa, is a spiritual practice consisting of five gentle exercises and moral teachings promoting the values of truthfulness, compassion, and forbearance. Its popularity surged in the 1990s after due to significant physical and spiritual benefits, spreading nationwide.
The number of Falun Gong adherents in China was estimated to be from 70 million to 100 million by the end of the decade, which outnumbered the 63 million members of the Chinese Communist Party (CCP) as of 1999.
The CCP has been persecuting Falun Gong for its popularity in various ways, including defaming Falun Gong on Chinese media platforms and foreign media, depriving Falun Gong adherents of job opportunities, depriving them of their wages or retirement pensions, stalking and threatening them, arresting and torturing them, and most evil of all, live organ harvesting of Falun Gong believers.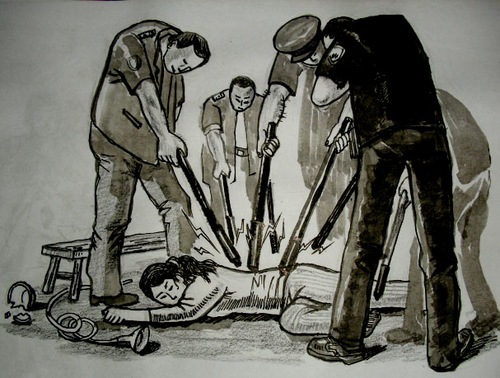 65-Year-Old Woman Imprisoned Four Times in Two Decades, Tortured
Liu Suzhi, a 65-year-old resident of Anshan City, China's northeastern Liaoning Province, was arrested on Jan. 4, 2022, when she and another Falun Gong practitioner Zhang Yunkun were talking with people about Falun Gong at a local farmer's market. Both women's homes were ransacked after they were arrested.
Liu and Zhang stood trial at the Lishan District Court on August 10. Liu's family learned on Sept. 29 that she was sentenced to 3.5 years imprisonment. Minghui says in its report that it's not clear whether Zhang has been sentenced.
This is the fourth time Liu has been imprisoned for her faith. She has appealed to the higher court, according to Minghui.
Liu began to practice Falun Gong in 1999, and she credits the practice for curing many of her illnesses.
On Oct. 1, 2001, Liu was sentenced to five years in Liaoning Province Women's Prison for going to Beijing to appeal for the right to practice Falun Gong.
Located in the northwestern suburb of Shenyang City, Liaoning Province Women's Prison is "one of the most notorious" in China for abusing incarcerated Falun Gong practitioners, even resulting in the deaths of some practitioners, according to Minghui.
The prison police tortured Liu brutally.
According to Minghui, the prison police ordered the inmates to beat her and deprived her of sleep for two weeks. When she was too sleepy to keep her eyes open, they stabbed her with needles and an awl and hit her head with a broom. The police shocked her with electric batons to force her to renounce Falun Gong. They forced her to sit on a small stool of 1.9 inches by 5.2 inches from 7 a.m. to 9 p.m.
In 2007, only one year after she was released, she was again arrested. This time she was sentenced to six years imprisonment at the Liaoning Province Women's Prison. Before she was imprisoned, she had been detained for 15 months at the Anshan Detention Center.
In 2018, Liu was imprisoned for the third time, this time for two years.
Liu has been sentenced to 16.5 years imprisonment in total since 2001.
Minghui Book on Persecution
Minghui has taken great efforts to contact Falun Gong adherents and speaks out for those practitioners silenced in China. Victims like Liu have been recorded in Minghui's book, "Minghui Report: The 20-Year Persecution of Falun Gong in China."
Published in 2021, the 437-page book is "the most exhaustive documentation of the persecution of Falun Gong practitioners in China" and "should be in every library and parliamentary office in Australia," comments Peter Westmore, former president of the National Civic Council in Australia.
The book was the 2021 silver winner of The Bill Fisher Award for Best First Book, Nonfiction, of the Benjamin Franklin Award. It is available on Minghui's publishing website in five languages: English, German, Japanese, Russian, and Persian.