ANALYSIS: Nuclear Plant Explosion Fears Follow Tense Month in Russia–China–US Relations
Global headlines this weekend warned of a possible, Russia-provoked explosion at Ukraine's Zaporizhzhia nuclear power plant. Citing Ukrainian intelligence, Ukraine president Volodymyr Zelenskyy spoke of a "serious threat" at the Russian-occupied nuclear plant. Ukraine has been holding drills to prepare for a potential radioactive disaster should Russia blow up the plant. The tense situation follows weeks of high-level diplomatic moves involving Russia, China, and the United States. Analysts warn that the international situation is at a critical juncture and that there is a very real risk of military conflict between the three major powers. Former vice president and presidential hopeful Mike Pence, speaking to CBS News' "Face the Nation" Sunday, connected China and the Ukraine conflict. "There's no more effective way to send a deafening message to communist China, to check their military ambitions in the Asia Pacific, than by giving Ukraine what they need to repel the Russian invasion. I know China's watching," Pence said. Earlier in the month, U.S. Secretary of State Antony Blinken visited China, the first visit to Beijing by a U.S. secretary of state since 2018. Blinken: Restoring Military Communication 'A Process' Blinken ended his visit to China on June 19, saying that China–U.S. military communication has not yet been restored. "It's a process," he said. After the U.S. military shot down a Chinese spy balloon over the United States in February, the Chinese Communist Party (CCP) shut down communication between the two militaries. Lack of open channels between both nations has prompted international jitters, with Beijing's reluctance to engage in regular military-to-military talks with Washington alarming China's neighbors. Regarding the Ukraine conflict, Blinken said on June 19 that while the United States had seen no indication that the Chinese regime was providing lethal assistance to Russia, there were concerns that private Chinese companies would provide the Russian military with material and technology that could be used in the war. 'A Deep-Rooted Diplomatic and Political Game' The Russia-Ukraine war has thrown the relationship between Russia, the United States, and China into high relief, drawing international attention. Blinken's visit to China coincided with a visit by Chinese premier Li Qiang to Germany and France, his first trip overseas since taking office in March. Shortly after the secretary of state's visit to China, the White House effusively welcomed Indian prime minister Narendra Modi. Modi was just the third world leader to be honored by a state visit under President Joe Biden. The visit was widely seen as a silent message to China about countering Beijing's dominance in the Indo-Pacific region. Secretary of State Antony Blinken (L) shakes hands with China's President Xi Jinping in the Great Hall of the People in Beijing on June 19, 2023. (Leah Millis/Pool/AFP via Getty Images) "The visit of Blinken to China took place against the backdrop of the Russia-Ukraine war and the critical point in Sino-US relations," current affairs commentator Li Yanming told The Epoch Times on June 22. "It is obvious that there is a deep-rooted diplomatic and political game between China, the United States, and Russia behind Blinken's visit to China," Li said. The day before Modi's visit, China hit back after Biden referred to communist leader Xi Jinping as a "dictator," saying the remarks were absurd and a provocation, an unexpected flare-up following attempts by both sides to reduce friction. Nuclear Fears On June 16, Russian President Vladimir Putin confirmed that Russia had delivered the first batch of tactical nuclear weapons to Belarus. "This is the first part. But by the end of the summer, by the end of the year, we will complete this work," Putin said at the St. Petersburg International Economic Forum. The Russian leader also said the deployment of shorter-range nuclear weapons in Belarus was intended to warn Western countries against providing military and other support to Ukraine. This is the first time Russia has deployed nuclear weapons outside Russian territory since the collapse of the Soviet Union. Belarusian president Alexander Lukashenko said on June 13 that he would have "no hesitation" in using Russian nuclear weapons if Belarus was attacked. At a June 19 meeting with political donors in California, Biden said the threat of Putin using nuclear weapons is "real." Russia's President Vladimir Putin delivers a video address on June 24, 2023. (Gavriil Grigorov/Sputnik/AFP via Getty Images) 'Let Them Fight': Russian FM On the Ukrainian side, North Atlantic Treaty Organization (NATO) secretary general Jens Stoltenberg pledged to further help Ukraine modernize its military at a NATO summit in Lithuania in July. At a NATO press conference on June 16, Stoltenberg outlined a multi-year program to help Ukraine "move from Soviet-era standards, doctrines, equipment, to NATO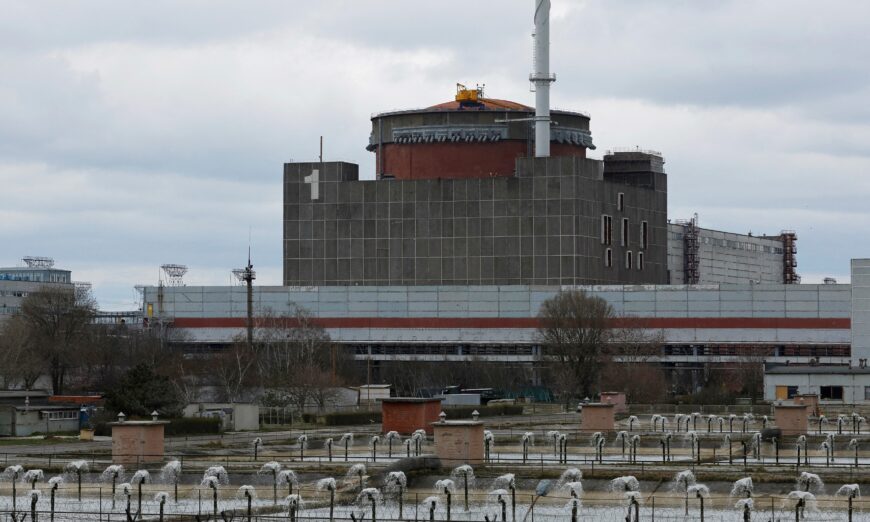 Global headlines this weekend warned of a possible, Russia-provoked explosion at Ukraine's Zaporizhzhia nuclear power plant.
Citing Ukrainian intelligence, Ukraine president Volodymyr Zelenskyy spoke of a "serious threat" at the Russian-occupied nuclear plant. Ukraine has been holding drills to prepare for a potential radioactive disaster should Russia blow up the plant.
The tense situation follows weeks of high-level diplomatic moves involving Russia, China, and the United States. Analysts warn that the international situation is at a critical juncture and that there is a very real risk of military conflict between the three major powers.
Former vice president and presidential hopeful Mike Pence, speaking to CBS News' "Face the Nation" Sunday, connected China and the Ukraine conflict. "There's no more effective way to send a deafening message to communist China, to check their military ambitions in the Asia Pacific, than by giving Ukraine what they need to repel the Russian invasion. I know China's watching," Pence said.
Earlier in the month, U.S. Secretary of State Antony Blinken visited China, the first visit to Beijing by a U.S. secretary of state since 2018.
Blinken: Restoring Military Communication 'A Process'
Blinken ended his visit to China on June 19, saying that China–U.S. military communication has not yet been restored. "It's a process," he said.
After the U.S. military shot down a Chinese spy balloon over the United States in February, the Chinese Communist Party (CCP) shut down communication between the two militaries.
Lack of open channels between both nations has prompted international jitters, with Beijing's reluctance to engage in regular military-to-military talks with Washington alarming China's neighbors.
Regarding the Ukraine conflict, Blinken said on June 19 that while the United States had seen no indication that the Chinese regime was providing lethal assistance to Russia, there were concerns that private Chinese companies would provide the Russian military with material and technology that could be used in the war.
'A Deep-Rooted Diplomatic and Political Game'
The Russia-Ukraine war has thrown the relationship between Russia, the United States, and China into high relief, drawing international attention.
Blinken's visit to China coincided with a visit by Chinese premier Li Qiang to Germany and France, his first trip overseas since taking office in March.
Shortly after the secretary of state's visit to China, the White House effusively welcomed Indian prime minister Narendra Modi. Modi was just the third world leader to be honored by a state visit under President Joe Biden.
The visit was widely seen as a silent message to China about countering Beijing's dominance in the Indo-Pacific region.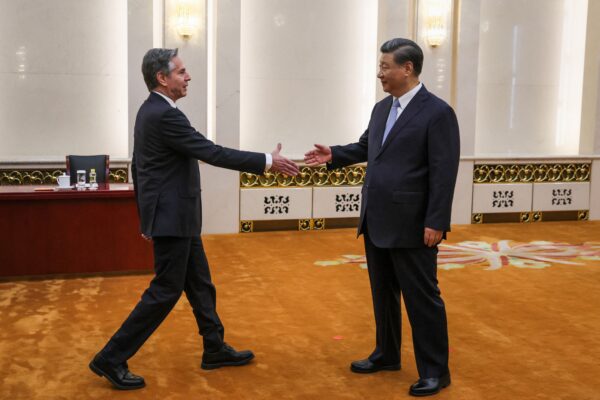 "The visit of Blinken to China took place against the backdrop of the Russia-Ukraine war and the critical point in Sino-US relations," current affairs commentator Li Yanming told The Epoch Times on June 22.
"It is obvious that there is a deep-rooted diplomatic and political game between China, the United States, and Russia behind Blinken's visit to China," Li said.
The day before Modi's visit, China hit back after Biden referred to communist leader Xi Jinping as a "dictator," saying the remarks were absurd and a provocation, an unexpected flare-up following attempts by both sides to reduce friction.
Nuclear Fears
On June 16, Russian President Vladimir Putin confirmed that Russia had delivered the first batch of tactical nuclear weapons to Belarus.
"This is the first part. But by the end of the summer, by the end of the year, we will complete this work," Putin said at the St. Petersburg International Economic Forum.
The Russian leader also said the deployment of shorter-range nuclear weapons in Belarus was intended to warn Western countries against providing military and other support to Ukraine. This is the first time Russia has deployed nuclear weapons outside Russian territory since the collapse of the Soviet Union.
Belarusian president Alexander Lukashenko said on June 13 that he would have "no hesitation" in using Russian nuclear weapons if Belarus was attacked.
At a June 19 meeting with political donors in California, Biden said the threat of Putin using nuclear weapons is "real."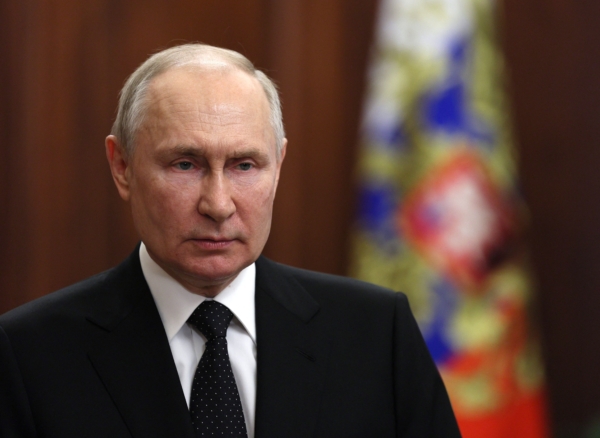 'Let Them Fight': Russian FM
On the Ukrainian side, North Atlantic Treaty Organization (NATO) secretary general Jens Stoltenberg pledged to further help Ukraine modernize its military at a NATO summit in Lithuania in July.
At a NATO press conference on June 16, Stoltenberg outlined a multi-year program to help Ukraine "move from Soviet-era standards, doctrines, equipment, to NATO standards, doctrine and equipment, and to be fully interoperable with NATO."
"We all want this war to end. But a just peace cannot be freezing the conflict and accepting a deal dictated by Russia," he said on June 19 at a joint press conference with German Chancellor Olaf Scholz.
In response, Russia's foreign minister Sergey Lavrov said on June 20, "If NATO once again uses Stoltenberg to declare that it is against freezing, as they say, the conflict in Ukraine, then that means they want to fight. So let them fight." Lavrov stressed that Russia is "prepared."
Anxiety Over China–Cuba Relationship
Meanwhile, U.S. officials disclosed that China is negotiating with Cuba to set up a new joint military training facility in the northern part of the country, which could allow China to maintain a permanent military presence in Cuba and expand espionage.
The talks are at an advanced stage but have not been completed, according to Wall Street Journal report.
Blinken said on June 20 that the United States would have "deep concerns" about Chinese military activities in Cuba.
There is growing anxiety in Washington over Beijing's ambitions in the Caribbean and Latin America, complicating the administration's desire to ease broader tensions with the communist regime.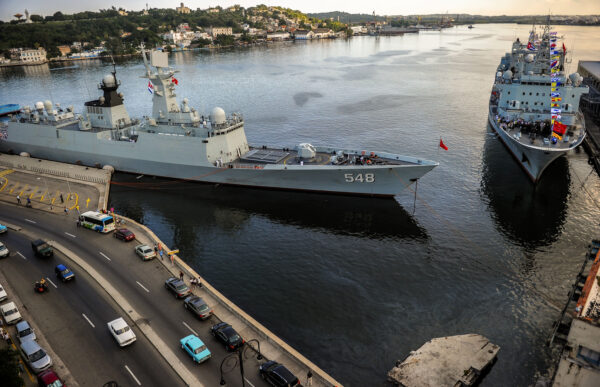 China: Prepare for 'Worst-Case Scenarios'
On June 7, during an inspection in Inner Mongolia, Xi warned that China's "dual circulation" strategy is necessary to ensure that the national economy can operate normally under "extreme" circumstances.  It was Xi's second warning in recent days to prepare for 'worst-case' scenarios, said the South China Morning Post.
"Extreme circumstances" can be interpreted as "the danger of war," according to Jin Canrong, a Chinese foreign policy expert.
"Dual circulation" is a Chinese strategy defined by The Economist as "keeping China open to the world (the 'great international circulation') while reinforcing its own market (the 'great domestic circulation')." It involves openness to foreign companies in order to make them dependent on China, which in turn would give China a geopolitical advantage.
In an interview with NBC News on June 29, Taiwanese foreign minister Joseph Wu said, "I think China might be repeating what we saw as the origin of the Second World War, and we have to be careful."
"The recent diplomatic activities of China, the United States, and Russia are likely to be the result of a mapping and showdown of sensitive international geopolitical risks such as the war between Russia and Ukraine, the Taiwan Strait issue, and Sino-U.S. relations," Li said.
According to Li's analysis, with Putin's Ukraine difficulties, Xi's economic challenges heightened by U.S. pressure, and Biden facing an upcoming presidential election, the international situation has reached a boiling point.
Reuters contributed to this report.