Amid Spy Balloon Controversy, Biden Admin Approves $2.1 Billion Aid Package to Defend Ukrainian Skies
As national attention was captured by a Chinese surveillance balloon flying over the United States, the Biden administration has approved another $2.1 billion military aid package to strengthen Ukraine's air defense arsenal. The package includes $425 million in arms and equipment drawn from existing U.S. stockpiles, as well as $1.75 billion in Ukraine Assistance Security Initiative (UASI) funds, which Ukraine can use to purchase new weapons—particularly those related to air defense—from manufactures contracted with the U.S. Department of Defense. In Friday's announcement, the Pentagon said the package includes "critical air defense capabilities to help Ukraine defend its people." Read MoreUS Would Run Out of Munitions in War With China: Report Specifically, Ukraine will receive additional ammunition for High Mobility Artillery Rocket Systems (HIMARS), additional 155 millimeter artillery rounds, additional 120 millimeter mortar rounds, 190 heavy machine guns with thermal imagery sights and specialized anti-drone ammunition, 181 Mine Resistant Ambush Protected (MRAP) Vehicles, 250 Javelin anti-armor systems, 2,000 anti-armor rockets, Claymore anti-personnel munitions, and many other items of field equipment. With the $1.75 billion USAI funds, Ukraine will be able to order from a range of air defense hardware, including two HAWK air defense firing units, four air surveillance radars, anti-drone warfare systems, and anti-aircraft guns and ammunition. Ukraine may also buy equipment needed to integrate Western air defense launchers, missiles, and radars into their existing air defense systems. "In total, the United States has now committed $30 billion in security assistance to Ukraine since the beginning of the Biden Administration," the Pentagon said, noting that the United States has sent more than $32 billion in military aid to Ukraine since the 2014 Crimea crisis and more than $29.3 billion since last February, when Russia launched what it called a "special military operation" against Ukraine. "The United States will continue to work with its Allies and partners to provide Ukraine with capabilities to meet its immediate battlefield needs and longer-term security assistance requirements," it added. The announcement comes as the Biden administration faces criticism over its handling of a Chinese spy balloon, which reportedly traveled from from China to Alaska and through northwest Canada before arriving in Montana, where it was spotted by local residents. "I believe that Montana truly got a firsthand look at the Biden administration's weakness on foreign policy this week," Sen. Steve Daines, a Montana Republican, said during a press conference on Friday. "It is a tremendous embarrassment for the United States of America." "Montanans and all the American people deserve answers from the Pentagon and from this administration on what happened and what is being done to ensure this never happens again," Daines said. The balloon was carrying with a "large payload underneath the surveillance component," according to Brig. Gen. Patrick Ryder, Pentagon's chief spokesperson. However, the Pentagon said it estimated that the transit might not add much value to Beijing's intelligence gathering effort. "Currently, we assess that this balloon has limited additive value from an intelligence collection perspective," Ryder said Friday. Montana's Democratic Senator Jon Tester announced on Friday that the Senate defense subcommittee that he chairs will hold a hearing to demand that Biden administration officials answer questions about the balloon. "Montanans value their freedom and privacy, and I'll always fight to defend both," Tester said in a statement. "China's actions are a clear threat to those values and to America's national security, and I'm demanding answers from the Biden Administration."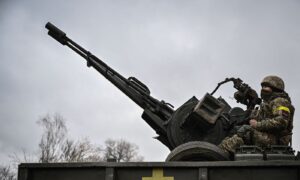 As national attention was captured by a Chinese surveillance balloon flying over the United States, the Biden administration has approved another $2.1 billion military aid package to strengthen Ukraine's air defense arsenal.
The package includes $425 million in arms and equipment drawn from existing U.S. stockpiles, as well as $1.75 billion in Ukraine Assistance Security Initiative (UASI) funds, which Ukraine can use to purchase new weapons—particularly those related to air defense—from manufactures contracted with the U.S. Department of Defense.
In Friday's announcement, the Pentagon said the package includes "critical air defense capabilities to help Ukraine defend its people."
Read More
US Would Run Out of Munitions in War With China: Report
Specifically, Ukraine will receive additional ammunition for High Mobility Artillery Rocket Systems (HIMARS), additional 155 millimeter artillery rounds, additional 120 millimeter mortar rounds, 190 heavy machine guns with thermal imagery sights and specialized anti-drone ammunition, 181 Mine Resistant Ambush Protected (MRAP) Vehicles, 250 Javelin anti-armor systems, 2,000 anti-armor rockets, Claymore anti-personnel munitions, and many other items of field equipment.
With the $1.75 billion USAI funds, Ukraine will be able to order from a range of air defense hardware, including two HAWK air defense firing units, four air surveillance radars, anti-drone warfare systems, and anti-aircraft guns and ammunition. Ukraine may also buy equipment needed to integrate Western air defense launchers, missiles, and radars into their existing air defense systems.
"In total, the United States has now committed $30 billion in security assistance to Ukraine since the beginning of the Biden Administration," the Pentagon said, noting that the United States has sent more than $32 billion in military aid to Ukraine since the 2014 Crimea crisis and more than $29.3 billion since last February, when Russia launched what it called a "special military operation" against Ukraine.
"The United States will continue to work with its Allies and partners to provide Ukraine with capabilities to meet its immediate battlefield needs and longer-term security assistance requirements," it added.
The announcement comes as the Biden administration faces criticism over its handling of a Chinese spy balloon, which reportedly traveled from from China to Alaska and through northwest Canada before arriving in Montana, where it was spotted by local residents.
"I believe that Montana truly got a firsthand look at the Biden administration's weakness on foreign policy this week," Sen. Steve Daines, a Montana Republican, said during a press conference on Friday. "It is a tremendous embarrassment for the United States of America."
"Montanans and all the American people deserve answers from the Pentagon and from this administration on what happened and what is being done to ensure this never happens again," Daines said.
The balloon was carrying with a "large payload underneath the surveillance component," according to Brig. Gen. Patrick Ryder, Pentagon's chief spokesperson. However, the Pentagon said it estimated that the transit might not add much value to Beijing's intelligence gathering effort.
"Currently, we assess that this balloon has limited additive value from an intelligence collection perspective," Ryder said Friday.
Montana's Democratic Senator Jon Tester announced on Friday that the Senate defense subcommittee that he chairs will hold a hearing to demand that Biden administration officials answer questions about the balloon.
"Montanans value their freedom and privacy, and I'll always fight to defend both," Tester said in a statement. "China's actions are a clear threat to those values and to America's national security, and I'm demanding answers from the Biden Administration."