Amending the Constitution Is Not Necessary for Integration—Australia's Migrant Story Tells Us So
CommentaryThroughout his public life, our second longest-serving prime minister, John Howard, repeatedly cautioned against depicting Australia's history—since 1788—as little more than a disgraceful record of imperialism, exploitation, and racism. He wrote in his autobiography, "Lazarus Rising" that such an approach will be repudiated by the overwhelming majority of Australians who are proud of what this country has achieved although inevitably acknowledging the blemishes of its past history. Like the history of any country, Australia has its blemishes, not limited to the treatment of Indigenous people. As the son of migrants, I know first-hand the injustices and hardships my parents and grandparents suffered when they decided to come to a country on the other side of the world, with a completely different language and culture, to try and make a life for themselves and escape a Europe which, even though being rebuilt, still bore many scars, both psychological and economic, from the horrors of war. In a slightly satirical piece in the Spectator Australia on June 30, Marc Hendrickx advocated for the so-called "Third Wave" of migrants to gain their own "Voice" to Parliament and be recognised in the country's Constitution. He suggested there be an "Australis Statement from the Sea," named after the ship Australis that brought many migrants to the continent, as a call for recognition. He wrote about the Greek, German, French, Czech, Polish, Chinese, Indian, and British migrants that have arrived since the end of the Great War, noting that, "Many suffered abuse for their strange cultural practices, their odd surnames, and accents, taste in food and clothing, and ignorance of the bush and the beach." Hendrickx added, significantly: "There has never been an apology to these hard-working families for the abuse they suffered as they dropped their own cultural practices and assimilated into modern Australia. They get no recognition in our founding document." He also called for "truth-telling about our shared past as the basis for lasting reconciliation." Beneath the satirical veneer here, Hendrickx raises a serious issue that resonates with me, as a son of this Third Wave. There were indeed serious blemishes in Australia's past treatment of migrants. A large crowd turns out to watch the Australia Day parade in Melbourne, Australia on Jan. 26, 2014. (Darrian Traynor/Getty Images) Anti-European Australia To give two examples, in particular, I cite, first, anti-European sentiment on Western Australia (WA) Goldfields between the two World Wars; and second, the internment of Italians during World War II. In 1916 Greek, and in 1919 and 1934 Italian migrants were the targets of drunken rioters on the WA Goldfields. In particular in 1934, underlying economic, social, and racial prejudices against Italians came to the fore and mobs ransacked, looted, and burned Italian-owned businesses in Kalgoorlie and Boulder. Many miners then went on strike and attacked the makeshift shacks in which the Italians lived on Dingbat Flat in Boulder, killing two migrants. Claims for compensation lodged by the Italian Consulate on behalf of those who lost their livelihoods were dismissed by the WA government. When Italy entered the war in June 1940 on the side of the Axis powers, Italians were classified as "enemy aliens" and a significant proportion (around 1,200) were interned across the country. Under the Commonwealth National Security Act 1939, the army working with local police could detain anyone "reasonably suspected of being likely to act in a manner prejudicial to the public safety or defence of the Commonwealth." It did not matter that many internees were already naturalised Australians with successful businesses. What is more, many internees had sons and brothers serving in the Australian armed forces. Several were not released until many months after Italy signed the armistice on Sept. 8, 1943, and declared war on Germany. While obviously causing a sense of dislocation and distrust in these internees, upon their release, most did their best to resume their activities and "keep their heads down." Finding Success Despite All Disadvantages In spite of the tumult and disruption of such experiences, we do not hear calls, either from the migrants themselves, or from their descendants for a "Voice" to make right past injustices. To overcome hardship and disadvantage, migrants committed their deeds and their determination to their new country. What mattered most was, in the words of Martin Luther King Jr., the content of their character. This is a fundamental part of the great Australian success story. Those of the Third Wave, and their sons and daughters, despite prejudice and numerous setbacks, integrated successfully into Australian society without collective guilt or any kind of affirmative action. They were spared paternalistic attitudes that they had to be helped because they were considered marginalised or disadv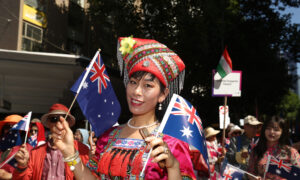 Commentary
Throughout his public life, our second longest-serving prime minister, John Howard, repeatedly cautioned against depicting Australia's history—since 1788—as little more than a disgraceful record of imperialism, exploitation, and racism.
He wrote in his autobiography, "Lazarus Rising" that such an approach will be repudiated by the overwhelming majority of Australians who are proud of what this country has achieved although inevitably acknowledging the blemishes of its past history.
Like the history of any country, Australia has its blemishes, not limited to the treatment of Indigenous people.
As the son of migrants, I know first-hand the injustices and hardships my parents and grandparents suffered when they decided to come to a country on the other side of the world, with a completely different language and culture, to try and make a life for themselves and escape a Europe which, even though being rebuilt, still bore many scars, both psychological and economic, from the horrors of war.
In a slightly satirical piece in the Spectator Australia on June 30, Marc Hendrickx advocated for the so-called "Third Wave" of migrants to gain their own "Voice" to Parliament and be recognised in the country's Constitution. He suggested there be an "Australis Statement from the Sea," named after the ship Australis that brought many migrants to the continent, as a call for recognition.
He wrote about the Greek, German, French, Czech, Polish, Chinese, Indian, and British migrants that have arrived since the end of the Great War, noting that, "Many suffered abuse for their strange cultural practices, their odd surnames, and accents, taste in food and clothing, and ignorance of the bush and the beach."
Hendrickx added, significantly: "There has never been an apology to these hard-working families for the abuse they suffered as they dropped their own cultural practices and assimilated into modern Australia. They get no recognition in our founding document."
He also called for "truth-telling about our shared past as the basis for lasting reconciliation."
Beneath the satirical veneer here, Hendrickx raises a serious issue that resonates with me, as a son of this Third Wave. There were indeed serious blemishes in Australia's past treatment of migrants.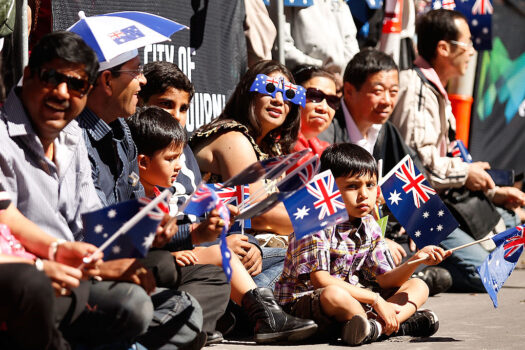 Anti-European Australia
To give two examples, in particular, I cite, first, anti-European sentiment on Western Australia (WA) Goldfields between the two World Wars; and second, the internment of Italians during World War II.
In 1916 Greek, and in 1919 and 1934 Italian migrants were the targets of drunken rioters on the WA Goldfields.
In particular in 1934, underlying economic, social, and racial prejudices against Italians came to the fore and mobs ransacked, looted, and burned Italian-owned businesses in Kalgoorlie and Boulder. Many miners then went on strike and attacked the makeshift shacks in which the Italians lived on Dingbat Flat in Boulder, killing two migrants.
Claims for compensation lodged by the Italian Consulate on behalf of those who lost their livelihoods were dismissed by the WA government.
When Italy entered the war in June 1940 on the side of the Axis powers, Italians were classified as "enemy aliens" and a significant proportion (around 1,200) were interned across the country.
Under the Commonwealth National Security Act 1939, the army working with local police could detain anyone "reasonably suspected of being likely to act in a manner prejudicial to the public safety or defence of the Commonwealth."
It did not matter that many internees were already naturalised Australians with successful businesses. What is more, many internees had sons and brothers serving in the Australian armed forces. Several were not released until many months after Italy signed the armistice on Sept. 8, 1943, and declared war on Germany.
While obviously causing a sense of dislocation and distrust in these internees, upon their release, most did their best to resume their activities and "keep their heads down."
Finding Success Despite All Disadvantages
In spite of the tumult and disruption of such experiences, we do not hear calls, either from the migrants themselves, or from their descendants for a "Voice" to make right past injustices.
To overcome hardship and disadvantage, migrants committed their deeds and their determination to their new country. What mattered most was, in the words of Martin Luther King Jr., the content of their character. This is a fundamental part of the great Australian success story.
Those of the Third Wave, and their sons and daughters, despite prejudice and numerous setbacks, integrated successfully into Australian society without collective guilt or any kind of affirmative action.
They were spared paternalistic attitudes that they had to be helped because they were considered marginalised or disadvantaged; and they definitely did not benefit from any kind of bureaucratic or parliamentary, let alone constitutional, intervention.
I cannot get past the view that, when one steps back, the "Voice" is still, deep down, motivated by a sense of guilt and the need to atone in some way for the wrongs of the past.
However, that is not a justification for breaching the principle that all people are equal not only in the eyes of the law, but also, and probably more importantly, in fundamental status.
Indeed, St Paul's words in his Letter to the Galatians, the ultimate Christian statement of the inherent dignity of each person, readily come to mind (3:28): "There is neither Jew nor Gentile, neither slave nor free, nor is there male and female, given you are all one in Christ Jesus."
Implementing this ideal over the last two centuries has been the great calling of the Western liberal democratic tradition.
The state has no business distinguishing one citizen from another by ethnicity, heritage, culture, religion, or gender. Yet a constitutionally enshrined "Voice" will do exactly that. What is more, no matter how sincere, it will not guarantee integration, nor will it right the wrongs of the past.
This is an edited extract from "Beyond Belief: Rethinking the Voice to Parliament" which has just been published by Connor Court.
Views expressed in this article are the opinions of the author and do not necessarily reflect the views of The Epoch Times.