'After We Get Rich With Our Hard Work, the CCP Is There to Harvest:' Former Chinese Millionaire
Feng Zhenguo, former owner of a profitable wood furniture factory in China's central Heibei province, experienced extortion from the environmental authorities and police, and was forced to sell his factory to Chinese police at a very low price."The communist regime's so-called reform and opening up is just to loosen the shackles around Chinese people's necks when both its rule and economy are on the verge of collapse," Feng said. "It allows you experience a little bit of freedom and lets you work hard until you make some money. Then, the Chinese Communist Party (CCP) comes for your money." Feng's solid wood furniture factory is in Qinhuangdao, a port city 190 miles east of Beijing. He invested over 3 million yuan (over $430,000) and had about 40 employees in his factory, customizing high-end solid wood furniture. But he was forced to sell his factory to the police for only 400,000 yuan ($57,000). "I thought that I could do something well if I was really fond of it and did it with all my heart," Feng said. He decided to set up the business, as he had always loved carpentry and good craftsmanships. Customized solid wood furniture made in Feng Zhenguo's factory. (Courtesy of Feng Zhenguo) However, the communist regime turned his life's dream into a nightmare, asking for money from him time and again citing various excuses and guises, Feng told the Chinese language edition of The Epoch Times on Sept. 14. "I suddenly came to understand that, under the rule of the CCP, we ordinary Chinese people are just like ants, insignificant and easily crushed, no matter how hard we work," Feng said. Environment Protection in China an 'Extortion Campaign' Feng went on to tell The Epoch Times how the communist party's environmental authorities and police have been extorting money from him. In 2016, Feng went about the various procedures listed for establishing a factory, including filing an application for an environmental impact assessment (EIA), which was the most troublesome of all the procedures, according to Feng. The communist party's rubberstamp legislature claims on its official website, the EIA is "a mandatory legal system that determines whether a construction project can proceed." The local ecology and environment bureau carry out their assessment of a construction project, after which a report will be submitted for approval regarding the site selection of the project, the impact on the surrounding environment, and preventive measures to be taken. A business cannot operate without the approval of the ecology and environment bureau. But in reality, the EIA actually facilitates constant extortion by the environment bureau that oversees the assessment process, according to Feng. "For example, the ecology and environmental bureau would designate a certain supplier of environmental protection products. You have to purchase from this supplier. For a piece of environmental protection equipment that is worth a bit more than 100,000 yuan ($21,000), this supplier might sell it for 400,000 yuan ($57,000) to 500,000 yuan ($71,000)," Feng said. This is only one of the ways that the bureau makes money from businesses that apply for EIAs, he noted. "They also designate a contractor for construction and an acceptance company for review at completion," Feng said. In his city, the boss of the acceptance company was formerly the deputy director of the ecology and environment bureau, Feng said. "The deputy director claims that he's taken leave without pay, which is a red herring," Feng said. The bureau and the acceptance company colluded with each other to force business owners to pay more for the equipment and extra money is expected to guarantee the pass of assessment. Feng said that he was lucky, after having spent several hundred thousand yuan, that he passed the assessment and was able to begin production. "Many people were forced to demolish their factories as they could not pass the assessment, and they went bankrupt. Some committed suicide because of this," Feng said. Read MoreChapter Sixteen, Part I: The Communism Behind Environmentalism (UPDATED) After he passed the assessment, staffers from the ecology and environment bureau came to his factory regularly—mostly several times a month. "They sent different people with different allegations. We were never able to meet their requirements because their purpose was to ask for money," he said. Once the deputy director, also the boss of the acceptance company, told him: "Our quota of fines for this year is 3 million yuan ($429,559), which we must fulfill." In addition to the regular payments, Feng needed to prepare for unexpected expenses. For instance, only months after he started production, he had to install a new set of environmental protection equipment, as the ecology and environment bureau had a new director, who said that his equipment was unqualified and needed renewal. He had no other choice but to obey, as he had to carry on with his business, in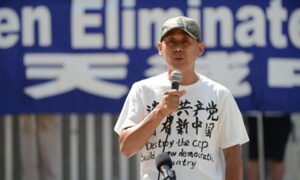 Feng Zhenguo, former owner of a profitable wood furniture factory in China's central Heibei province, experienced extortion from the environmental authorities and police, and was forced to sell his factory to Chinese police at a very low price.
"The communist regime's so-called reform and opening up is just to loosen the shackles around Chinese people's necks when both its rule and economy are on the verge of collapse," Feng said.
"It allows you experience a little bit of freedom and lets you work hard until you make some money. Then, the Chinese Communist Party (CCP) comes for your money."
Feng's solid wood furniture factory is in Qinhuangdao, a port city 190 miles east of Beijing. He invested over 3 million yuan (over $430,000) and had about 40 employees in his factory, customizing high-end solid wood furniture. But he was forced to sell his factory to the police for only 400,000 yuan ($57,000).
"I thought that I could do something well if I was really fond of it and did it with all my heart," Feng said. He decided to set up the business, as he had always loved carpentry and good craftsmanships.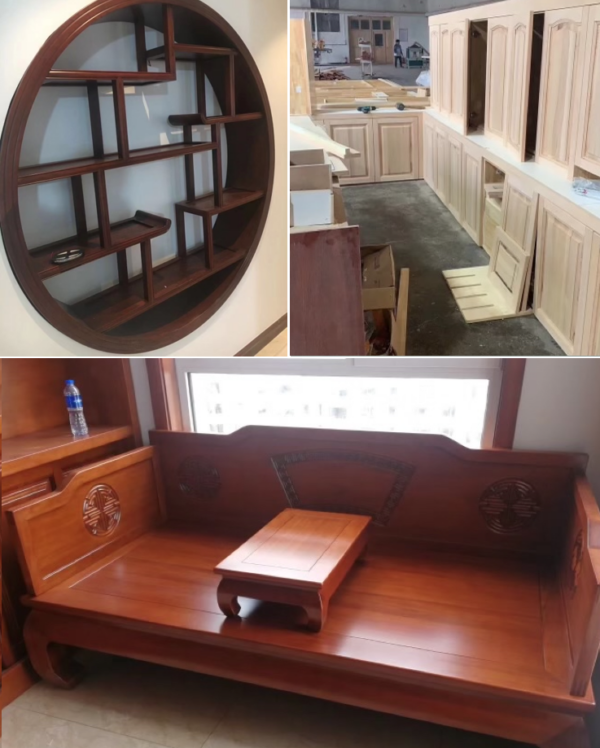 However, the communist regime turned his life's dream into a nightmare, asking for money from him time and again citing various excuses and guises, Feng told the Chinese language edition of The Epoch Times on Sept. 14.
"I suddenly came to understand that, under the rule of the CCP, we ordinary Chinese people are just like ants, insignificant and easily crushed, no matter how hard we work," Feng said.
Environment Protection in China an 'Extortion Campaign'
Feng went on to tell The Epoch Times how the communist party's environmental authorities and police have been extorting money from him.
In 2016, Feng went about the various procedures listed for establishing a factory, including filing an application for an environmental impact assessment (EIA), which was the most troublesome of all the procedures, according to Feng.
The communist party's rubberstamp legislature claims on its official website, the EIA is "a mandatory legal system that determines whether a construction project can proceed." The local ecology and environment bureau carry out their assessment of a construction project, after which a report will be submitted for approval regarding the site selection of the project, the impact on the surrounding environment, and preventive measures to be taken. A business cannot operate without the approval of the ecology and environment bureau.
But in reality, the EIA actually facilitates constant extortion by the environment bureau that oversees the assessment process, according to Feng.
"For example, the ecology and environmental bureau would designate a certain supplier of environmental protection products. You have to purchase from this supplier. For a piece of environmental protection equipment that is worth a bit more than 100,000 yuan ($21,000), this supplier might sell it for 400,000 yuan ($57,000) to 500,000 yuan ($71,000)," Feng said.
This is only one of the ways that the bureau makes money from businesses that apply for EIAs, he noted.
"They also designate a contractor for construction and an acceptance company for review at completion," Feng said.
In his city, the boss of the acceptance company was formerly the deputy director of the ecology and environment bureau, Feng said.
"The deputy director claims that he's taken leave without pay, which is a red herring," Feng said.
The bureau and the acceptance company colluded with each other to force business owners to pay more for the equipment and extra money is expected to guarantee the pass of assessment.
Feng said that he was lucky, after having spent several hundred thousand yuan, that he passed the assessment and was able to begin production.
"Many people were forced to demolish their factories as they could not pass the assessment, and they went bankrupt. Some committed suicide because of this," Feng said.
Read More
Chapter Sixteen, Part I: The Communism Behind Environmentalism (UPDATED)
After he passed the assessment, staffers from the ecology and environment bureau came to his factory regularly—mostly several times a month. "They sent different people with different allegations. We were never able to meet their requirements because their purpose was to ask for money," he said.
Once the deputy director, also the boss of the acceptance company, told him: "Our quota of fines for this year is 3 million yuan ($429,559), which we must fulfill."
In addition to the regular payments, Feng needed to prepare for unexpected expenses.
For instance, only months after he started production, he had to install a new set of environmental protection equipment, as the ecology and environment bureau had a new director, who said that his equipment was unqualified and needed renewal.
He had no other choice but to obey, as he had to carry on with his business, in which he had already invested millions by that time.
"The CCP's environmental protection is a campaign to get money. It is not for the long-term protection of the enterprises or the environment," Feng lamented.
Persecuted for Belief
Feng and his wife, Han Yanjing, accompanied their daughter to Vancouver to study in 2019. There, a friend from their hometown brought Han to church.
Han then went back to China in early 2020, just before the outbreak of the pandemic in Wuhan, to take care of the daily operation of the factory, while Feng stayed in Canada with their daughter.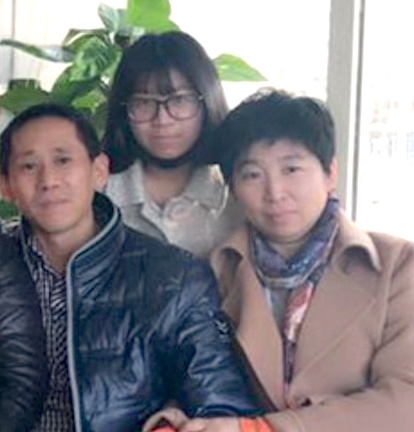 Han went to a family church in Qinhuangdao city several times with an employee, after which she has since been targeted by the local police.
Zheng Shiyong, a police officer from Haiyang Police Station in Qinhuangdao, started visiting Feng's home. He came to meet Han, telling her that someone had reported her for participating in an "illegal rally." He said that the police chief wouldn't report her to higher authorities as long as she was willing to pay.
Han gave him 5,000 yuan ($715).
Several days later, Zheng came with the police chief to Han's home again. This time, a hand-made wood gazebo in her courtyard caught the fancy of the police chief. He asked Han to make one for him at the cost price.
Han knew what he meant, so she said, "If you like it, just take it." The police chief had the gazebo taken away a few days later.
Profitable Business
Feng had rented a piece of land of 1.58 acres on which he built a workshop with a floor area of 0.74 acres.
"I regarded the factory as my baby," Feng said, "I had an ardent yearning for a bright future."
He attended to the operation, manufacturing, and planning with great care. Every year, he made a new plan for sales targets, the number of employees, and the scale of production.
He positioned his products to be unique, high-end pure solid wood designed and made to customers' requirements.
"In fact, my factory was very profitable. We customized high-grade solid wood furniture for those who planned to upgrade home decoration. In Qinhuangdao city, my brand 'Mu Jia' was in a position to set prices for high-end furniture. I didn't want to compete with low-end products," Feng said proudly.
His products were well received in the market. Once at a home decoration and construction materials exhibition, his products were so popular that his sales staffers were all occupied answering calls from customers and placing orders. His customers came from as far as Xinjiang in the west of China.
His face beamed with happiness as he recalled that period of time. "I felt very proud because I was able to offer job opportunities for about 40 people who were working with me," Feng said.
Business a Steal at $57,274
But following the police visits, Feng felt it was no longer safe to run the business. So he told his wife to sell it.
A potential buyer quoted them 2.8 million yuan ($400,000) for the plant, but Feng was reluctant to sell it at that price, as his total investment had exceeded 3 million yuan and the plant was making a good profit.
But after that offer, no one contacted them with another offer.
They decided to contact that person who made the offer but the man said, "we can't buy your factory, because someone from the police station wants it."
After some time, a man named Zhang Jian offered them 400,000 yuan ($57,274) for the plant. Zhang threatened them that they would get an even lower price if they didn't take the offer.
Feng and his wife decided to sell the plant to Zhang even though the $57,274 wasn't even close to covering their investment.
The couple later learned that Zhang represented Han Jiajun, a police officer from Haiyang Police Station.
Police Continue to Ask for Money
After selling the factory, Han found a job working for a friend. The couple didn't expect that the police would call them again, asking for money.
Zheng Shiyong, the policeman who accompanied his boss to get the gazebo in Han's yard, called Han before the Chinese New Year in 2021 and said, "We can no longer cover up your issue last time [Han's going to the family church]. We have to report to our superiors."
This time, Han didn't have anything to pay them. She fled to Canada and joined her husband and daughter when China lifted its travel restrictions.
The Epoch Times called Haiyang Police Station for comment on Sept. 15, but the police declined to comment.
End the CCP
Feng is now enjoying life as a carpenter in Canada, where he feels very happy.
"I feel much more comfortable working as an ordinary carpenter in Canada than being a boss in China," he said.
"The iron fist of the CCP kept hitting me almost every day, and I wasn't able to have a good sleep during those years when I had my own factory in China," he said.
He has now come to see that private enterprises in China are just like "chives," a term used by Chinese citizens to describe things that are easy to grow but subject "to cuts or harvests."
"After we get rich with our hard work, the CCP is there to harvest," Feng said.
He said that the CCP has long been treating the Chinese people this way. In the early years when the CCP first came into existence, it robbed wealthy farmers of their wealth and then killed them. And then, when it came into power, the CCP continued killing the Chinese people throughout its reign.
Freedom of Belief
After making their decision to leave China, Feng says his family now enjoys freedom of belief in Canada. He said he hopes that Chinese people in China will one day enjoy freedom as well.
"My grandpa told me when I was young that the CCP is very, very bad, and an organized gang of bandits," Feng said.
On Aug. 20, at a rally in Vancouver calling for an end to the CCP, Feng attended the rally, wearing a T-shirt on which was printed the following sentence in both Chinese and English: "Destroy the CCP, build a new democratic country."
Lin Cenxin and Chang Chun contributed to the article.