Actually, California's Farm Union Bill Is Anti-Democracy
CommentaryQuoting President Biden, Los Angeles Times California columnist Anita Chabria recently tried to make Assembly Bill 2183, the farm union bill, appear pro-democracy, when it's actually anti-democracy. The bill is by Assemblyman Mark Stone (D-Monterey Bay). For votes to unionize agricultural workers, the bill would replace a democratic system of anonymous ballots with a public, card-check system under which workers could be intimidated. According to Stone's own description of his bill, "AB 2183 would modernize the ALRA [Agricultural Labor Relations Act] to allow farm workers to choose if they want to vote at a physical location, or vote by mailing or dropping off a representation ballot card to the Agricultural Labor Relations Board (ALRB) office." This is called the "card-check system." But it was criticized by none other than Gov. Gavin Newsom in a statement by spokesperson Erin Mellon, who said: Governor Newsom is eager to sign legislation that expands opportunity for agricultural workers to come together and be represented, and he supports changes to state law to make it easier for these workers to organize. Our goal is to establish a system for fair elections—requiring employers to abide by rules that guarantee union access and provide key enforceable protections to ensure a fair election. If employers fail to abide by those rules, they would be subject to organizing under a card-check process. However, we cannot support an untested mail-in election process that lacks critical provisions to protect the integrity of the election, and is predicated on an assumption that government cannot effectively enforce laws. We welcome an agreement with UFW [United Farm Workers] on the ground-breaking legislation the administration has proposed. But the card-check system remains in the final version of this bill. As of this writing, Newsom has yet to sign or veto the bill. But the pressure is on for him to sign. As Chabria wrote Sept. 6, "Sunday, on the eve of Labor Day, Biden weighed in on a boiling fight between the United Farm Workers and Gov. Gavin Newsom over a bill that the governor has signaled he will veto. The president made it clear he's a real one for the UFW." Biden, of course, has been accusing his Republican opposition of being anti-democratic. But here he is supporting an anti-democratic bill. Biden himself wrote: In the state with the largest population of farmworkers, the least we owe them is an easier path to make a free and fair choice to organize a union. I am grateful to California's elected officials and union leaders for leading the way. Government should work to remove—not erect—barriers to workers organizing. But ultimately workers must make the choice whether to organize a union. Unions transform how we work and live: higher wages, better benefits, like health insurance and paid leave, protections against discrimination and harassment, and a safer and healthier workplace. Unions built the middle class. And, unions give workers a voice. Workers' voices are heard and heeded. Organizing or joining a union, that's democracy in action. And it's especially important today for Black and Brown workers whose voices have long been silenced through shameful race-based laws and policies. It is long past time that we ensure America's farmworkers and other essential workers have the same right to join a union as other Americans. Actually, farm workers already do have that right to unionize, while AB 2183 would eliminate their right to a "free and fair choice." The workers already can organize and hold a free and fair election—with a secret ballot—the same as any other workers. If they fail to choose to join the UFW, then that's the union's problem, not the democratic voting system currently in place. The real problem is the UFW itself is a shadow of what it was when legendary organizer Cesar Chavez was its head. As farm worker activist Jesse Rojas wrote in 2019, "While in Cesar Chavez's time the UFW gave farmworkers a voice, today's UFW instead seeks to silence the workers … Today, the UFW represents just 1 percent of farmworkers, and more petition the ALRB to leave all the time." Chabria reports Biden has a bust of Chavez on his desk. But Biden's call to revoke democracy for farm workers would be the opposite of what Chavez worked for. We'll soon see if Newsom still agrees and vetoes AB 2183. Views expressed in this article are the opinions of the author and do not necessarily reflect the views of The Epoch Times. Follow John Seiler is a veteran California opinion writer. He has written editorials for The Orange County Register for almost 30 years. He is a U.S. Army veteran and former press secretary for California state Sen. John Moorlach. He blogs at JohnSeiler.Substack.com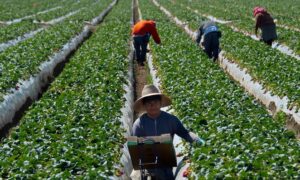 Commentary
Quoting President Biden, Los Angeles Times California columnist Anita Chabria recently tried to make Assembly Bill 2183, the farm union bill, appear pro-democracy, when it's actually anti-democracy. The bill is by Assemblyman Mark Stone (D-Monterey Bay).
For votes to unionize agricultural workers, the bill would replace a democratic system of anonymous ballots with a public, card-check system under which workers could be intimidated. According to Stone's own description of his bill, "AB 2183 would modernize the ALRA [Agricultural Labor Relations Act] to allow farm workers to choose if they want to vote at a physical location, or vote by mailing or dropping off a representation ballot card to the Agricultural Labor Relations Board (ALRB) office."
This is called the "card-check system." But it was criticized by none other than Gov. Gavin Newsom in a statement by spokesperson Erin Mellon, who said:
Governor Newsom is eager to sign legislation that expands opportunity for agricultural workers to come together and be represented, and he supports changes to state law to make it easier for these workers to organize. Our goal is to establish a system for fair elections—requiring employers to abide by rules that guarantee union access and provide key enforceable protections to ensure a fair election. If employers fail to abide by those rules, they would be subject to organizing under a card-check process.

However, we cannot support an untested mail-in election process that lacks critical provisions to protect the integrity of the election, and is predicated on an assumption that government cannot effectively enforce laws.

We welcome an agreement with UFW [United Farm Workers] on the ground-breaking legislation the administration has proposed.
But the card-check system remains in the final version of this bill. As of this writing, Newsom has yet to sign or veto the bill. But the pressure is on for him to sign.
As Chabria wrote Sept. 6, "Sunday, on the eve of Labor Day, Biden weighed in on a boiling fight between the United Farm Workers and Gov. Gavin Newsom over a bill that the governor has signaled he will veto. The president made it clear he's a real one for the UFW."
Biden, of course, has been accusing his Republican opposition of being anti-democratic. But here he is supporting an anti-democratic bill.
Biden himself wrote:
In the state with the largest population of farmworkers, the least we owe them is an easier path to make a free and fair choice to organize a union. I am grateful to California's elected officials and union leaders for leading the way.

Government should work to remove—not erect—barriers to workers organizing. But ultimately workers must make the choice whether to organize a union.

Unions transform how we work and live: higher wages, better benefits, like health insurance and paid leave, protections against discrimination and harassment, and a safer and healthier workplace. Unions built the middle class. And, unions give workers a voice. Workers' voices are heard and heeded. Organizing or joining a union, that's democracy in action. And it's especially important today for Black and Brown workers whose voices have long been silenced through shameful race-based laws and policies.

It is long past time that we ensure America's farmworkers and other essential workers have the same right to join a union as other Americans.
Actually, farm workers already do have that right to unionize, while AB 2183 would eliminate their right to a "free and fair choice." The workers already can organize and hold a free and fair election—with a secret ballot—the same as any other workers. If they fail to choose to join the UFW, then that's the union's problem, not the democratic voting system currently in place.
The real problem is the UFW itself is a shadow of what it was when legendary organizer Cesar Chavez was its head.
As farm worker activist Jesse Rojas wrote in 2019, "While in Cesar Chavez's time the UFW gave farmworkers a voice, today's UFW instead seeks to silence the workers … Today, the UFW represents just 1 percent of farmworkers, and more petition the ALRB to leave all the time."
Chabria reports Biden has a bust of Chavez on his desk. But Biden's call to revoke democracy for farm workers would be the opposite of what Chavez worked for.
We'll soon see if Newsom still agrees and vetoes AB 2183.
Views expressed in this article are the opinions of the author and do not necessarily reflect the views of The Epoch Times.