Acquiescence to China's Demands Is a Precursor for Diplomatic Talks
Commentary Seemingly everyone wants the United States and China to "talk" these days, for one reason or another. For starters, the long-time China engagement crowd in the United States wants to continue pursuing the misguided policies that jump-started the Chinese mercantilism and subsequent belligerence that plagues the world in exchange for receiving crumbs from the communist Chinese table. Fame and fortune for all: diplomatic careers, prominence in academia and non-profit organizations, paid-for sinecures in China, Chinese "investments" in institutions favoring engagement, etc. Never mind the devastation wrought on Americans in the Rust Belt and Deep South because of manufacturing concerns being moved to China over the decades. The multinational corporations that donate heavily to the U.S. political class want to restore trade relations to the "status quo ante Trump" (sans tariffs, that is). Making money is more important than the Chinese Communist Party's (CCP) ongoing persecution and exploitation of Chinese minority groups. And then there is CCP leader Xi Jinping and his henchmen who wish to squelch all talk of decoupling from China, protect their export economy from tariffs, maintain trade surpluses to fund overseas initiatives such as the Belt Road Initiative, and prime the Chinese economic pump with more foreign direct investment to mask deep problems with the Chinese economy. The Chinese appear to have preconditions for any substantive dialog with the United States—an expanded view of what they are referring to as the "guardrails" stemming from "blunt talks" between Xi and President Joe Biden in Bali, Indonesia, at the G-20 Summit in November 2022, as expanded upon in a China Daily article on June 3. Let us examine the Chinese interpretation of guardrails and what might be an appropriate U.S. response to Chinese demands. Guardrails With Chinese Characteristics Guardrails can be defined as controls that prevent deviations from expected behavior. They can be applied in a number of ways and circumstances: for safety and security and as physical boundaries. In diplomacy, guardrails shape communications and determine what is or is not an acceptable topic for discussion. As such, guardrails can amount to preconditions for diplomatic talks between countries. The talks in Bali covered various hot topics, including tensions in the Taiwan Strait, North Korean missile tests, and the Russo-Ukraine war. The "guardrails" (unspecified) apparently dealt with improving lines of communication and preventing future conflicts between the two countries, as well as identifying "transnational" issues for high-level cooperation, such as climate change and debt relief for developing nations. All is well and good. The communists have made their demands for future U.S.-China relations known—which amount to Chinese guardrails. For example, Chinese Foreign Minister Wang Yi spoke of three core demands in 2022: to not get in the way of the country's development, to respect China's claims over places like Taiwan, and to respect Beijing's Communist Party rule. Chinese guardrails/preconditions have been subsequently expanded upon and clarified by Chinese diplomats and state-run media (which only report the official CCP narratives). These include the following: Any diplomatic meetings must be based on "equality and mutual respect," as described in the China Daily article about "principled guardrails." These are defined as the lifting of U.S. sanctions on Chinese officials such as Defense Minister Li Shangfu, who was sanctioned in 2018 over the purchase of military equipment from Russia, as well as the cessation of "coercion and suppression." Respect appears to be a one-way street for the CCP, as there are continuing reports of Chinese spy operations being thwarted in the United States (for example, this recent attempt in Alaska reported by USA Today on May 31). China's Minister of National Defense Li Shangfu delivers a speech during the 20th Shangri-La Dialogue summit in Singapore on June 4, 2023. (Roslan Rahman /AFP via Getty Images) Future discussions must be based on the so-called "five noes" mentioned by Biden in Indonesia: the United States does not seek a new cold war, does not seek to change China's system, does not support the independence of the Chinese island of Taiwan, does not seek conflict with China, and the revitalization of U.S. alliances is not directed at China. It could be argued that those five noes were huge giveaways by the Biden administration that probably made Xi and his underlings giddy. A further emotional admonishment to Washington to "never cross Beijing's redline" on Taiwan, as the headline blared in China Daily on June 4: "Beijing will not sit idly by while separatist forces in Taiwan collude with foreign anti-Beijing forces in a bid to separate the island from the motherland." Washington must "stop export controls" that "cut China off from certain semiconductor chips made anywhere in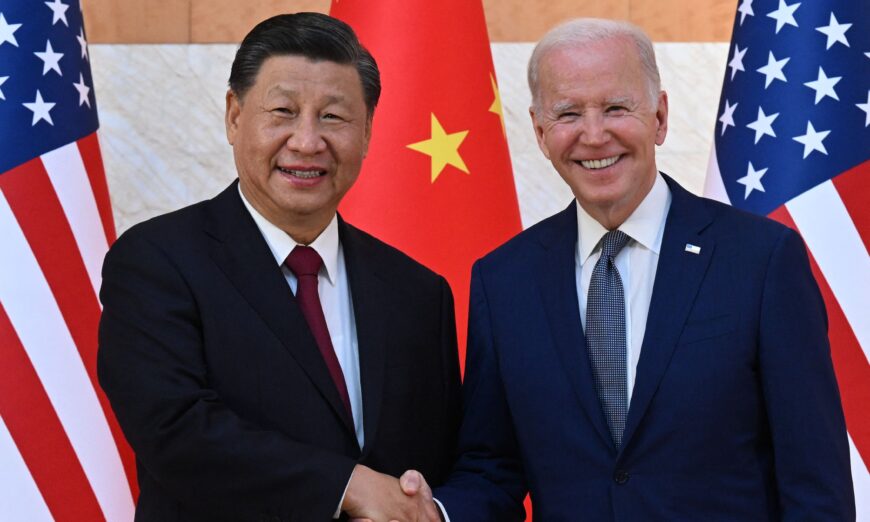 Commentary
Seemingly everyone wants the United States and China to "talk" these days, for one reason or another.
For starters, the long-time China engagement crowd in the United States wants to continue pursuing the misguided policies that jump-started the Chinese mercantilism and subsequent belligerence that plagues the world in exchange for receiving crumbs from the communist Chinese table. Fame and fortune for all: diplomatic careers, prominence in academia and non-profit organizations, paid-for sinecures in China, Chinese "investments" in institutions favoring engagement, etc. Never mind the devastation wrought on Americans in the Rust Belt and Deep South because of manufacturing concerns being moved to China over the decades.
The multinational corporations that donate heavily to the U.S. political class want to restore trade relations to the "status quo ante Trump" (sans tariffs, that is). Making money is more important than the Chinese Communist Party's (CCP) ongoing persecution and exploitation of Chinese minority groups.
And then there is CCP leader Xi Jinping and his henchmen who wish to squelch all talk of decoupling from China, protect their export economy from tariffs, maintain trade surpluses to fund overseas initiatives such as the Belt Road Initiative, and prime the Chinese economic pump with more foreign direct investment to mask deep problems with the Chinese economy.
The Chinese appear to have preconditions for any substantive dialog with the United States—an expanded view of what they are referring to as the "guardrails" stemming from "blunt talks" between Xi and President Joe Biden in Bali, Indonesia, at the G-20 Summit in November 2022, as expanded upon in a China Daily article on June 3.
Let us examine the Chinese interpretation of guardrails and what might be an appropriate U.S. response to Chinese demands.
Guardrails With Chinese Characteristics
Guardrails can be defined as controls that prevent deviations from expected behavior. They can be applied in a number of ways and circumstances: for safety and security and as physical boundaries. In diplomacy, guardrails shape communications and determine what is or is not an acceptable topic for discussion. As such, guardrails can amount to preconditions for diplomatic talks between countries.
The talks in Bali covered various hot topics, including tensions in the Taiwan Strait, North Korean missile tests, and the Russo-Ukraine war. The "guardrails" (unspecified) apparently dealt with improving lines of communication and preventing future conflicts between the two countries, as well as identifying "transnational" issues for high-level cooperation, such as climate change and debt relief for developing nations.
All is well and good.
The communists have made their demands for future U.S.-China relations known—which amount to Chinese guardrails. For example, Chinese Foreign Minister Wang Yi spoke of three core demands in 2022: to not get in the way of the country's development, to respect China's claims over places like Taiwan, and to respect Beijing's Communist Party rule.
Chinese guardrails/preconditions have been subsequently expanded upon and clarified by Chinese diplomats and state-run media (which only report the official CCP narratives). These include the following:
Any diplomatic meetings must be based on "equality and mutual respect," as described in the China Daily article about "principled guardrails." These are defined as the lifting of U.S. sanctions on Chinese officials such as Defense Minister Li Shangfu, who was sanctioned in 2018 over the purchase of military equipment from Russia, as well as the cessation of "coercion and suppression." Respect appears to be a one-way street for the CCP, as there are continuing reports of Chinese spy operations being thwarted in the United States (for example, this recent attempt in Alaska reported by USA Today on May 31).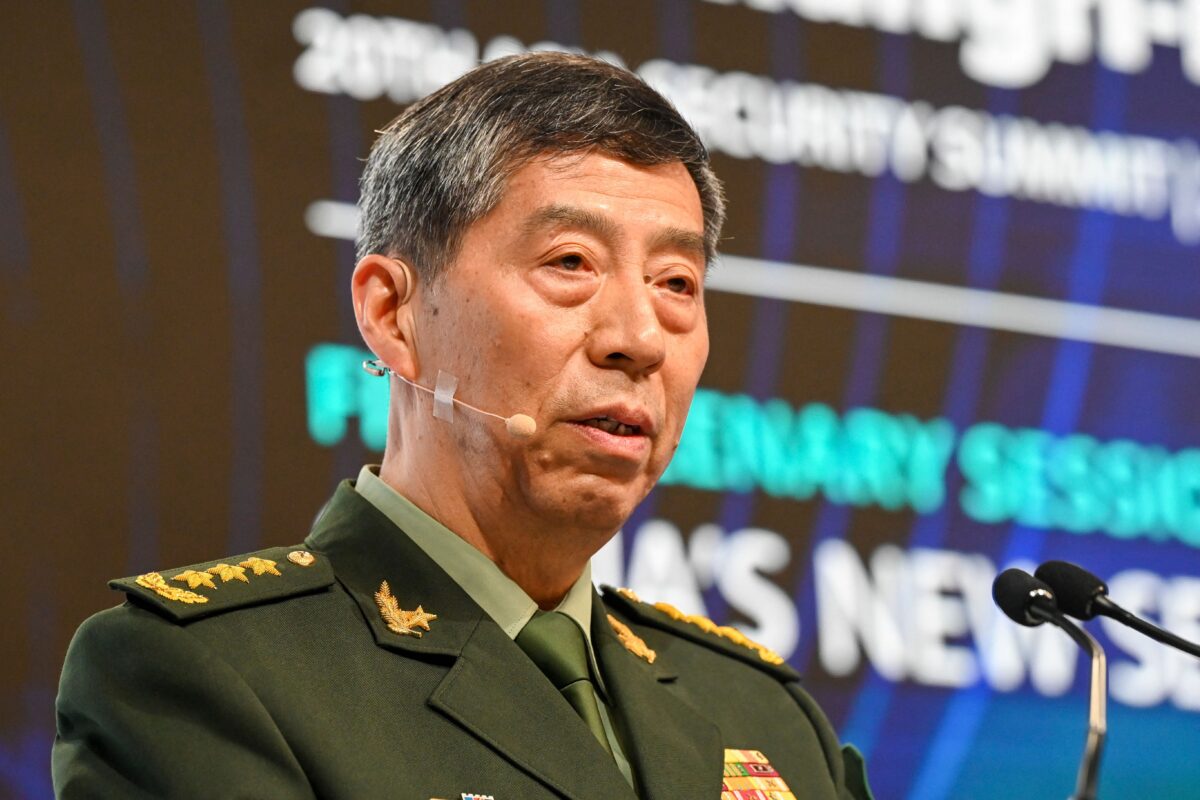 Future discussions must be based on the so-called "five noes" mentioned by Biden in Indonesia: the United States does not seek a new cold war, does not seek to change China's system, does not support the independence of the Chinese island of Taiwan, does not seek conflict with China, and the revitalization of U.S. alliances is not directed at China. It could be argued that those five noes were huge giveaways by the Biden administration that probably made Xi and his underlings giddy.
A further emotional admonishment to Washington to "never cross Beijing's redline" on Taiwan, as the headline blared in China Daily on June 4: "Beijing will not sit idly by while separatist forces in Taiwan collude with foreign anti-Beijing forces in a bid to separate the island from the motherland."
Washington must "stop export controls" that "cut China off from certain semiconductor chips made anywhere in the world with US tools," China Daily reported. The new controls were reported by The Guardian last year as the "biggest shift in US policy toward shipping technology to China since the 1990s." China wants unfettered access to those chips to support ongoing military modernization, including the development and deployment of advanced nuclear weapons and control systems.
Acquiescence to Chinese demands is a precursor for future talks. While unspoken, China experts have noted that China views high-level talks differently than the United States and most other countries. As reported by The New York Times on June 1, "'China tends to look at access to its senior leaders as a reward for acquiescence, rather than a tool for creating stability or resolving differences,' said Drew Thompson, a former U.S. defense official who is currently a fellow at the Lee Kuan Yew School of Public Policy at the National University of Singapore."
That means it is "Beijing's way or the highway" for all practical purposes. This is not a bright prospect for any future U.S. diplomatic efforts to curtail Beijing's belligerence in East Asia and elsewhere, or for reducing tensions in the Taiwan Strait and South China Sea.
Concluding Thoughts
The United States should also elucidate some firm guardrails for future U.S.-China talks. Here is a short list of other substantive items that could be added. The United States and China should agree on the following as a precondition for continuing diplomatic discussions:
Adherence to international laws and the right of free passage.
Self-determination of peoples.
Guaranteeing human rights to life, liberty, property, and free expression.
Outlawing the theft of intellectual property.
Cessation of CCP efforts to extend its national security law to the citizens of Chinese descent in other countries.
Diplomacy is a two-way street, and talk for the sake of talking should be discarded as a losing U.S. negotiating strategy. Straight-up acquiescence to "guardrails with Chinese characteristics" should be a non-starter in any future U.S.-China meetings. Chinese acquiescence to the above U.S. guardrails would be welcomed by the whole world, not just the United States.
Views expressed in this article are the opinions of the author and do not necessarily reflect the views of The Epoch Times.