A Comprehensive 'Helsinki 21' Accord Is Needed to Settle the Ukraine War
CommentaryUkraine is in the right, Russia in the wrong. Ukrainian forces have performed heroically well in resisting the invasion. It is time now to consider, however, what specific arrangements will produce a lasting peace. It is possible to win a war and lose a war—a pyrrhic victory, in which the losses needed to win are devastating. How many more Ukrainians will suffer, be wounded, die, or leave their country forever? It is possible to win a war but lose the peace. The Treaty of Versailles that ended the Second World War helped set the stage for even more devastating conflicts. It is likely impossible to fully win this immediate war. Russia's possession of nuclear weapons limits the ability of Ukraine to decisively enter Russian territory. Putin has been murderously mistaken, but he will not be in power forever. Even he may now be looking for a way out that enables him to say that strategic interests of Russia have been addressed. What arrangements might end the war that leaves his successors in power—and the Russian people generally—feeling reconciled? The Russian people must feel secure, respected, and readmitted to the family of nations,  rather than nursing a sense of threat, grievance, or exclusion by the West. A stable and lasting peace would encourage Russia to re-engage with the democratic world and eventually fully democratize itself, rather than feeling it must increasingly trade guns and butter with internally repressive and externally aggressive powers like China and Iran. Several decades after the Second World War, the Helsinki Accords helped to finally resolve some of the outstanding tensions. The parties to that agreement included the NATO countries and the European states generally as well as the Soviet Union.  Several decades after the break-up of the Soviet Union, we need a Helsinki 21—a wide-ranging 21st-century settlement involving the West, Russia, and its former partners in the Soviet Union. A negotiation that is much wider in scope might actually facilitate the resolution of bilateral Ukraine-Russia issues. The elements of Helsinki 21 can be largely drawn from legally binding agreements that the parties have already reached in the past. In the Basel agreements, Russia agreed to abide by its 1991 borders with Ukraine. A Helsinki 21 could commit Russia to return to those borders, including disclaiming sovereignty over Crimea. But what would Russia receive in return? Let us see what Russia has asked for in the past, including the lead-up to its invasion, and identify what can be reasonably accommodated. We can build on what the parties have agreed to in the past. First, Russia can be assured that Russian and pro-Russia minorities in the periphery of the former Soviet Union will be respected. They will be national minorities, but there is a good deal of precedent for agreements and standards that protect national minorities. Respect for "Russia world" outside of the Soviet Union can be a legitimate part of reassuring the leaders and people of Russia that their cultural past is respected and its future assured. Second, Russia can be reassured that it is not threatened by NATO. There are ample precedents for treaties limiting nuclear and conventional forces in Europe. It could be agreed that Ukraine and other states can join the EU if they choose, but will not formally join NATO. Third, Russia can be given assurances about its ability to station and operate its Black Sea fleet, including in Ukraine ports, as part of an overall settlement that respects the territorial integrity of Ukraine. There are already precedents in this respect. Helsinki 21 would not be imposed by other powers on Ukraine. It would be crafted so that Ukraine and other former members of the Soviet Union would find that their own overall long-term security and prosperity are enhanced, rather than being sold  out to appease a hostile Russia. The objective is to emerge with a long-term state of affairs in which Russia has lost its reasons or excuses to be revanchist  or expansionist. If the basic principles of Helsinki 21 were agreed upon, and a firm deadline for concluding a detailed agreement were set, there could be interim arrangements. They could suspend active hostilities and limit economic sanctions. A Helsinki 21 would also pacify many flashpoint situations around the periphery of Russia. There are a number of "formerstans"—regions in independent countries around Russia that have tried to secede and become independent allies of Russia or simply rejoin it. With minority rights assured, these regions would have a solid basis on which to re-integrate into counties like Moldova and Georgia as well as Ukraine. Military resistance to the invasion is needed, but so is creative political and diplomatic thinking and initiative.  The democratic world needs to both win the war and win the peace. Views expressed in this article are the opinions of the author and do not necessarily reflect the views of The Ep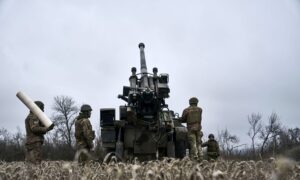 Commentary
Ukraine is in the right, Russia in the wrong. Ukrainian forces have performed heroically well in resisting the invasion. It is time now to consider, however, what specific arrangements will produce a lasting peace.
It is possible to win a war and lose a war—a pyrrhic victory, in which the losses needed to win are devastating. How many more Ukrainians will suffer, be wounded, die, or leave their country forever?
It is possible to win a war but lose the peace. The Treaty of Versailles that ended the Second World War helped set the stage for even more devastating conflicts.
It is likely impossible to fully win this immediate war. Russia's possession of nuclear weapons limits the ability of Ukraine to decisively enter Russian territory.
Putin has been murderously mistaken, but he will not be in power forever. Even he may now be looking for a way out that enables him to say that strategic interests of Russia have been addressed. What arrangements might end the war that leaves his successors in power—and the Russian people generally—feeling reconciled? The Russian people must feel secure, respected, and readmitted to the family of nations, rather than nursing a sense of threat, grievance, or exclusion by the West.
A stable and lasting peace would encourage Russia to re-engage with the democratic world and eventually fully democratize itself, rather than feeling it must increasingly trade guns and butter with internally repressive and externally aggressive powers like China and Iran.
Several decades after the Second World War, the Helsinki Accords helped to finally resolve some of the outstanding tensions. The parties to that agreement included the NATO countries and the European states generally as well as the Soviet Union. Several decades after the break-up of the Soviet Union, we need a Helsinki 21—a wide-ranging 21st-century settlement involving the West, Russia, and its former partners in the Soviet Union. A negotiation that is much wider in scope might actually facilitate the resolution of bilateral Ukraine-Russia issues.
The elements of Helsinki 21 can be largely drawn from legally binding agreements that the parties have already reached in the past. In the Basel agreements, Russia agreed to abide by its 1991 borders with Ukraine. A Helsinki 21 could commit Russia to return to those borders, including disclaiming sovereignty over Crimea.
But what would Russia receive in return?
Let us see what Russia has asked for in the past, including the lead-up to its invasion, and identify what can be reasonably accommodated. We can build on what the parties have agreed to in the past.
First, Russia can be assured that Russian and pro-Russia minorities in the periphery of the former Soviet Union will be respected. They will be national minorities, but there is a good deal of precedent for agreements and standards that protect national minorities. Respect for "Russia world" outside of the Soviet Union can be a legitimate part of reassuring the leaders and people of Russia that their cultural past is respected and its future assured.
Second, Russia can be reassured that it is not threatened by NATO. There are ample precedents for treaties limiting nuclear and conventional forces in Europe. It could be agreed that Ukraine and other states can join the EU if they choose, but will not formally join NATO.
Third, Russia can be given assurances about its ability to station and operate its Black Sea fleet, including in Ukraine ports, as part of an overall settlement that respects the territorial integrity of Ukraine. There are already precedents in this respect.
Helsinki 21 would not be imposed by other powers on Ukraine. It would be crafted so that Ukraine and other former members of the Soviet Union would find that their own overall long-term security and prosperity are enhanced, rather than being sold out to appease a hostile Russia. The objective is to emerge with a long-term state of affairs in which Russia has lost its reasons or excuses to be revanchist or expansionist.
If the basic principles of Helsinki 21 were agreed upon, and a firm deadline for concluding a detailed agreement were set, there could be interim arrangements. They could suspend active hostilities and limit economic sanctions.
A Helsinki 21 would also pacify many flashpoint situations around the periphery of Russia. There are a number of "formerstans"—regions in independent countries around Russia that have tried to secede and become independent allies of Russia or simply rejoin it. With minority rights assured, these regions would have a solid basis on which to re-integrate into counties like Moldova and Georgia as well as Ukraine.
Military resistance to the invasion is needed, but so is creative political and diplomatic thinking and initiative. The democratic world needs to both win the war and win the peace.
Views expressed in this article are the opinions of the author and do not necessarily reflect the views of The Epoch Times.