6 Former Apple Daily Executives Charged With Violating National Security Law Will Plead Guilty
A case hearing was conducted in the High Court of Hong Kong on Aug. 21, for Lai Chee-ying (Jimmy Lai), the founder of the former newspaper outlet Next Media, and three other companies linked to Apple Daily, who was suspected of collusion with foreign countries or foreign forces. The court revealed that six other defendants, all former Apple Daily executives, plan to plead guilty.The six defendants are Cheung Kim-hung, former CEO of Next Media; Chan Pui-man, former Apple Daily associate publisher; Ryan Law, Apple Daily editor-in-chief; Lam Man-chung, executive editor-in-chief; Fung Wai-kong, main writer; and Yeung Ching-kee. The case will be jointly tried by three judges designated by the National Security Law—Esther Toh Lye-ping, Susana Maria D'Almada Remedios, and Alex Lee Wan-tang. After the trial date is confirmed, a case management hearing will be held. The case has been submitted to the High Court but a hearing date has not been scheduled. The judge also stated that Andy Li Yu-hin and Chan Tsz-wah, activists who had pleaded guilty earlier, will be scheduled for arraignment on Sept. 16, and the two cases can be sentenced after the trial of Jimmy Lai and the three Apple Daily-linked companies are completed. Charles Kwok Hong-lun, the barrister representing Apple Daily Co., Ltd., Apple Daily Printing Co., Ltd., and Apple Daily Internet Co., Ltd, said that the three companies had been approved to withdraw part of the funds frozen by the Security Bureau under the national security law earlier, to pay for the legal fees. Jeffrey Tam Chun-kit, a barrister representing Jimmy Lai, said in court that Lai will hire senior counsel Robert Pang S.C. Since Pang will be available as soon as this December, Anthony Chau Tin-hang, Acting Deputy Director of Public Prosecutions (Special Duties) and Ivan Cheung Cheuk-kan, Acting Associate Director of Public Prosecutions (Special Duties) of the Department of Justice of Hong Kong said that the prosecution representative will not be available until January 2023. The judge pointed out that if the trial of the case could not accommodate the schedule of both the prosecution and the defense, another case management hearing may be arranged after the trial is scheduled. The trial period of this case is expected to be approximately 30 days. Follow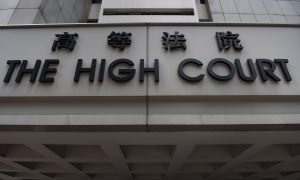 A case hearing was conducted in the High Court of Hong Kong on Aug. 21, for Lai Chee-ying (Jimmy Lai), the founder of the former newspaper outlet Next Media, and three other companies linked to Apple Daily, who was suspected of collusion with foreign countries or foreign forces. The court revealed that six other defendants, all former Apple Daily executives, plan to plead guilty.
The six defendants are Cheung Kim-hung, former CEO of Next Media; Chan Pui-man, former Apple Daily associate publisher; Ryan Law, Apple Daily editor-in-chief; Lam Man-chung, executive editor-in-chief; Fung Wai-kong, main writer; and Yeung Ching-kee.
The case will be jointly tried by three judges designated by the National Security Law—Esther Toh Lye-ping, Susana Maria D'Almada Remedios, and Alex Lee Wan-tang. After the trial date is confirmed, a case management hearing will be held.
The case has been submitted to the High Court but a hearing date has not been scheduled.
The judge also stated that Andy Li Yu-hin and Chan Tsz-wah, activists who had pleaded guilty earlier, will be scheduled for arraignment on Sept. 16, and the two cases can be sentenced after the trial of Jimmy Lai and the three Apple Daily-linked companies are completed.
Charles Kwok Hong-lun, the barrister representing Apple Daily Co., Ltd., Apple Daily Printing Co., Ltd., and Apple Daily Internet Co., Ltd, said that the three companies had been approved to withdraw part of the funds frozen by the Security Bureau under the national security law earlier, to pay for the legal fees.
Jeffrey Tam Chun-kit, a barrister representing Jimmy Lai, said in court that Lai will hire senior counsel Robert Pang S.C. Since Pang will be available as soon as this December, Anthony Chau Tin-hang, Acting Deputy Director of Public Prosecutions (Special Duties) and Ivan Cheung Cheuk-kan, Acting Associate Director of Public Prosecutions (Special Duties) of the Department of Justice of Hong Kong said that the prosecution representative will not be available until January 2023.
The judge pointed out that if the trial of the case could not accommodate the schedule of both the prosecution and the defense, another case management hearing may be arranged after the trial is scheduled.
The trial period of this case is expected to be approximately 30 days.