4 Reforms by Congress That Would Help California in 2023
Commentary With California Rep. Kevin McCarthy finally ensconced in the Speaker's Chair in the U.S. House of Representatives, here are four reforms he and his colleagues from both parties can advance to help Californians especially. 1. Allow bankruptcy for college debt. Of course, people should pay their debts. But what if you run up $200,000 in medical bills, $100,000 in credit cards, and $100,000 in college debt? Then you probably should at least consider bankruptcy. Except a law Congress passed in 2005 made it nearly impossible to include college debt in bankruptcy filings. Personal bankruptcy, although regrettable, sometimes is necessary to get on in life. It also disciplines the banks to make sure they don't make foolhardy loans. In Europe, it's much harder to declare bankruptcy, limiting options, especially for young people. In America, from our founding almost 250 years ago, it was thought best to let people who fell on hard times start over—to "light out for the territory" like Huck Finn. It's part of our enterprising spirit. This reform would be a lot better than President Biden's attempt to cancel student loans. It also would make lenders think twice about giving loans to students following useless degrees. The next two ideas work in tandem. 2. Restore the full personal state and local tax (SALT) deduction, which especially would help Californians. The 2017 income tax reform cut taxes for everybody. It wasn't just "for the rich." I'm far from rich, especially in high-priced California, and I got a tax cut. The reform unfortunately limited to $10,000 the deduction married couples can take for state income taxes. That was a sharp increase for rich people in states such as California, with its 13.3 percent top rate. It's a reason many of the wealthy have left the state. In addition to the high state rate, they have to pay a higher federal rate than in Texas, Florida, and other states with no state income tax. When I was press secretary for state Sen. John Moorlach from 2017 to 2020, several multimillionaires complained to him they had to leave the state because the end of the SALT deduction was killing them financially. They paid the top federal income tax rate of 37 percent. However, for those who chose to move to Texas or Florida, with zero state income tax, that 37 percent rate dropped to zero. In 2019, the Democratic House actually passed such a reform, but it failed in the Democratic Senate. Democrats from states like California still hanker for this reform. Pair it with the next one, which Republicans want. 3. Make the 2017 income tax reform permanent. Some of the tax cuts end in 2025, just two years from now. And about 65 percent of the population—most of the middle class—will get hit with tax increases by 2027, the 10-year mark for the reform. Worse even than the tax increases themselves is the uncertainty over tax law hanging over every taxpayer. Persons and businesses need a good idea of future tax rates to plan. Can you afford the mortgage the next decade? Put a roof on the house? Expand the business and create jobs? Uncertainty means delay, which reduces economic activity. President George W. Bush's 2003 tax cuts expired in 2010, creating uncertainty. That added to other problems, such as the mortgage meltdowns that hit California especially hard, worsening the Great Recession. Let's not do that again. 4. Remove marijuana from the list of Schedule I controlled substances. According to the DEA (pdf), "Marijuana is a Schedule I substance under the Controlled Substances Act, meaning that it has a high potential for abuse, no currently accepted medical use in treatment in the United States, and a lack of accepted safety for use under medical supervision." Except pot for medical uses has been legal in California since the passage of Proposition 215 in 1996—and for recreational use since Proposition 64 in 2016. You see legal dispensaries all over the place in Southern California. But keeping weed on Schedule I prevents these legal entities from operating normally, especially for banking. This is a sub-theme in the decent new TV series "Tulsa King," starring Sylvester Stallone. Of the five "Schedules" for drugs, Schedule I is the most restrictive, and includes heroin, absurdly equated with reefers. Even the highly dangerous fentanyl and methamphetamine are on the less restrictive Schedule II. The debate over marijuana legalization has led to the matter being turned over to the states, as also has happened with abortion. Legality varies with each state, much as do alcohol laws since Prohibition, the 18th Amendment, was repealed by the 21st Amendment in 1933. The trend is a sensible return to the country's federalist founding. It's time for Congress to adjust the Controlled Substances Act accordingly. Views expressed in this article are the opinions of the author and do not necessarily reflect the views of The Epoch Times. John Seiler is a veteran Califor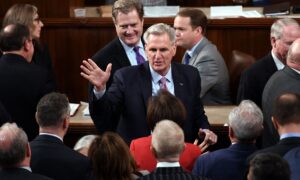 Commentary
With California Rep. Kevin McCarthy finally ensconced in the Speaker's Chair in the U.S. House of Representatives, here are four reforms he and his colleagues from both parties can advance to help Californians especially.
1. Allow bankruptcy for college debt. Of course, people should pay their debts. But what if you run up $200,000 in medical bills, $100,000 in credit cards, and $100,000 in college debt? Then you probably should at least consider bankruptcy. Except a law Congress passed in 2005 made it nearly impossible to include college debt in bankruptcy filings.
Personal bankruptcy, although regrettable, sometimes is necessary to get on in life. It also disciplines the banks to make sure they don't make foolhardy loans. In Europe, it's much harder to declare bankruptcy, limiting options, especially for young people. In America, from our founding almost 250 years ago, it was thought best to let people who fell on hard times start over—to "light out for the territory" like Huck Finn. It's part of our enterprising spirit.
This reform would be a lot better than President Biden's attempt to cancel student loans. It also would make lenders think twice about giving loans to students following useless degrees.
The next two ideas work in tandem.
2. Restore the full personal state and local tax (SALT) deduction, which especially would help Californians. The 2017 income tax reform cut taxes for everybody. It wasn't just "for the rich." I'm far from rich, especially in high-priced California, and I got a tax cut.
The reform unfortunately limited to $10,000 the deduction married couples can take for state income taxes. That was a sharp increase for rich people in states such as California, with its 13.3 percent top rate. It's a reason many of the wealthy have left the state. In addition to the high state rate, they have to pay a higher federal rate than in Texas, Florida, and other states with no state income tax.
When I was press secretary for state Sen. John Moorlach from 2017 to 2020, several multimillionaires complained to him they had to leave the state because the end of the SALT deduction was killing them financially. They paid the top federal income tax rate of 37 percent.
However, for those who chose to move to Texas or Florida, with zero state income tax, that 37 percent rate dropped to zero.
In 2019, the Democratic House actually passed such a reform, but it failed in the Democratic Senate. Democrats from states like California still hanker for this reform. Pair it with the next one, which Republicans want.
3. Make the 2017 income tax reform permanent. Some of the tax cuts end in 2025, just two years from now. And about 65 percent of the population—most of the middle class—will get hit with tax increases by 2027, the 10-year mark for the reform.
Worse even than the tax increases themselves is the uncertainty over tax law hanging over every taxpayer. Persons and businesses need a good idea of future tax rates to plan. Can you afford the mortgage the next decade? Put a roof on the house? Expand the business and create jobs? Uncertainty means delay, which reduces economic activity.
President George W. Bush's 2003 tax cuts expired in 2010, creating uncertainty. That added to other problems, such as the mortgage meltdowns that hit California especially hard, worsening the Great Recession. Let's not do that again.
4. Remove marijuana from the list of Schedule I controlled substances. According to the DEA (pdf), "Marijuana is a Schedule I substance under the Controlled Substances Act, meaning that it has a high potential for abuse, no currently accepted medical use in treatment in the United States, and a lack of accepted safety for use under medical supervision."
Except pot for medical uses has been legal in California since the passage of Proposition 215 in 1996—and for recreational use since Proposition 64 in 2016. You see legal dispensaries all over the place in Southern California. But keeping weed on Schedule I prevents these legal entities from operating normally, especially for banking. This is a sub-theme in the decent new TV series "Tulsa King," starring Sylvester Stallone.
Of the five "Schedules" for drugs, Schedule I is the most restrictive, and includes heroin, absurdly equated with reefers. Even the highly dangerous fentanyl and methamphetamine are on the less restrictive Schedule II.
The debate over marijuana legalization has led to the matter being turned over to the states, as also has happened with abortion. Legality varies with each state, much as do alcohol laws since Prohibition, the 18th Amendment, was repealed by the 21st Amendment in 1933. The trend is a sensible return to the country's federalist founding. It's time for Congress to adjust the Controlled Substances Act accordingly.
Views expressed in this article are the opinions of the author and do not necessarily reflect the views of The Epoch Times.