2 Herbs to Reduce Fat and Aging Effects
Duzhong (Eucommia ulmoides) is a highly regarded traditional Chinese herb. Healthcare products made from Duzhong, such as "Eucommia ulmoides tea" and "Tianqi (Radix notoginseng) Eucommia extract," are popular in Japan. Various studies have confirmed the efficacy of Eucommia leaves in promoting fat metabolism, especially in reducing visceral fat, or the fat that wraps around internal organs. It is found that Eucommia mixed with Tianqi (Radix notoginseng) can provide added protection to the liver and kidneys, and delay aging. As recorded in China's first Chinese medicine bible, the "The Divine Farmer's Classic of Materia Medica,"  Eucommia ulmoides has positive effects in treating lumbar pain and strengthening the muscles and bones. It can nourish the body by improving agility and delays the onset of aging. Eucommia ulmoides are processed from the dried bark of the Eucommia ulmoides plant. The bark can be processed for medicinal application, and the leaves can be used to make tea and other beverages. Eucommia Leaf Extract Can Reduce Visceral and Subcutaneous Fat Tetsuya Hirata, a researcher at the Central Research Institute of Kobayashi Pharmaceutical Co. Ltd., presented a study at the annual meeting of the Japan Eucommia R&D Center, pointing out that Eucommia leaf extract can reduce visceral and subcutaneous fats in the human body. The researchers took 27 people, all with a cross-sectional area of ​​internal fat of more  15.5 square inches and divided them into one main group of 15 and the other 12 as a control group. The former group ate food containing eucommia leaf extract, while the control group didn't. The changes in body weight and visceral fat in the cross-sectional area were measured after two months. The results showed that the average body weight of the main group was about 5.3 pounds less than that of the control group, and the corresponding cross-sectional area of ​​visceral fat was also reduced by about 5.5 square inches. In another study, 16 obese people (BMI 25 to 30) were divided equally into one main experimental group taking eucommia leaf extract and a control group that did not. After four weeks, it was found that, compared with the control group, the basal metabolic rate of the experimental group increased, while body weight, visceral fat, and subcutaneous fat (fat under the skin) all went down. Hirata said that Eucommia tea contains cartilin, which can increase lipid metabolism and promote the consumption of body fat. Benefits for Kidney, Liver, and Anti-Aging Ke Xia, a traditional Chinese medicine (TCM) physician in Japan, said in an interview with The Epoch Times that the efficacy of Eucommia has been highly regarded by the Japanese population at large. Nowadays, eucommia is not just used in TCM prescriptions but has found its way into health products. As such, both the pharmaceutical firms and the various TCM institutes extract the nutritional components of Eucommia and convert them into health care product components, marketed under label "Tianqi Eucommia essence," which are handy to carry around and consume at will. Tianqi (Radix notoginseng) is another common and popular Chinese herb for medicinal use. It not only promotes blood circulation but also stops bleeding. In addition to being used for wounds, it can also treat internal cardiovascular diseases. Recent studies have also found that the active ingredients in Tianqi can treat fatty liver. Masayoshi Harada, honorary president of Harada Hospital, said on the DTA Therapy website that according to research, "Tianqi Duzhong Essence" has three main positive functions: Enhance and protect kidney function: Tianqi Eucommia essence can increase the glomerular filtration rate (GFR) and comprehensively improve kidney function by increasing plasma creatinine concentration, and  improving renal plasma and urine flow rates. Reducing the toxic side effects on the body usually result from drug medication: Almost all drugs have side effects to varying degrees that will be particularly harmful to the liver, and Tianqi Eucommia essence can effectively repair liver cells and improve liver function. This therefore helps one avoid drug damage to the liver, while helping the liver decompose toxins more effectively, which all then helps reduce the side effects of drugs on the body. Tianqi Eucommia essence achieves anti-oxidant effects by improving liver and kidney functions and thereby delaying the onset of aging. Ke Xia said that there is always a limit to the intake of even the best food. It is, therefore, wise to take particular care to avoid excessive consumption of Eucommia, which in excess can result in dizziness, fatigue, heart palpitations, and lethargy. Epoch Health articles are for informational purposes and are not a substitute for individualized medical advice. Please consult a trusted professional for personal medical advice, diagnoses, and treatment. Have a question? Email us at [email protected]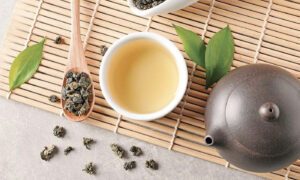 Duzhong (Eucommia ulmoides) is a highly regarded traditional Chinese herb. Healthcare products made from Duzhong, such as "Eucommia ulmoides tea" and "Tianqi (Radix notoginseng) Eucommia extract," are popular in Japan.
Various studies have confirmed the efficacy of Eucommia leaves in promoting fat metabolism, especially in reducing visceral fat, or the fat that wraps around internal organs. It is found that Eucommia mixed with Tianqi (Radix notoginseng) can provide added protection to the liver and kidneys, and delay aging.
As recorded in China's first Chinese medicine bible, the "The Divine Farmer's Classic of Materia Medica," Eucommia ulmoides has positive effects in treating lumbar pain and strengthening the muscles and bones. It can nourish the body by improving agility and delays the onset of aging.
Eucommia ulmoides are processed from the dried bark of the Eucommia ulmoides plant. The bark can be processed for medicinal application, and the leaves can be used to make tea and other beverages.
Eucommia Leaf Extract Can Reduce Visceral and Subcutaneous Fat
Tetsuya Hirata, a researcher at the Central Research Institute of Kobayashi Pharmaceutical Co. Ltd., presented a study at the annual meeting of the Japan Eucommia R&D Center, pointing out that Eucommia leaf extract can reduce visceral and subcutaneous fats in the human body.
The researchers took 27 people, all with a cross-sectional area of ​​internal fat of more 15.5 square inches and divided them into one main group of 15 and the other 12 as a control group.
The former group ate food containing eucommia leaf extract, while the control group didn't. The changes in body weight and visceral fat in the cross-sectional area were measured after two months.
The results showed that the average body weight of the main group was about 5.3 pounds less than that of the control group, and the corresponding cross-sectional area of ​​visceral fat was also reduced by about 5.5 square inches.
In another study, 16 obese people (BMI 25 to 30) were divided equally into one main experimental group taking eucommia leaf extract and a control group that did not.
After four weeks, it was found that, compared with the control group, the basal metabolic rate of the experimental group increased, while body weight, visceral fat, and subcutaneous fat (fat under the skin) all went down.
Hirata said that Eucommia tea contains cartilin, which can increase lipid metabolism and promote the consumption of body fat.
Benefits for Kidney, Liver, and Anti-Aging
Ke Xia, a traditional Chinese medicine (TCM) physician in Japan, said in an interview with The Epoch Times that the efficacy of Eucommia has been highly regarded by the Japanese population at large. Nowadays, eucommia is not just used in TCM prescriptions but has found its way into health products. As such, both the pharmaceutical firms and the various TCM institutes extract the nutritional components of Eucommia and convert them into health care product components, marketed under label "Tianqi Eucommia essence," which are handy to carry around and consume at will.
Tianqi (Radix notoginseng) is another common and popular Chinese herb for medicinal use. It not only promotes blood circulation but also stops bleeding. In addition to being used for wounds, it can also treat internal cardiovascular diseases. Recent studies have also found that the active ingredients in Tianqi can treat fatty liver.
Masayoshi Harada, honorary president of Harada Hospital, said on the DTA Therapy website that according to research, "Tianqi Duzhong Essence" has three main positive functions:
Enhance and protect kidney function: Tianqi Eucommia essence can increase the glomerular filtration rate (GFR) and comprehensively improve kidney function by increasing plasma creatinine concentration, and improving renal plasma and urine flow rates.
Reducing the toxic side effects on the body usually result from drug medication: Almost all drugs have side effects to varying degrees that will be particularly harmful to the liver, and Tianqi Eucommia essence can effectively repair liver cells and improve liver function. This therefore helps one avoid drug damage to the liver, while helping the liver decompose toxins more effectively, which all then helps reduce the side effects of drugs on the body.
Tianqi Eucommia essence achieves anti-oxidant effects by improving liver and kidney functions and thereby delaying the onset of aging.
Ke Xia said that there is always a limit to the intake of even the best food. It is, therefore, wise to take particular care to avoid excessive consumption of Eucommia, which in excess can result in dizziness, fatigue, heart palpitations, and lethargy.
Epoch Health articles are for informational purposes and are not a substitute for individualized medical advice. Please consult a trusted professional for personal medical advice, diagnoses, and treatment. Have a question? Email us at [email protected]