$13 million gold heist busted at Moscow airport
Six people were arrested at Moscow's Vnukovo airport after getting caught with 225kg of gold in a suitcase-swapping heist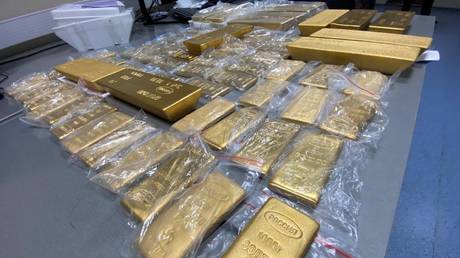 19 Aug, 2022 00:01
HomeRussia & FSU
$13 million gold heist busted at Moscow airport
Russian customs stopped a plot to smuggle dozens of gold bars to Dubai by swapping suitcases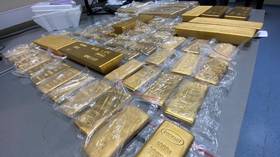 An international conspiracy to smuggle 225 kilograms of gold worth an estimated 760 billion rubles (roughly $12.7 million) through Moscow was thwarted by sharp-eyed customs agents, the Federal Customs Service (FTS) or Russia announced on Thursday. The scheme involved two groups of three travelers who swapped suitcases inside the Vnukovo airport. The group bound for the United Arab Emirates was caught with a number of gold bars in their bags.
"The smugglers with the valuable cargo were detained by operatives of the Vnukovo customs after boarding their plane," the FTS said.
After coming on board and checking the suspects' bags, customs officers found 45 gold bars, the FTS said in the initial report. None of them had been declared on cleared customs inspection. All had the legally mandated serial numbers and other identification marks. The newspaper Kommersant later reported that the haul amounted to a total of 71 gold bars – 14 ingots of 12kg each and 57 smaller, one-kilo bars.